Items tagged with 'North Country'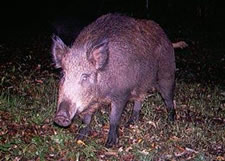 Interesting story in the New York Times this weekend about a population of feral pigs in the Champlain Valley, about 150 miles north of Albany. DEC officials are worried the population will permanently establish itself, spread, and threaten farms and Adirondack habitats:
Perhaps most worrisome is their reputation as eating machines: the pigs devour ground-nesting birds and reptiles, fawns and domestic livestock, native vegetation and crops. Feral pigs have already proliferated in parts of western New York. But state officials are drawing a line in the topsoil, so to speak, determined to protect both the agrarian economy and the fragile ecosystem from the nascent herd -- or "sounder" in swine-speak -- in the town of Peru.
"There's a real sense of urgency," said Ed Reed, a wildlife biologist for the state's Department of Environmental Conservation. "Once the pigs get established, they are very difficult to eradicate completely."
And what are they using to lure the pigs into traps: Jello-laced donuts.
The DEC says "people with a small game license may shoot and keep feral swine at any time and in any number." The resulting pork is said to be rather tasty -- although in some cases apparently there isn't enough sage to cover up the stink.
Feral pig populations are widespread in the South and California -- causing so many problems, in such great numbers, that as an official remarked: "With over 2 million hogs in Texas, we're not going to barbecue our way out of this problem." The animals reportedly cause $400 million in damage there each year and people have resorted to shooting them from helicopters.
photo: NYS DEC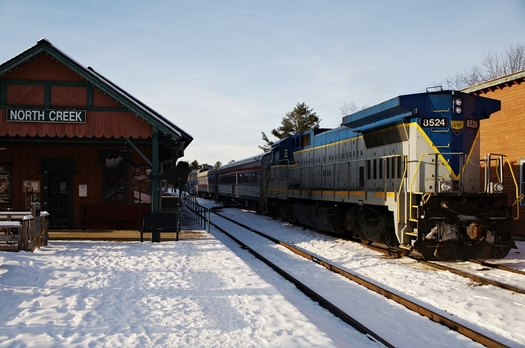 By Bennett Campbell
It was still dark enough to see stars overhead when I came to the Saratoga Springs train station, bundled up against single-digit temperatures. By the time the sun rose over hills and treetops I was riding toward the Adirondacks on a trip that until this year, no one had taken since 1942. The Gore Mountain Snow Train was bound for North Creek and I had a panoramic view of the snow-covered landscape rolling by.
After the jump, a little bit of my trip, complete with photos.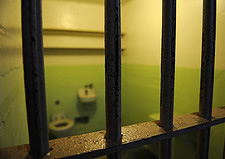 From a casting email that floated our way this week:
Presently casting new show, "The Great Escape", by producers of "Amazing Race" and the acclaimed director, Ron Howard, that will take place in Black River, NY. This pilot is the first reality show for TNT.
Looking to cast actors to portray three "guards" on the show who must look and act the part of a prison guard. Male, female, all ethnic backgrounds, athletic types, all age ranges. Pay approximately $300-400 a day (not confirmed yet) plus meals. Union, non-union; non-speaking. Two day shoot week of September 12; nothing definite as to which two dates.
Please submit to c.cocca@coccacasting.com ASAP as submissions must be presented by Wednesday, August 17: Age, height, weight, best phone number, email to reach you, and current photo which best represents you for this role.
A reality show with people playing prisoners and guards. What could go wrong? It's not like anyone might take their role a little too seriously and someone ends up getting tortured. Of course, that would give you more of an incentive to escape. You know, beyond the $10,000 and SUV (or whatever) they're giving the winner.
A little more on the concept, from an AP story last October:
In "The Great Escape," ordinary people are put in cinema-inspired settings, challenging them to find a way out using everyday ingenuity. Each week, teams are dropped off blindfolded in a different extreme environment -- lost in the desert, trapped in the mountains, locked in a prison, marooned on an island.
By the way, Black River is a village near Watertown.
photo: Flickr user Biggunben