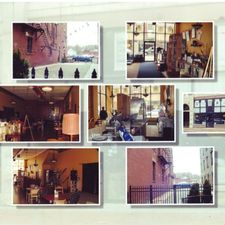 Who:
Ralph Box

Project:
Clay's Kingdom Cafe: Food and fellowship in Cohoes
Executive Summary
FHK Corporation is entering into an agreement to purchase 99 Main Street, Cohoes, N.Y. This previously housed Paradise Taste, Caribbean Restaurant. 99 Main Street houses a full service restaurant, which will be established as Clay"s Kingdom Cafe on the first floor with capacity to seat approximately 30-35 people. In addition, there is a three bedroom apartment in move-in condition with rental income situated on the second floor.
Family owned and operated, the focus of Clay"s Kingdom Cafe Will be a modern, upscale, homey establishment that will appeal to both professionals and families, alike. Clay"s will offer promptly served, healthy, good tasting food in an efficient manner.
FHK Corporation is comprised of Bros. Ralph Box and his wife Eileen. Ralph, a chef with over 25 years food service experience has been involved in the Cohoes community since 2003. A key contributor in the establishment of the Black Cat Alehouse Pub and Tavern and Texas Pig Pit Barbecue, Ralph has seen firsthand the effort needed to establish a successful business in the Cohoes community. He and his wife have operated from their home and church two successful businesses, Mrs. Green Clean, an environmentally conscious residential and commercial cleaning service and FHK Catering, a Christian family business.
Clay"s Kingdom Café will establish a breakfast and lunch menu in direct competition with the known "greasy spoon" diners in the area, bringing fresh, wholesome and healthy breakfast and lunch fare. Eileen, being a vegetarian and health food advocate will contribute to the food fare. Daily, fresh baked goods (Italian cookies, muffins, quiche and comfort food casseroles) will be offered.
Clay"s plans on opening for Wednesday through Friday evenings to launch "Clay"s Chicken for Da Soul", a comfort food menu featuring chicken and waffles, Clay"s signature fried chicken and rib-sticking side dishes (jalapeno corn bread, red beans and rice, home-baked macaroni and cheese, mashed potatoes, gravy and biscuits.
3FHK Corporation is seeking funding for startup and initial capital in the amount of $45,000.00 to offset costs of establishing and renovating the property at 99 Main St., Cohoes, NY. We are seeking this amount for the procuring of products, equipment and inventory to begin Clay"s Kingdom Café as well as "Clay"s Chicken for da Soul".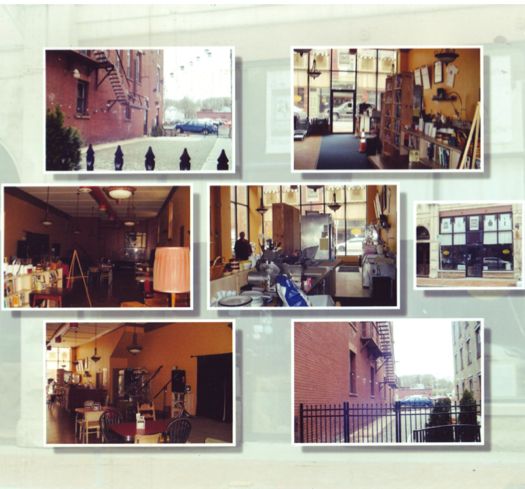 Company Overview
I. Mission Statement: A place of good food, good cheer, and good fellowship; to find
freedom from today"s world; where you can be molded into something better. If you are hungry, come be fed; if you are empty, come be filled; if you are searching, come and seek; if you are overflowing, come pour out.
II. Vision Statement: To establish a café in the Historic city of Cohoes that not only caters to
the community, but establishes an income source for our family and pilots the creation of a "Chicken for da Soul" take-out food establishment.
III. Goals and Objectives
A. Objectives: The objective of the café is to feed the neighborhood, and
community, with wholesome and reasonably priced breakfast, lunch/brunch foods.
B. Milestones: Be actively working with NY State Grown Vendors, Local
Dairies, Fresh Produce Farmers, Poultry Farmers, local growers. Move from Phase 1 full time hands on production to
employee handbook equipped Phase 2. Within 5 years have initial note paid off. Be financially sound enough to make return investment into
the community through community action projects. Establish full time night hours for "Clay"s Chicken for da Soul" A resource for rentals of bicycles built for two for tours of the
bike paths and Erie Canal Waterway A weekly evening meeting place for local church youth
groups. A weekly meeting place for local NA/AA chapters.
IV. Business Philosophy
To provide swift, friendly service in a comfortable atmosphere with good, healthy, locally produced food with attention on repeat customers.
A. Stewardship Philosophy
Be faithful with all we"re entrusted with and have a positive Influence on all who come in contact with the Kingdom café.
V. Products and Services
Clay"s Kingdom Cafe will be a family oriented, sit down restaurant that will also provide carry out meals.
(Wi-Fi) access will be available during business hours. The meals served will be breakfast, lunch and/or brunch. See menu attached. Prices are comparable to other eating establishments in the area, ranging from $2 to $10 per meal.
Upon opening, a Monday through Friday service will be adhered to with increase in sales expanding to Saturday and Sunday brunch.
Clay"s Chicken for Da Soul will pilot Thursday and Friday evenings with ability to expand hours based on demand.
Because I have been taught to "give of your best", I will be providing exemplary food and service to my customers and will hire only those individuals who will bring the same level of commitment that I have.
VI. Marketing Focus Geographical:
99 Main Street is located at the entrance of one of the gateways of the community. Situated three blocks west of Interstate 787, the corner of Main Street, Cohoes and Route 470 , visibility of the property is high.
a) Cohoes Community b) North Troy c) Waterford
Population: d) Young adults/college community e) Career minded/nanotech/tech valley f) Families g) Church goers h) Average median household age 38 per 2010 census
Avenues: i) Troy Record j) Metro land k) Christian radio stations l) Free advertising
m)
Cable channel Penny Saver Money Saver Church bulletins
Grand opening event
Graphic Image Support: n) Logo already designed o) Have computer access p) Have website access
VII. Economics
Trends: The historic Cohoes community is experiencing revitalization with
the transformation of the Harmony Mills factories into high end, loft condominiums. The state program "Choose Cohoes" is slated to create increased commerce in the historic district. Cohoes in the summer time is a stop along the historic Erie Canal waterway. The community as a whole is still experiencing its growth potential.
Growth Potential: Within a 5 mile radius of 99 Main Street, reside 162,000 residents
per the 2010 census. The median to average age is 38 to 40 years. Median household income is 43,730. Population growth within a 5 mile radius from 2000 to 2010 has seen 6.3% increases.
Features and Benefits: a) Expertly prepared food - over 25 years" experience in the food
service industry b) Strong work ethic c) Reasonable prices - have compared other establishment"s
prices and will be competitive in the area of cost vs. quality d) Dedicated to reinvesting into the community e) Family owned and operated
Customers: a) Local residents b) Business people c) Students d) Families e) Church-goers f) Anyone desiring good food at a great price
Competition: The downtown city of Cohoes houses two similar greasy spoon
type diners, Uncle John"s and Babe"s. Clay"s would bring a fresher production and presentation of traditional breakfast and lunch foods as opposed to bacon, eggs, and sausage and home fries prepared on one flat-top grill. Clay"s utilizes French sauté style eggs and omelets. Clay"s Chicken for Da Soul evening menu offers something new to
the community only being found in the city of Albany or the city of Troy(Popeye"s, KFC).
VIII. Operational Plan
Production: Kitchens Wholesale contacts Local suppliers
Location: Physical requirements
35-80 seats Restaurant, café Electric, gas, cable, phone Zoned commercial/restaurant currently
Access Easy walk in access
Parking
Legal Environment Permits needed:
Health Food Service Café
Currently zoned as commercial/food service Insurance - would obtain appropriate liability coverage, workman"s comp, etc.
12
Personnel: Number of employees: 2 on at all times
+Cook
+Wait person How to find the "right" employees:
+ Word of mouth
+Advertising Quality of existing staff:
+Owner/head chef has 25+ years" experience Pay structure
+Cook - state and federal minimum wage standard ï'· Wait Staff - same as above
Work Hours M 6a.m. -3p.m. T 6a.m. -3p.m. W 6a.m. -3p.m. THz 6a.m. -3p.m. F 6a.m. -3p.m. Sat 10 a.m. - 3 p.m. Sundays will begin to be opened once trust of employees is
established to operate prior to owner"s arrival after church. Hours of operation will be noon to 5 p.m.
Inventory: Various food staples - flour, sugar, oil, spices Fresh food depending upon specials scheduled
Fresh/frozen meat Fresh vegetables Average value of stock - $500 per week to par
5p.m.-10p.m. 5p.m.-10p.m.
13
Suppliers Ginsberg Sysco Reliable Pay on delivery Emergency for backup - local supermarkets
Accounts Receivable: Cash
Credit cards - Visa, MasterCard, Discover, Amex
Accounts Payable: Establish accounts with larger vendors 30, 60, 90 day rotations
IX. Management and Organization: Owner/Chef operated with wife on a daily basis through Phase
1, at which time employee handbooks will be established, then hired and trained personnel put in place and product officered.
X. Startup Expenses and Capitalization See startup and expenses tab
XI. Financial Plan See financial plan tab
Organization and Management:
Banker:
Attorney:
First Niagara Bank and Trust Joanna Williams 72 Mohawk St. Cohoes, NY 12047
David Brickman; PC 1664 Western Ave. Albany, NY 12203
Ph. 518-233-6581
Ph. 518-464-6404
Ph. 518-727-6729
Ph. 518-464-0059
Ph. 518-485-7647
Accountant: Bookkeeping Plus
Lynne Shuart P.O. Box 9222 Schenectady, NY 12309
Insurance Agent: Ten Eyck Group
Charlie Barnes 1924 Western Ave. Albany, NY 12203
SBDC Advisor: John Skrobela
7A Harriman Campus Rd. Suite 240 Albany, NY 12206
Milk
Eggs Cheeses:
Product: See Menus Inventory List:
Clay's Kingdom Café
Dairy
Swiss, Cheddar, Feta, Mozzarella, Mont. Jack, Blue, Smoked, American, Ricotta, Cream Cheese, Sour Cream, Heavy Cream, Buttermilk, Yogurt
Butter Orange juice, Mango, Apple, Cranberry Soymilk
Produce:
Field Greens Cabbage Spinach Romaine Tomatoes Cucumbers Onions Garlic Carrots Bananas Pineapple Melons Artichoke hearts Roasted Red peppers Cranberries
Breads:
White Wheat Rye Bagels Challah English muffins
Wraps: Sundried tomato Spinach Wheat Flour
Focaccia Panini's Pita
Coffees/Teas:
Beans Ground Espresso Black Teas Green Teas Mint
Chai's Chamomile Peppermint Herbals
Paper products:
Register tapes Guest checks Hot 12oz Cups & lids Cold 16oz cups & lids Clam Shells 9x9 Take outs T-bags Foil wraps Service Film Foil Wax wraps Gloves Pint hot & lids Quart hot & lids 2oz soufflés & lids 4oz soufflés & lids 8oz colds & lids Butchers paper Labels Business cards Menus
Condiments:
Pecans Olive oil Garlic Salt & kosher Pepper white & black Mixed corns
Honey Raw sugar Mayo Vinegar Mustard & ketchup Flour, corn, wheat Wondra Baking powder Baking soda Peanut butter Olives Jellies
24
Pastas:
Asian noodles Orzo Elbows Ziti
Whole wheat Gluten-free Angel hair Fettuccini Spaghetti Egg noodles
25
Meats:
Bacon Ham Sausage Andouille Chicken, whole, quarters, wings, breasts Turkey
Tuna Corned beef Roast beef Pastrami
26
Cereals:
Oats Granola Rice Bulgur Wheat Whole grains Grits
Commercial Beverages (besides cof/teas):
Sparkling Waters Natural seltzers Sodas Arizona teas Snapple
Sides reach and grabs:
Chips: Doritos', Utz chips, pickles, M&M's, gums, mints..27
28
FHK Corporation Property
99 Main Street building 99 main Street(residential)
$145,000
99 main Street 9commercial
(commercial)
carpet 600 paint 400 rear exit 1200
clean- up 150 reconstruction 2000 remodeling 800 outdoor upgrade 1800
2200
4750
100 150 150 300 565
7515
Start-up expenses to modify 99 Main Street aligning with FHK Corps proposal
FHK Corp. property start-up compliance
29
code inspect C.O. certs. NYSHD certs Zoning
30
Physical plant:
Register, POS micros system Security Camera's Alarm System Cable Access
WI-FI capabilities Outside lighting for security and safety Deli case, cold drink display
31
32
Clay's Kingdom Café
Breakfast Menu
1 Egg with toast...1.75 1 Egg with toast and home fries...2.50 1 Egg with toast, home fries and meat (bacon, ham, sausage)
...3.25
2 Eggs with toast...2.25 2 Eggs with toast and home fries...3.00 2 Eggs with toast, home fries and meat (bacon, ham, sausage)
...3.75 Omelets (3 eggs with home fries and toast)...4.25
* 3 cheese omelet * Western omelet
Toasted * Bread (rye, wheat, white)...1.25 * English muffin...1.50 * Bagel with cream cheese...1.65
* Vegetable * your choice 3 items omelet
Cereal * Hot (oatmeal, cream of wheat, grits)...3.25 * Cold (Cheerios, Special K, Granola, Raisin Bran)...2.25
Specialties... * Eggs Benedict...5.25 * English breakfast...4.25 * French Toast...3.25 * Belgian Waffles...3.75 * Pancakes (blueberry, banana, chocolate chip)...4.25
Beverages * Coffee (2 refills) ....75 * Hot tea....75 * Juice (orange, apple, cranberry) * Iced tea * Milk (white or chocolate)...1.00
* Cappuccino...2.75 * Espresso...2.25
* Latte...3.75 33 * Soda (Coke, Diet or Sprite) ...1.25
Clay's Kingdom Café Lunch Menu
Salads * Tossed (field greens, onions, tomatoes, green peppers) * Chef (turkey, ham, roast beef) * Caesar (grilled chicken optional) * Spinach w/warm bacon dressing
Sandwiches (also available as wraps) * BLT * Ham & Cheese * California (turkey & avocado)
* Roast Beef * Reuben
* Monte Cristo
Burgers & Dogs * Hamburger * Cheeseburger * Clay's Cajun Burger (Cajun spices, pepper jack cheese)
* Beef hotdog x 2
Soups * Soup of the day
Sides * French Fries * Chips * Potato Salad * Coleslaw * Macaroni Salad
Beverages * Coffee (2 refills) * Hot tea * Juice (orange, apple, cranberry) * Iced tea * Milk (white or chocolate)
* Smoked sausage dog
Quiche * Quiche of the day
* Cappuccino * Espresso * Latte * Soda (Coke, Diet or Sprite)
Maybe you'd like to share...
Tweet