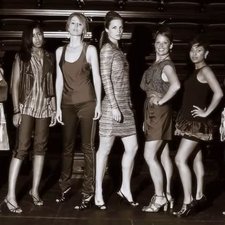 Who:
Katie Pray
Project:
Katie Pray fashion designs
I am Katie Pray. Fashion Designer and stay at home mom. I play the saxophone and was a former music teacher in NYC, and then my husband and I moved back up to the Albany area in 2006 when our son Maceo was 2 weeks old.
I've been doing fashion shows around the capital district since 2008, working to get my name out as a designer. Recycled fashion shows, Children's Fashion shows, Fashion competitions, benefit/fundraising Fashion shows, wedding dresses. I was one of fifteen designers
selected in March by BurdaStyle and Etsy to show in their DIY Fashion Show during the SXSW festival, in Austin, TX. I was also chosen for the "Best of February" projects on the BurdaStyle blog.
This all started when my twin sister gave me a sewing machine as a gift at my bridal shower. It was not even something I had asked for. I have to laugh because the face I made at my first show when I won is the same face I made when I received my sewing machine.
Really, I've been non stop since that first show. And it seems recently all my hard work is starting to pay off. A few days after a show in October I was approached by the owner of an area boutique and asked to design prom gowns for her shop. Her name is Jackie and her
shop is Rockabella in Saratoga Springs. I couldn't have been more thrilled, and I'm sure if someone had a camera I was probably making that same face again when I got the news!
So why do I need this grant?
Well, my dream is coming true. It's been a long process, but this is my first "break" so to speak and the timing couldn't be more perfect.
My dresses are already hanging in the shop. We are starting out with my dresses on consignment. When they sell I'll be dumping that money right back into more dresses for the shop. About a year ago I purchased a group of industrial machines for a great price. They'll
need some work to get running. At the time I did not really need them, but I told myself "someday I am going to reach the point where I will need these" and I'm almost there! I will use some of the grant money to create some more dresses to add to the shop, but also if I can get my machines set up I'll be able to increase my production. I would like to build an inventory and eventually get to the point of being able to sell wholesale. I have plans to update my website so that purchases can be made through my site. I'd also like to take out some ads on fashion blogs. This will increase the traffic on my new and improved website. The event in
Texas was in correlation with a fashion blogger conference, and I met a lot of really great girls that live to blog about fashion.
Right now, this is what I do. It is what I've been working towards for a while. If I don't try, I'll never know.

My son Maceo is starting kindergarten this fall. This opens up awhole window of time for me. (Currently my working hours are 9pm to 3am! Sometimes I've been known to only get about 26 hours of sleep in a week.)

This is going happen regardless of winning the grant. I'm already selling things like my own wedding dress and tenor saxophone to have money to invest. This grant would be a welcomed bonus in helping jumpstart all the things I am going to be faced with as this continues to grow. I'll be able to start some of these projects sooner than
later. It's really exciting.

I've got a lot of believers. Friends and family that want to see this happen as much as I do. There's a crowd of old ladies cheering me on from the clouds too! I believe my grandmother's sewing machine is one of my lucky charms.
Finally seeing my clothes hanging in one of the coolest shops in Saratoga is amazing. A while back I told myself, "Someday I will contact Rockabella and see if they are interested in carrying my clothing" and instead they called me! It was the best feeling in the
world. It's proof that if I stick to my goals all the things I've
stated above can happen.
As my son overheard me reading this aloud he said "Mommy, you can make goal into gold." Maceo, you couldn't have said it any better.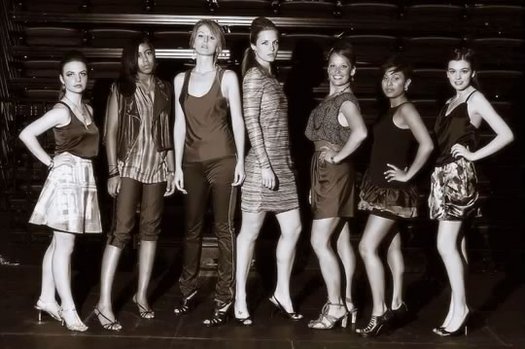 Maybe you'd like to share...
Tweet