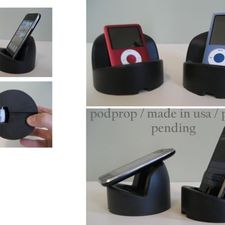 Who:
Ken Malsan
Project:
The Podprop -- a smartphone stand
Project:
Podprop - American Made Smartphone Stand
Product features:
+Fits all iPhone models and other mobile devices
+Always in ready-to-use position
+Circular base is stable on irregular surfaces
+Open channel on the bottom allows for power cords
+Made from soft, durable high-quality flexible foam
+Will be manufactured in the USA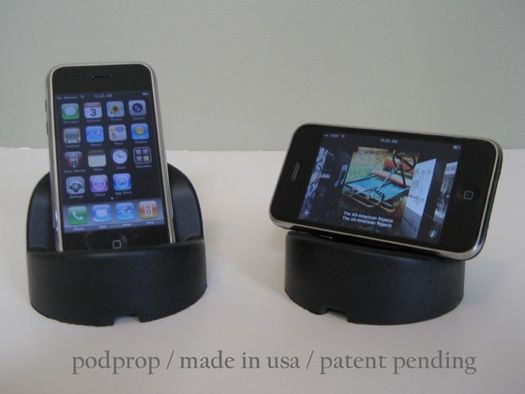 Design:
The Podprop is a simple stand that can be utilized by different types of smartphones and other small mobile devices. It works with all versions of the iPhone and most other like-sized electronic devices with view screens (iPhone 4, iPhone 3GS, BlackBerry, HTC, Samsung, Droid, LG, Zune, iPod, etc).
The Podprop is made of soft yet durable high-quality expanded polyurethane foam - much like a foam football. It won't scratch surfaces or easily break. The Podprop is designed for ease of use; your device can be quickly placed in the desired position. The not-too-tight sizing also provides room for silicone or plastic cases.
Made in the USA:
This one-piece foam stand is best suited to a "molded foam" manufacturing process. The vast majority of these types of items come from China. Although their costs are quite low, poor factory working conditions and lax environmental standards are not for me. A key aspect of this project is that the Podprop be made here in America. I need to meet the production team and be assured that they are using authentic, high-quality materials that are both safe and environmentally compliant.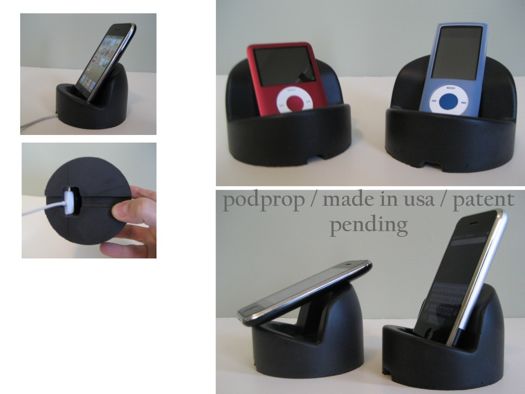 Sunmark Federal Credit Union AOA Grant:
Winning the Sunmark Startup Grant would help pay for high capacity production molds that can form the expanding high-quality foam in the Podprop shape. Large quantities would keep manufacturing in the U.S., as volume pricing and production efficiency offsets higher American labor costs.
I'm currently working closely with an experienced soft foam product manufacturer in the Midwest. They created multiple prototypes that helped determine the best size, shape and foam softness. The production process is ready to go. This grant money would get me one step closer to the first full production run of the Podprop.
BIO:
Ken Malsan was born and raised in the Capital District. He is a graduate of Bethlehem Central High School, Hartwick College and Sage Graduate School. Ken currently lives in Rexford, NY with his very, very, very, very, very supportive wife and two children. His days are spent working as a business analyst in Albany. On nights and weekends he enjoys puzzles, games and spending time with the family. Last year,
an article ran in AOA about a double-layered sudoku like game he co-created called "Cohabit"
. This innovative game app challenges players to solve two puzzles at the same time.
Maybe you'd like to share...
Tweet