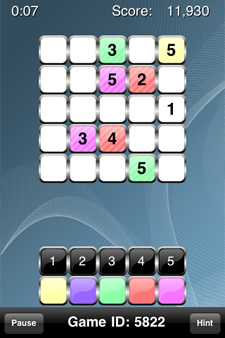 Check it out: Axeva, a company in Clifton Park, has released an iPhone app puzzle game called Cohabit. From the press release:
Cohabit, the brainchild of neighbors Ken Malsan and Bryan O'Malley, challenges the player to "think twice" and is specifically designed to test a player's ability to solve two puzzles at the same time. Players must fill in a single board with numbers and colors without repeating any of them in the same column or row, similar to Sudoku. The additional challenge lies in the fact that every number/color combination must also be completely unique. Taking it one step further, the game's in depth scoring system rewards strategically minded players for placing a number and color in the same space at the same time - hence the name, Cohabit.
The release says Malsan came up with the idea and then pitched it to O'Malley -- the president of Axeva, and his next-door neighbor in Rexford -- and they often discussed the app while standing in their driveways.
The app works on the iPhone, iPad and iPod Touch. It's $1.99.
We downloaded the app and played it a few times on the iPhone. It is very much like Sudoku. The 3x3 puzzles are relatively easy, but it gets harder as the puzzle size increases. We could see this being a fun way to pass the time while you waiting for something.
Axeva released another iPhone app this past summer -- a color book app called Colortoons. The company's main business is building websites.
There are a few other local developers that have dipped their toes into the app pool. Both Ghost Hand Games in Saratoga and Spiral Design in Cohoes and have built apps alongside their regular businesses.
Earlier on AOA:
+ The CDTA iPhone app
+ Spiral Design's Split the check
+ Ghost Hand Games' Snow Brawlin'
image: Axeva
Hi there. Comments have been closed for this item. Still have something to say? Contact us.