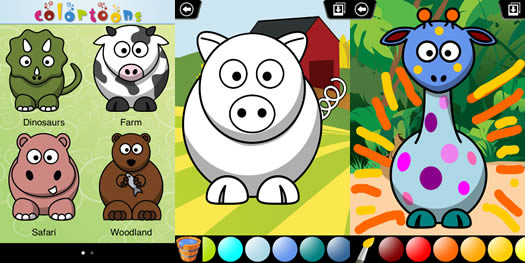 Check it out: a local software company in Clifton Park has built a coloring book app for the iPhone. Colortoons includes 20 animal cartoons that kids (or, you know, the young at heart) can "color" by tapping or painting with a finger.
We downloaded the app this afternoon and tried it out. The cartoons are very cute -- they include collections of dinosaurs, farm animals, woodland creatures and savannah animals. (There's also a blank canvas.) The finger coloring is a little like using a blunt crayon. You can save the works after they're finished (alas, there's no virtual refrigerator).
The whole experience is pretty simple:
The app is probably better for younger kids -- older ones might get bored a little quickly. We could see it keeping a four-year-old busy for a few minutes while you're waiting for something. The app is 99 cents.
A few things that make might it a little more fun: an eraser and the option to import photos to draw on.
The site for Axeva, the company that built the app, says the main part of their business is building websites. There are a few other local developers that have dipped their toes into the app pool. Both Spiral Design in Cohoes and Ghost Hand Games in Saratoga have built apps alongside their regular businesses.
Earlier on AOA:
+ The CDTA iPhone app
+ Split the check
+ Snow Brawlin'