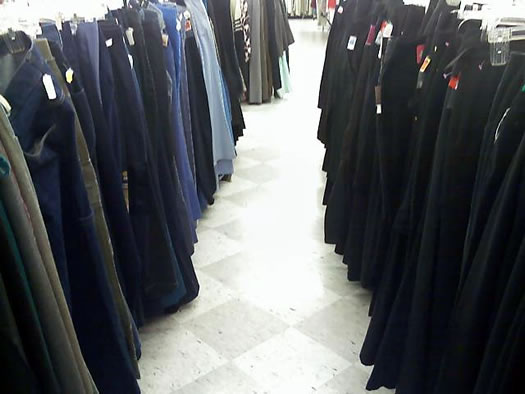 By Aja Lownes
My experience with thrift shops is admittedly small. This is mostly because I'm lazy. I love fashion and I love all of those great vintage pieces I see on celebs. But I also love merchandising. Pretty displays always make shopping a more pleasant, navigable experience. And that's why I generally avoid places like Marshall's and thrift stores.
I love the idea of cheap, awesome clothes. But at the mall, "cheap" and "awesome" are usually in the same company as "poorly made." This is not necessarily the case at thrift stores. So after Eileen mentioned how great the Goodwill store is in Brunswick, I decided to have a go.
First of all, it is a Goodwill Superstore, which means it's freaking huge. As a relative novice, I was immediately intimidated. But the store is thankfully set up in a "thrift shopping for dummies" sort of way -- tops/jackets are grouped together by color, as are the pants, skirts, active-wear and denim.
Second, Eileen was not whistling dixie about the amount of Target merchandise. I would say slightly more than half the women's clothes were from Target. Brand new, still tagged. And it was everything; Isaac Mizrahi, Mossimo, Liz Lange Maternity and a Target in-house line called Merona.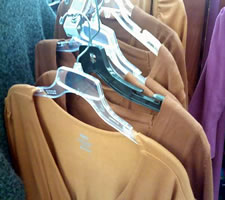 Most of the Target stuff hovered around the $11.99 mark. But these Liz Lange Maternity blouses were $9.99 (which is fantastic because maternity clothes are notoriously expensive).
And the Merona pants? Really, you can't ask for better than a $29.99 pair of pants that are, frankly, of similar quality to anything found at The Gap for $59.50, for $11.99.
Another find: black slim-cut BCBG MaxAzria slacks, for $12.99. I thought I was being Punk'd. They were in perfect condition, but made for a very petite figure, so I left them as they were. This seemed to be a theme. I found many of the slacks to be on the tiny/side.
The shoes really left something to be desired. There's not a great selection, although if you have a daughter/niece or someone of that nature, there was an over-abundance of unworn pink cowboy boots.
And to my surprise, there wasn't much going on in terms of vintage either. Except in the coat section; there lots of late-80s, Diane Keaton-in-"Baby Boom" fashions to be found. Creepy, or brilliant? You make the call.
The Bottom Line
Overall, the merchandise is primarily new; even most of the previously-owned stuff is recent. So if you're hunting for a 1960s pastel shift-dress, look elsewhere. But if you've got some time (it's very quiet on Sunday afternoons) and a shopping buddy with a good eye, the Goodwill Superstore is an excellent place for cheap basics.

Find It
The Goodwill Superstore in Brunswick
720 Hoosick Rd
Troy, NY 12180
phone: (518) 272-8451
Hi there. Comments have been closed for this item. Still have something to say? Contact us.