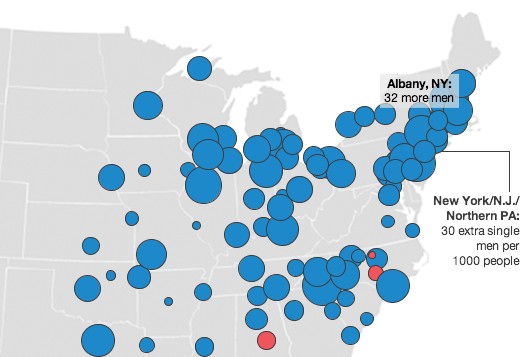 A while back, prompted by a map we saw, we looked at the relative numbers of single women to single men in the Capital Region. The bottom line was that things didn't look so great for single ladies looking for a guy here.
But, wait! There's a new, probably better, interpretation of the data. And things are looking up for the ladies!
A data visualization nerd (we say that lovingly) named Jonathan Soma also saw that original map and had some problems with it. For example, the stats covered everyone between the ages of 20 and 64 -- and he didn't think that quite captured the reality of the situation (25-year-olds tend not to date 55-year-olds).
So Soma whipped up his own map, on which you can dynamically re-size the population being displayed. (Look at the map and the slider in its upper right corner -- it'll make sense.) And when you slice the population down to more realistic chunks things start looking better for the ladies -- a lot better.
Take a look at the data for people between the ages of 25 and 34. In the Capital Region (or, the Albany metro area specifically), there are 32 more single men than single women per 1000 people. The balance evens out at the 35-44 bracket (five more women than men), and then it really starts to tip the other way at the 40-49 bracket (23 more women).
As with all data, there are caveats -- Soma's map lists plenty of them and they're worth reading.
map: Soma
The Bottom Line
Younger ladies in the Capital Region -- you've got your pick of single guys.
Hi there. Comments have been closed for this item. Still have something to say? Contact us.