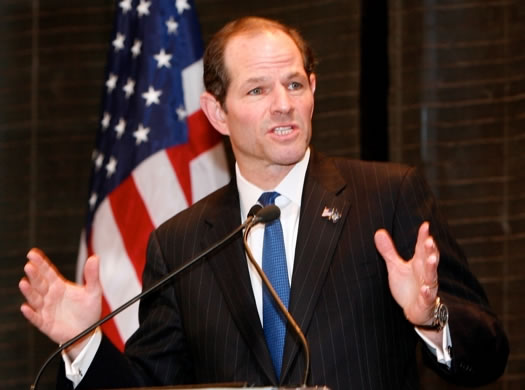 What's the wash cycle for disgraced public figures these days? A year? Six months?
In what's maybe not a surprise, Eliot Spitzer seems to be testing the limits.
He pushed himself back into public life this weekend with a piece in the Washington Post about his advice for Barack Obama regarding the financial meltdown.
The short version: I was right.
A snip from the longer version:
The new president's team must soon get to the root causes of the mistakes that have brought us to the economic precipice. Yes, we have all derided the explosion of leverage, the failure to regulate derivatives, the flood of subprime lending that was bound to default and the excesses of CEO compensation. But these are all mere manifestations of three deeper structural problems that require greater attention: misconceptions about what a "free market" really is, a continuing breakdown in corporate governance and an antiquated and incoherent federal financial regulatory framework.

Last sentence:

Although mistakes I made in my private life now prevent me from participating in these issues as I have in the past, I very much hope and expect that President Obama and his new administration will have the strength and wisdom to do again what FDR did.

(And, hey, maybe we shouldn't completely count him out. Though his backstory would seem to clash with the "No Drama Obama" approach.)
As it happens, that "mistake" will be on TV this Friday. She'll be talking with Diane Sawyer on 20/20 after reportedly being compensated for "archival footage." Even so, the interview apparently contains few juicy bits about Spitzer.
Earlier on AOA:
+ Eliot Spitzer hails his own cabs now.
+ A new definition for screwing up
Hi there. Comments have been closed for this item. Still have something to say? Contact us.