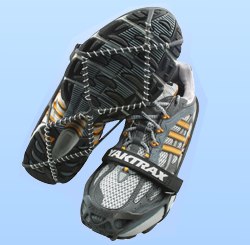 After taking a skittery walk over the glazed sidewalks last night with the office dog, we were intrigued when chrisck suggested Yaktrax:

To walk on ice and icy snow--get a pair of Yaktrax to give you great traction. They slip onto any pair of shoes or boots and are inexpensive. I got a pair last year (at EMS, but you can also order online) because I walk my dog on Albany sidewalks and was nervous about slipping on the ice. ... They are that good in terms of safety. This is a great gift for anybody who has to navigate icy surfaces--like walking to a bus stop. Very good for senior citizens

So, we decided to check them out. And they look very useful!
They're basically like tire chains for your shoes. It would seem easy enough to slip them on for a walk and then slip them off when you get to your destination (and very easy to store under your desk or someplace). And they don't look dorky, either! In fact, they're kind of badass.
The cheapest pair is $19.95, but it sounds like it's worth spending the extra $10 for the "pro" pair. (Either that, or you train your dog to retrieve them when they slip off.)
We just checked the website for EMS -- and it reports that all three local locations currently have Yaktrax Pro in stock.
Hi there. Comments have been closed for this item. Still have something to say? Contact us.