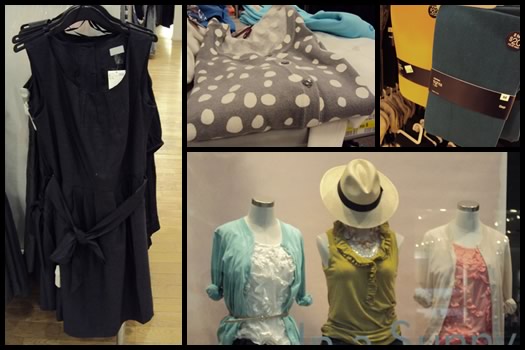 By Kaitlin Resler
I'm feeling the weight of January.
Sure, we've had a few oddly warm days, but coats and boots are still required, there's slush, and it's going to be really, really cold for a long time.
These are the days when it's hard to resist dressing down and wrapping oneself in a cocoon, or, you know, caring enough to put an outfit together. Dressing well in an upstate winter is hard, especially when the holidays are over and it's just plain cold.
So I went shopping in the Capital Region and gathered a few ideas to help get over the mid-winter fashion blues:
When in doubt, wear a cardigan.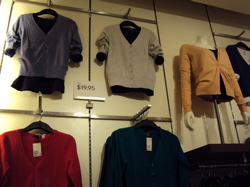 I think this applies at all times, in just about every season. Most stores layer outfits on their mannequins like mad, which is a good way to make it through the rest of winter for us non-mannequin types, too.
Cardigans go with almost everything, and are out in the world in every possible color, embellished with lots (beads, jewelry, ruffles, ribbons, studs, buttons, and patterns) or nothing at all. Wool can add bulk, or warmth without bulk, while cotton cleans easily and won't over-heat. For really chilly days, wear multiple cardigans.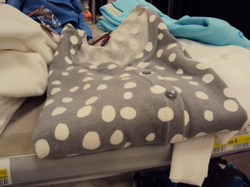 H&M has a few for around $20, as does Target (polka dots!) -- but tons of stores have winter cardigans that are on sale, and spring versions that will keep you going until April. Also for men and women, investigate the sweaters in thrift stores. For Pete's Sake was running a $1 sweater sale for a while, and if you're lucky you might find something woo and vintage for a steal! For guys who aren't into the cardigan look, H&M has some nice new colors in v-neck sweaters for around $20 as well.
Do not underestimate the skirt or dress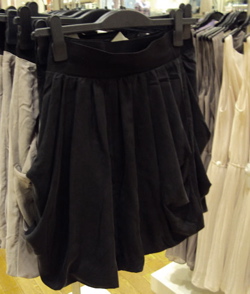 The hardest part of winter is not so much the snow and the cold, but what happens after the snow: slush. Besides the footwear conundrum this provides, there is nothing worse than soggy trouser-hems. Opting for thick, opaque hosiery will keep the gams warm while allowing you to stomp about the slush with little damage to hems. Plus, a neat little skirt edge looks darling peeking out from the bottom of a coat. H&M has some floaty pieces that are great now with layers, but good for later (aka, warmer) in the season.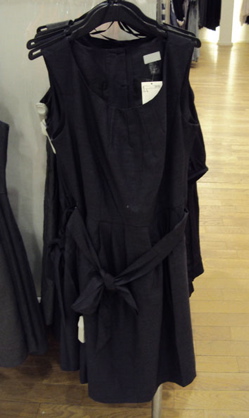 At the moment, I'm discovering the wonder of jumpers (paired with a blouse, belt, fun tights, and a sweater if it's chilly) and have my eye on this one from H&M ($39.50) with darling little buttons down the back! Plus, you can punch it up with rain boots or big, winter footwear and still look cute.
Go crazy with tights.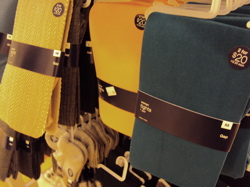 As a subset of the above little category, tights! They are on sale everywhere, which is lovely for those of us who make runs in them with our thumbs or snag them on furniture. This might require some digging, but it's raining sale tights almost everywhere. Gap has some for $3.99, in normal colors, and in really bright mustard and blue (some patterns also, but not on sale).
Investigate colors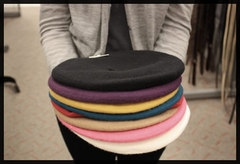 If you're buying a new winter coat, try a color. By this point, we're all over black anyway, and a little bit (or a lot) of color will -- cheesy word alert -- reinvigorate your winter ensembles. Pull out that red lipstick from fall (I ended up with MAC's Ruby Woo by the way). Scope out the ties at Marshall's and grab the most insane color/pattern/textured tie (if you like it of course -- but even if it makes you lol it's worth a try!) and make it work with a regular outfit. Change your shoelaces (nothing drastic -- even just a slight switch to a lighter color might make the best difference).
Re-discover belts.
I am confused by belts. They're one of the most difficult accessories for me, and yet are integral to an outfit (not just in a pants-holding-up kind of way). Wear two skinny belts over a cardigan, or tie it in a knot instead of using the buckle. Toss one on over your coat.
Guys, try a belt of a slightly different color with weekend-wear (some will scoff at things like white belts, or grey, but alternatives to black or brown change an outfit). It's trickier for guys, since tossing one over a cardigan doesn't quite work, but mixing shades of brown, trying a patterned belt instead of a plain one, or going on the hunt for the totally elusive navy belt might be worth a try.
For thin leather belts, check out thrift stores -- they usually have tubs of them for a few dollars. If you're looking for larger chunky belts, the men's sections of department stores usually run some specials, and (though I've mentioned it a lot) I got my favorite one from the men's section of H&M. Men's belts tend to be sturdier if you want to go larger.
Make the effort
And finally, generally, dress up. Not just the opposite of casual-dressing, but dress with something in mind. Pick a favorite movie and inspire yourself with a character. See who gets the reference (if they do, you might have made a new friend!). It's really easy to toss on your most comfy jeans and a hoodie, and day after day of this will bring anyone down in the dumps -- instead, have a little fun.
Kaitlin chronicles her exquisite personal style at All This Happiness.
Say Something!
We'd really like you to take part in the conversation here at All Over Albany. But we do have a few rules here. Don't worry, they're easy. The first: be kind. The second: treat everyone else with the same respect you'd like to see in return. Cool? Great, post away. Comments are moderated so it might take a little while for your comment to show up. Thanks for being patient.