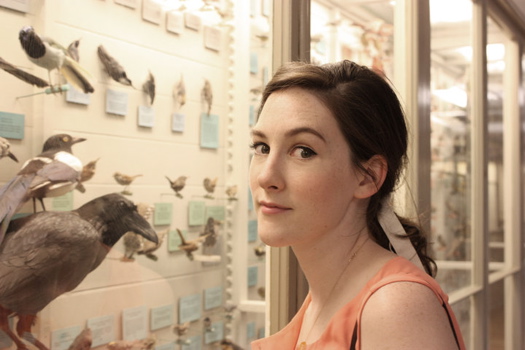 Kaitlin Resler is a lovely and talented person with an incredible sense of style.
You may know Kaitlin from her fashion and shopping posts on AOA or her blog, All This Happiness, or the recent feature the folks at The Fashion Spot did about her. Maybe you've seen her scooping gelato or plating pastry at Crisan (she's the one with the Audrey Hepburn thing going on ), or on a walk through the Washington Park, Saratoga, or the Empire Plaza.
Kaitlin really appreciates beauty -- in everything from clothes and buildings to quirky taxidermy birds.
She's lived in Albany for most of her life, and she's one of the city's greatest cheerleaders, which made her a natural choice for our summer stay-cation series.
About Kaitlin:
I've lived in Albany since I was about two. Mostly we lived in the Lark Street area, on Hamilton, but now we're in the area near St. Peters.
I really like Albany. I think it gets a bad rap. I stayed here for school and now I'm English masters student at UAlbany and I'm starting my thesis. I work at Crisan and I love it.
I like old things and vintage. I watch Mad Men a lot. I like shopping. I like writing about clothes and talking about clothes. And I don't think clothes are frivolous. It's what we wear everyday so I think they're important. I like figuring out an outfit even if it's frustrating, and playing with it and still doing what you did when you were a kid and you dressed up.
What do you like to do in Albany during the summer?
I think there's a lot here that isn't that obvious. The NYS Museum is fantastic.
I love the Bird Hall! I love talking to people about it and blogging about it and telling people about it. I'm obsessed with it. I go there every two weeks!
What's so cool about the bird hall?
I don't know -- I love weird taxidermy things --and I love birds. And they're all labeled. And I feel like there aren't many places that that have that kind of a weird natural history thing going on.
A must do for me is the 4th of July on the plaza. I know people in each town have their own 4th of July things that they do in their areas, but if you are anywhere near Albany , some year you have to check out the plaza . it's just -- having the huge buildings and the weird egg --and there's necklaces that glow -- and food -- and it feels like it's such a huge big city and everybody is there at once. When you drive in and you see the buildings you just think , " Albany is really cool!" And Albany is really cool.
I like to walk in the parks and watch little league teams -- and sometimes there's a carnival. I like the little tiny kind of events like where people just show up, but it's not everyone that you know.
I love walking around Center Square and seeing who the houses were built for. One of them was built for a guy who made corkery.
I was talking to a friend on Twitter who lives in Texas and she was tweeting about The Age of Innocence. I said parts of that were filmed in Troy near where I live and she said "Wow , you must live in one of the most beautiful places. Your buildings must be fantastic! And I said " Yeah, they are." We have these buildings and areas that are so cool.
Also, I really like Washington Park -- it's so beautiful. Oh, and Park Playhouse. Bring a blanket and sit there on a hill -- it's just a necessary part of summer. And it's really fun. It's a good thing to do when people come and visit for the weekend -- they're always really surprised.
And I love it that we're so close to so many things so going to Saratoga or Northampton or even going to the city is not that hard.
I usually try to get up to Saratoga. Mrs. London's is a big hit when I'm up there. I really like hitting some antique stores there and a few on the way. I have a lot of friends that are into vintage so we hit a lot of those places. My favorites are Recycling Red Dresses and Reruns. On the way in Ballston Spa to check out Rosie Bloom.
I tend to be really low key... having a day and just walking around, window shopping, regular shopping. I wander down new streets check out new stores and the horses they have... and being dorkey.

What do you do with friends when they visit?
I had some people come in last year and stay for a while and we went to Lark street and hit the bakery and Elissa Halloran and Bombers for lunch. And we did the plaza --took lots of pictures down there. We even did a tour of the Capitol. Not the official tour -- you can do one of those -- but my version of the tour where I just kind of point out things ...like the stairs that look like the ones in Beauty and the Beast -- which is not very articulate or educational.. but it's fun.

Do you have any favorite summer foods you look forward to here?
I love the lunch trucks. On my days off I'll go down there and grab a hot dog or two. You forget that they're there, and there's really nothing like that anywhere else in the Capital Region. I grab two hot dogs and a soda and walk over to the farmers market and the plan is to get berries and use them .. but the I eat them. All.
Hitting any soft serve ice cream stand is a small thing ... I'm on the tastee freeze wagon (in Delmar) but i also really like Jumpin' Jacks. You can get a melted cheese
sandwich there -- which is also my summer favorite. It's just melted cheese on a hamburger bun -- it's steamed... and it's disgusting but I love it. It's just a big wad of white mushy -- it's awesome! It's so bland and delicious. You get that and oninon rings and two hot dogs and then you go get ice cream.
What's your favorite Capital Region summer memory?
I was walking with my father -- it was early summer because the lilacs were out -- and I was like five, and he got me handfuls of them from the bushes. And I remember walking home with them and coming into our house on Hamilton Street and my mother making spaghetti. It all sounds very ideal now. But i have a lot of memories of summer that involve walking. Walking up and down Lark Street , going to Ben and Jerry's. Walking with my dad or my mom and my friends.
What do you do to cool off when it's really hot?
I don't have air conditioning -- I'll usually end up somewhere like the mall. I like the little boutiques and stuff, but the mall is where it's affordable and it's cold and there's movies and pretzels. Oh, and The Spectrum. I go to The Spectrum when it's hot.
What's your favorite summer road trip?
I think probably Northampton is my favorite. its a really easy drive and there's a lot to do on the way. The outlets are on the way and there's a place in Lee called Bistro Zink that has a potato leek soup that is my dream soup. It involves creme fresh -- it's amazing.
What do you wish we had here in summer ?
If anything, I would really wish we had some legit beaches with some waves and shells. I think the beach is the thing we're missing but it's not too bad of a drive, so I can deal with that.
In the interest of shopping i would like if we had a little bit more going on. if we had an Anthropologie I'd be happy as a clam. I wish we had a bit more of a metropolitan shopping thing going on.

Hi there. Comments have been closed for this item. Still have something to say? Contact us.