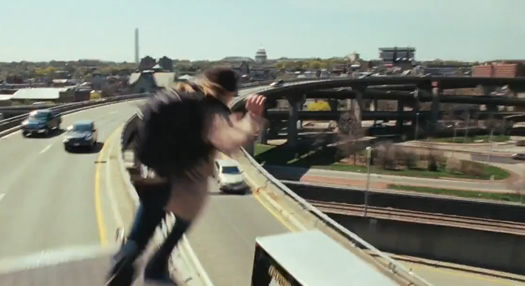 Said Salt director Phillip Noyce of the action scenes shot in Albany, to NBC:
"Due to excessive pork barreling over the years, the capital of New York has built up the most elaborate freeway system you have ever seen," Noyce said at a screening of the film on Monday night.
There was even "one overpass to nowhere which just stopped," he added with a little surprise. While clearly a symbol of taxpayer waste, Noyce had to admit: "It was really convenient to one (movie) sequence," he said. "It's a tragedy (for taxpayers) but great for filming."
The article goes on to mention that Salt "is impressive in its use of the freeway as a supporting character in one memorable action scene."
The movie opens this Friday.
Earlier on AOA:
+ More Angelina and more Albany
+ That's Angelina and that's Albany
screengrab: Sony
Hi there. Comments have been closed for this item. Still have something to say? Contact us.