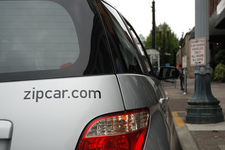 It sounds like Albany common councilwoman Leah Golby is trying to push things forward on car sharing. From an email she sent out on Friday (links added):
If you aren't sure what car sharing is -- the best way to describe it is: short-term car rental. If you've traveled to larger cities, you've likely seen ZipCar -- that's the large for-profit car sharing company. Car sharing is access to a car without the hassles of car ownership. Car sharing helps to reduce gas emissions, promotes use of public transit and can save you $ by (for example) down-sizing from a two-car household to a 1-car household. ...
I happen to be more in favor of locally-controlled non-profit car sharing for the reasons that an Austin group described on the attached.
Momentum for any car sharing company would need to work collaboratively with all of the colleges/ universities leaders from our neighborhoods with parking issues (Center Square/ Hudson Park and Pine Hills), the city's Planning Department and CDTA/ CDTC.
Golby is hoping to prompt discussion via a Twitter hashtag: #ImagineAlbanyCarShare.
Of course, something like this wouldn't have to be limited just to Albany -- there are probably a handful of neighborhoods/areas/centers in the Capital Region that might benefit from car sharing.
Updated July 29, 2010 to include link to the pdf.
Earlier on AOA:
+ Report: car sharing coming to the Capital Region. Sort of.
+ Assembly passes Albany residential parking permits bill
+ From 2008: Not-yet-councilwoman Leah Golby talked about living in the Capital Region without a car
photo: Flickr user Jason Rodriguez
Hi there. Comments have been closed for this item. Still have something to say? Contact us.