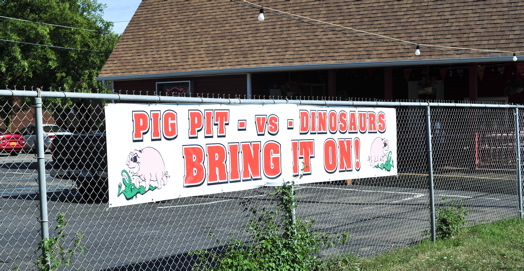 By Jessica Pasko
While driving around Cohoes , I couldn't help but giggle at this "Pig Pit vs. Dinosaurs: Bring it on!" sign. Clearly I had to check that out.
So, my look at Cohoes continues with, The Pig Pit.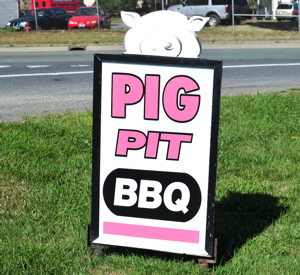 The last time I checked out Pig Pit BBQ, it was still in a tiny little pink building on Ontario Street in Cohoes. Now it's in expanded digs - a big old barn off 787 that's decorated with neon pink pig signs and it screams Texan barbecue.
Dave Frazier, aka Tex, started the business back in 2004. He and his family moved to the area from Texas in the early '90s and he's been cooking his Texan barbecue in the area since then. But it wasn't until 2004 that he opened his own joint to serve his slow-smoked meats. He's been running his catering company, Tex's Longhorn Catering Company, for even longer.
The interior décor goes crazy with the pig theme, but somehow, it works without being overly cheesy. All sorts of pig decorations abound, from strands of pig-shaped lights to stuffed pigs and more. There are even Pig Pit shirts for sale if you'd really like to show your bbq pride.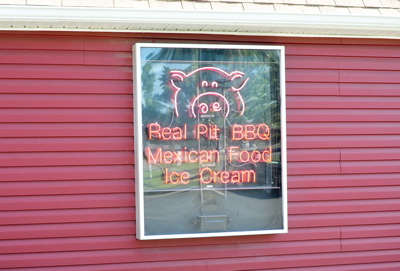 Frazier takes his business seriously - not only was he manning the counter the day I stopped in, but he also made sure to go around and check on each table to make sure everything was acceptable. And for a place that's mainly counter-service, I found that kind of remarkable.
But really, the main part of any bbq joint is the food, right? And Pig Pit's is the real deal. I was, unfortunately, still stuffed from breakfast, but couldn't pass up a taste.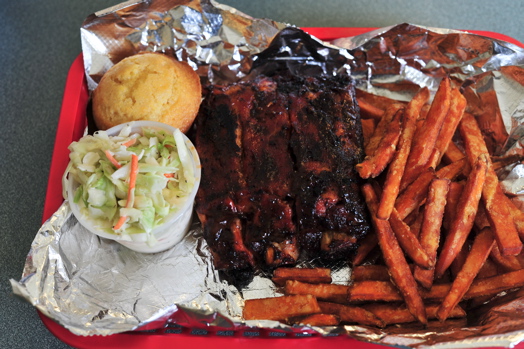 A basket with ¼ racks of ribs, sweet potato fries and coleslaw for $6.95 made the perfect snack for two. The ribs are hickory smoked, St. Louis cut - I think I liked them better than the ones from my beloved Cap Q. I'll have to go back to give the pulled pork a shot - I've heard great things about the $5.95 pulled pork sandwiches.
PP also serves several Tex-Mex items, including burritos, enchiladas, tamale pie and a few others. In addition to the fried chicken, pulled pork, catfish, ribs and other barbecue delights, the menu item that really caught my eye was something called Tex's Maybe Soup or Stew. The menu description? "Only available if we got around to making something."
Oh and as several AOA readers pointed out , Pig Pit also has fried pickles, described as "crispy garlic dill pickle spears battered and deep-fried and served with a cream bbq sauce." Of course, if that's not enough fried goodness for you, there's also the green bean fries, which are green beans that have been onion-battered and fried crispy.
Bonus: They do lunch deliveries and family-sized picnic basket meals.

Find It
Pig Pit BBQ
1 Niver St. (Right off 787)
Cohoes , NY 12047
253-2323
Hi there. Comments have been closed for this item. Still have something to say? Contact us.