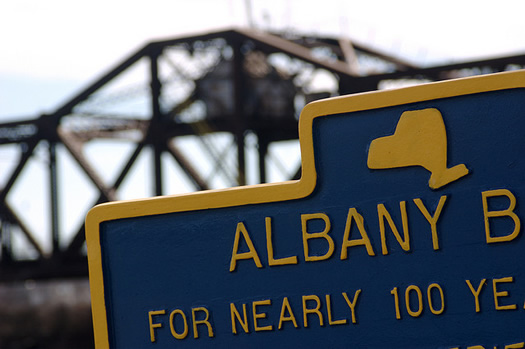 By Jessica Pasko
This is hard to say, but I'm taking off. It's been a good ride but it's time for me to try something new in life and unfortunately, that also means taking a break from Albany in the form of graduate school in the Midwest.
Like so many of us, I never intended to come back here. The lure of immediate post-graduate employment in the form of a job with the Associated Press brought me back, and ended up pushing my dreams of moving to San Francisco to the side. So I stayed... longer than I ever anticipated, and I've enjoyed myself more than I would ever have expected.
Writing for All Over Albany has helped me gain a new appreciation for my hometown. I've learned about things I never knew - such as Albany being the birthplace of modern toilet paper and that there's an entire nature preserve in Arbor Hill that's been shamefully neglected. And it's allowed me to share the things that I love and find interesting with the entire community.
It's helped me appreciate the interesting things that are lurking just under the surface here that often go unnoticed. For instance, discovering a fire spinning and eating meet-up group was pretty neat. And there's a certain joy I get from knowing where to go for the best appetizers to take to a party or where to find the best liverwurst. I like knowing where to find the best secondhand clothes and the perfect spot for a glass of wine in the summer (clearly my choice is the Wine Bar on Lark.) But more importantly, it's helped me meet some amazing people, who make this area what it is and whom I will dearly miss.
And while I'm excited for a new journey in Chicago/Northwestern University, there are countless things I will miss here. To name a few: the view from Thacher Park, strolling around the Empire State Plaza at night, the little hand-written tasting notes at the The Wine Shop on New Scotland Ave., relaxing at Victoria Pool in Saratoga Springs and feeling temporarily rich, the amazing garlic paste from Al-Baraki, the coffee at Flavour Cafe, having the wonderful smells and tastes of Cardona's just blocks from my house, the amazing array of gorgeous produce at the Schenectady Greenmarket, and being able to sit down at the bar at New World Bistro and know that Nick will know exactly what I want to drink and eat (Hendrick's cucumber-lemonade, small order of blackened string beans.)

But maybe the best way to really appreciate one's roots is to get away from them for a while, so I can come back and rediscover everything all over again.
And if this journalism thing doesn't work out, maybe I'll become a tugboat captain. Or a sommelier.
Who knows? Maybe I'll come back and start AOA's little sister, All Over (the) Hudson Valley -- but I promise I'll work on a catchier name.
This isn't exactly good-bye Albany; more like, I'll see you later.
With love and squalor,
Jessica Madeline
Editors: To say we'll miss Jess is an understatement. We had a whole day for her. She's the best contributor AOA has ever -- and probably will ever -- have. And on top of that, she's a really cool person. We hope Chicago knows how lucky it is.
photo: B Campbell
Hi there. Comments have been closed for this item. Still have something to say? Contact us.