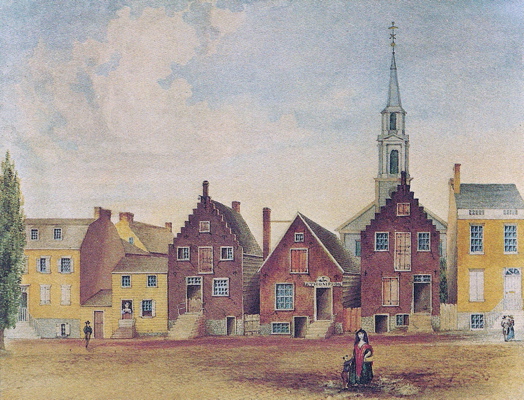 By Carl Johnson
The recent item proclaiming Albany to be one of America's 10 dead cities was just the latest in a long tradition of bashing our capital city.
Who knows when Albany-bashing began, but I found evidence of it that dates back to 1789, and is a kind of reminder that in all criticism, you have to consider the source.
When our new nation was finally ratifying the Constitution (which perhaps took its earliest form in the Albany Plan of the Union,), Dr. Jedidiah Morse published his "American Geography," one of the first comprehensive textbooks on the subject. In it, Morse, one of the earliest recognized names in American education, expressed an unreserved dislike for the people of the oldest city in the colonies:
"Albany is said to be an unsociable place. This is naturally to be expected. A heterogeneous collection of people, invested with all their national prejudices, eager in the pursuit of gain, and jealous of a rivalship, can not expect to enjoy the pleasures of social intercourse or the sweets of an intimate and refined friendship."
Okay, so Morse wasn't big on diversity. He also wasn't big on the Dutch:
"To form a just idea of the manners and customs of the inhabitants, we must confine ourselves to the Dutch, who being much the most numerous, give the tone to the manners of the place. Two things unite more particularly to render these disagreeable to foreigners; first, a natural prejudice which we all possess in favor of our own, and against the manners of another place or nation; secondly, their close union, like the Jews of old, to prevent the innovation of foreigners, and to keep the balance of interest always in their own hands."
In fairness to Morse, he did admit that those observations were not his own, but from a "gentleman of observation and discernment, who resided some time in Albany." Still, to go on with this diatribe, he must have agreed with them:
"Their diversions are walking and sitting in mead-houses, and in mixed companies they dance. They know nothing of the little plays and amusements common to small social circles. The gentlemen who are lively and gay, play at cards, billiards, chess, &c., others go to the tavern, mechanically, at 11 o'clock - stay until dinner, and return in the evening."
So, Morse's problem with Albany? An unsociable place, but also a diverse party town. With mixed dancing.
I'm so ashamed.
(Jedidiah, by the way, had a son named Samuel -- the noted painter and inventor of Morse code.)
The first version of this post included a typo for the publication date for "American Geography." It's 1789, not 1879
image: James Eights via Wikipedia
Hi there. Comments have been closed for this item. Still have something to say? Contact us.