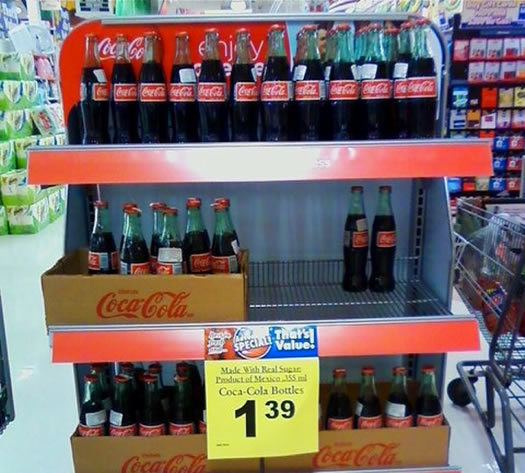 Via Fred comes this pic of a Mexican Coca-Cola display at the Slingerlands Price Chopper this afternoon:
Made with Real Sugar
Product of Mexico 355 ml
The price for one of the glass bottles: $1.39.
Soda snobs have long touted the superiority of Mexican Coke -- made with sugar from sugar cane -- over the domestic swill, made with high-fructose corn syrup. It was once hard to find in the US (you could often score it at places like taquerias in the Southwest and California), but a Costco started carrying it a few years back. And recently it's spread to more big box stores and supermarkets (apparently with Coca-Cola's blessing).
This is the first time we've heard of it being carried in a Price Chopper or Hannaford. (Daniel spotted some during the opening of the new Fresh Market in Latham.) Until now, Coke drinkers looking for the good stuff had to wait for the kosher-for-Passover version.
(Thanks, Fred!)
Earlier on AOA: We enjoyed a Mexican coke with our taco from Tortillaville in Hudson.
Hi there. Comments have been closed for this item. Still have something to say? Contact us.