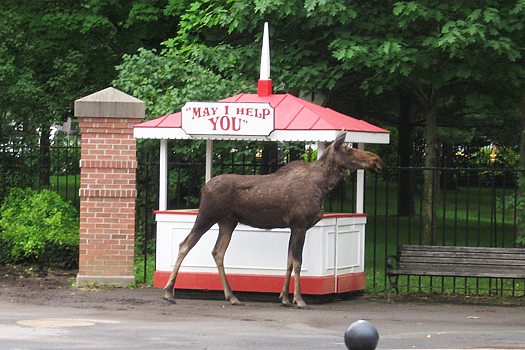 The state Department of Environmental Conservation reports that the number of moose in New York is "rapidly" increasing. The DEC estimates there are now about 800 moose on the loose in the North Country -- up from 500 three years ago, and as few as 50 in the 1990s.
From the press release:
As their population has grown in New England and Canada, Alces Alces, or the North American Moose, began migrating to New York in the last decade, establishing a base in the North Country. That trend has continued with increases in young and adult moose populations and increased sightings by hunters and the public at large. DEC biologists stress that the population numbers are estimated but that the growth is clear.
Apparently, this time of year is the peak season for moose activity, as amorous moose wander the landscape looking to hook up (common moose pickup line: "nice rack").
All that moose activity means you're more likely to see one this time of year -- and you're also more likely to hit one with your car. Moose are as tall as six feet at the shoulder and weigh as much as 1200 pounds, so they can do quite a bit of damage.
DEC says most of New York's moose (we really want to call them meese) are located in the Adirondacks, but there are some in the Taconics along the border with Vermont and Massachusetts.
Incidentally, the press release didn't include details about whether there's been a coincidental increase in the flying squirrel population.
Earlier on AOA:
+ Earlier this year, the DEC reported the state's bear and bald eagle populations were both growing
+ Foxes and fishers and bears, oh my!
+ Your new neighbors, the fishers
photo: Lynn Drew/NYRA Photo
Hi there. Comments have been closed for this item. Still have something to say? Contact us.