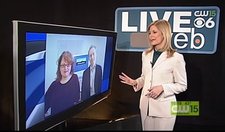 Check it out: AOA's spot on the CW15 News at 10 has been moved to Wednesdays!

We'll be on tonight with Dori talking about backyard chickens, Ryan's question about the best burgers in the Capital Region and... pancake bites.

Update at 8pm Wednesday: ... or not. We just heard that there was a technical problem - and as a result, no AOA segment tonight.

Update again: Now we're going to be on Friday this week! But next week -- and the weeks after -- Wednesday.



Hi there. Comments have been closed for this item. Still have something to say? Contact us.