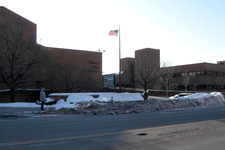 Three local schools are on the "persistently lowest performing" list released today by the state education department: Albany's high school and Hackett Middle School; and Schenectady High School.
All three of these schools are up for "registration review," which requires them to implement a "major intervention" to turn them around (there's funding that goes along with these interventions). There are four intervention models: turnaround, restart, transformation and closure.
This is the second year in a row Albany High School has been tagged on this list. In July the state released a report that painted a harsh picture of the school. In September, the school district announced that the school would be broken up into four "themed academies" starting next school year.
Albany High School had a 53 percent graduation rate in 2009, according to state figures. Schenectady High School's rate was 56 percent.
It's hard to overstate the importance of improving these schools. First and foremost, the students deserve better. But the quality of these schools is also a key part of the health of Albany and Schenectady. It's anecdotal, sure, but we know a bunch of people who have moved out of Albany (or plan to) because of the schools (we'd actually like to see research on this question). A schools turnaround could go a long way to toward improving the overall health of the city -- by providing students with better opportunities, and holding onto to families who would otherwise leave.
Earlier on AOA:
+ Capital Region high school graduation rates 2009
+ Projected Capital Region school district per-pupil spending
+ Capital Region elementary school test scores
Hi there. Comments have been closed for this item. Still have something to say? Contact us.