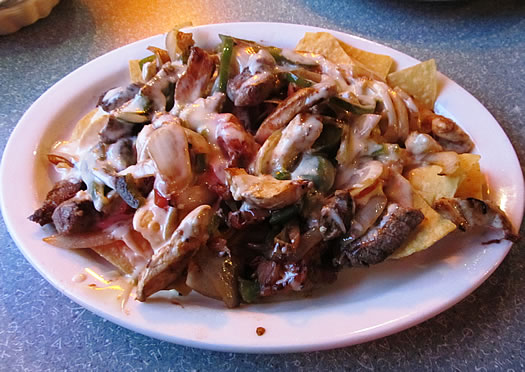 By Jerry Papandrea - derryX
It's Forget the Resolution week on AOA: a whole lineup of foods that can send your New Year's resolution to eat better/eat less/exercise more/lose weight to its timely end.
This year I joined the mass of Americans that makes a New Year's resolution to become fit and healthy.
I recently reached a fairly minor milestone, so I figured I deserved a "cheat meal." But I couldn't figure out how to reward myself without going completely overboard.
 
So I gave my brother, my accomplice in overeating, a call; he reminded me of the mixed fajita nachos at Pancho's Mexican Restaurant in Colonie. The nachos consist of the same ingredients in a fajita platter spread over freshly fried corn tortilla chips and covered with copious amounts of melted white cheese. The portion is plentiful and is easily enough for a hefty snack for two.
 
That was it. I was going to Pancho's to order my very own plate of mixed fajita nachos.
Pancho's, currently located at 1343 Central Avenue but soon moving to 1610 Central Avenue (the former location of Christina's On the Avenue), is an independently owned American-style Mexican restaurant that is a good choice for quick family dining. Pancho's has a rather extensive menu, and their staff is usually willing to accommodate any dietary needs you may have. They also have a great bar and offer a wide range of spirits and mixed drinks.
 
But I was there for the nachos!
 
The menu describes the dish, which costs $13.95, rather simply as "Chicken and beef cooked with bell peppers, onions and tomatoes. Covered with cheese dip." I didn't care how generic the description seemed, I wanted a plate of nachos!
 
In fact, in execution, the dish is well-prepared, and, I would say, not generic at all. The fried corn tortillas are served at a perfect temperature and are able to maintain a good crunch throughout most of consumption. The peppers and onions are lightly seasoned and grilled to a perfect "al dente," which is important in keeping some crunch to the vegetables while developing some of the caramelization of the natural sugars. The steak and chicken are seasoned and grilled to a tender doneness. Both add a savory counterpoint to the faint sweetness of the peppers and onions, and are seasoned simply with salt, pepper, and garlic, which is certainly obvious but not overpowering. The simplicity of the seasoning throughout the dish allows for enjoyment of the individual components as well as a union of flavors that would become muddled if the execution were any more complicated.
 
The cheese is a point of contention. Most people would criticize the cheese in this dish. I will admit that the cheese has a very strong resemblance to American cheese, a fact that has even been mentioned in a Yelp review of the restaurant. Years ago, when Pancho's first opened, my friends and I enjoyed quoting a print review that referred to the cheese used by Pancho's as "the cousin of Velveeta." It is difficult to overlook this detail, but, for a cheat meal, what could be more perfect than a gooey cheese that tastes decent slathered over a platter of sweet grilled onions, peppers, and tomatoes, savory chicken and steak, and crunchy tortilla chips?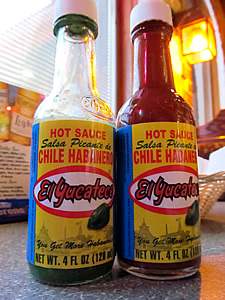 Exactly!
 
While eating the dish, I started a debate in my mind over whether to use hot sauce or not, and if so, which to use. At each table, there are green and red El Yucateco hot sauces; both have similar flavor profiles, but the green sauce packs more heat, so I decided to use some of that. The heat was a perfect accompaniment to the dish.
So I worked my way through the plate of nachos, gradually adding drops of hot sauce over the top of the pile after every few bites. Before I knew it, all that remained were a few tortilla chips and a small amount of cheese on a mostly empty plate. I thoroughly enjoyed the meal and remained full for the rest of the night.
 
I would call that a successful, well-deserved cheat meal.
Jerry is coming at you from many directions at his blog, derryX.
Also from Forget the Resolution week:
+ Akum vs. The Machine at Uncle Dan's Diner
+ The Deep Fried Hamburger at Swifty's
+ Chicharrones at Mr. Pio Pio
+ "Philly Steak" at Morrette's
Find It
Pancho's
1343 Central Avenue
Colonie, NY 12205
Hi there. Comments have been closed for this item. Still have something to say? Contact us.