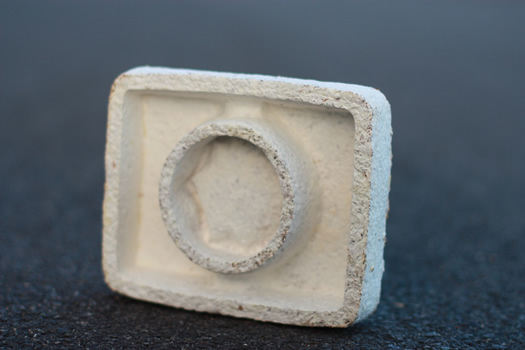 Dell, the giant computer company, announced today that it is running a pilot program that will use the mushroom-based packaging made by Ecovative Design, the Green Island based startup.
Ecovative has developed a styrofoam replacement material called EcoCradle -- or, as the company points out, it's grown EcoCradle. The packaging material is composed of agricultural byproducts and the thread-like roots of mushrooms called mycelia. And, unlike styrofoam, it's compostable and biodegradable.
Dell says it will be testing EcoCradle in shipments for one of its servers. In 2009, the company started using packaging made from bamboo.
Ecovative already had a deal with office furniture company Steelcase to supply to packaging material. And it's also developed an insulation material based on the same technology.
Ecovative was founded by Eben Bayer and Gavin McIntyre, both RPI grads. The company's gotten a lot of attention -- it was even name-checked on CSI:NY. Last year it was named a "technology pioneer" by the World Economic Forum.
Earlier on AOA:
+ A (very cool) fungus grows in Troy
+ and a whole bunch of other items about Ecovative
photo: Ecovative Design