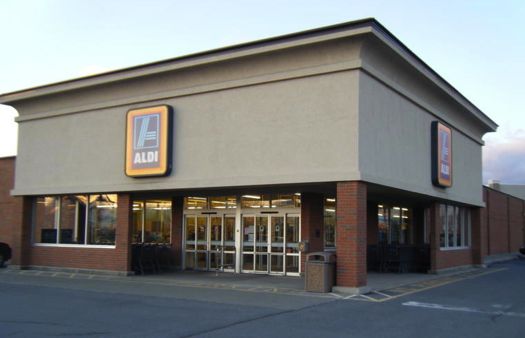 By Albany Jane
It's Supermarket Week on AOA -- a whole week of posts about shopping for food. Because we all have to eat.
Oh Aldi, how do I love thee? Let me count the ways...
Aldi is one of the Capitol Region's discount grocery chains. The store has locations throughout the globe, and has owners in common with Trader Joe's. There are some similarities between the two.
Think of Aldi as your ghetto Trader Joe's.

Aldi carries a fairly wide array of items, but like Trader Joe's, I wouldn't call it a place to stock up on essentials. More like a store to stock up on pantry extras and supplements.
I love it because there are some serious bargains to be had. Sure, some of their items are crap, but that's pretty much every store. And like Trader Joe's, sometimes they just stop carrying a certain kind of product.
To keep costs low, the store doesn't accept checks or credit cards, but does accept debit cards, EBT cards and, of course, cash. They also sell bags, so bring your own (or fork over $0.05 per bag). Also, if you want a cart, you'll have to deposit a quarter to free it from the chain of other carts. Don't worry -- you get it back when you return the cart. It might seem like a minor hassle, but I've also never had a problem with runaway carts in the parking lot at Aldi.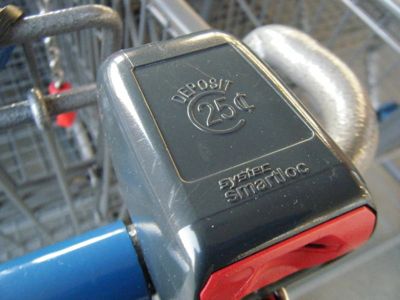 The store is set up a bit like a maze -- the entrance opens to an aisle that runs completely to the end of the store, making you pass some of the higher mark-up items and junk food, slowly turning into baking goods, condiments, and cereal. The rice cracker snacks are pretty solid.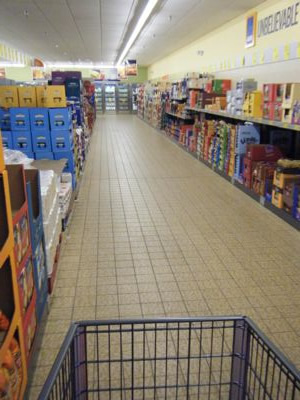 Aldi sells a lot of shelf-stable items like snack foods, baking goods, soda, juice, and canned items. You'd think that in a bargain shopping environment you'd run into items with a lot of preservatives and a long list of ingredients you can't pronounce. But I'm always pleasantly surprised to see that many of their juices are free of high fructose corn syrup, as are many of their snacks.

They also sell refrigerated dairy, meat, and a very limited fresh food section that has a few commonly purchased fruits and vegetables for our area (tomatoes, a few fruits, lettuce, potatoes). I'm pretty partial to their cheeses -- the sliced deli cheeses are solid for sandwich making, as are their solid bricks of cheese (which range from munster to havarti, pepper jack to cheddar). Their cottage cheese and ricotta are also mainstays in my fridge -- they aren't gummy or watery, and are comparable to brand name items in supermarkets, but cheaper.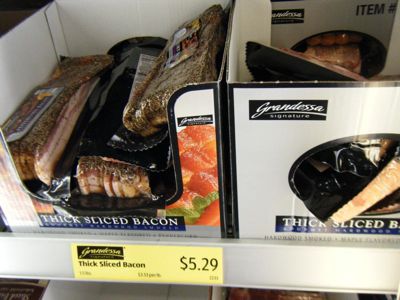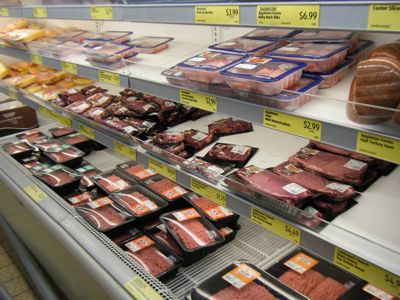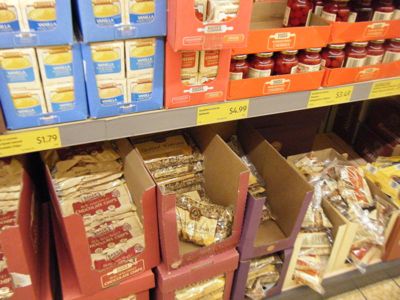 The freezer section sells some frozen beef and chicken, a few vegetables, a lot of instant meals and snacks, and desserts. I consider these items to be more like you'd find at Trader Joe's -- a few one-off snacks here or there to try on a whim that won't break your budget.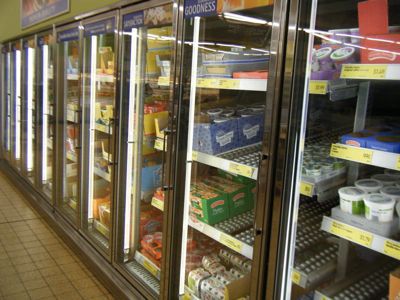 Aldi has a few different private lines within their store. The "Fit & Active" line is used on low-fat and health food items (they've got 100-calorie-or-less snack packs for under $2). Grandessa is a line of Aldi's more upscale items, like marinated artichoke hearts, olive oils, and desserts. I've known folks who have brought over some Grandessa cream puffs to parties and have knocked the socks off of their hosts. Not too shabby for $4.99. Their thick cut bacon is also freaking awesome.

Here's what a recent shopping trip nabbed me for just over $20 (picture). Cheeses, juices, some canned goods, a few indulgences, and a pound of walnuts.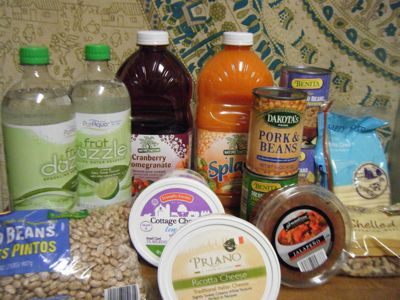 Overall, you're not going to be able to stock your pantry in one stop at Aldi, but you can help stretch your budget without sacrificing quality.
Aldi has four locations in the immediate Capital Region: Rensselaer, Schenectady, Clifton Park, and Ballston Spa.
Albany Jane writes about her food adventures at Albany Eats.
Earlier on AOA: In 2008, we ran a price comparison of discount items at Walmart, Price Chopper, Hannaford, and Aldi -- Aldi came out on top.
Supermarket Week:
+ Supermarket Showdown IV
+ Greulich's Market
+ Six things to check out at the Asian Supermarket
+ Shopping Target's new fresh-food offerings
+ On being an opportunistic shopper
Hi there. Comments have been closed for this item. Still have something to say? Contact us.