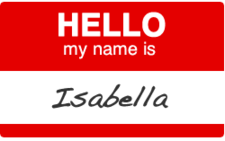 As it does every year, the Social Security Administration today released a list of the most popular baby names in 2010, sorted by state.
So we pulled the list -- the 100 most popular names for boys and girls born in New York last year are after the jump. We also looked at the top 10 names this year ranked during the last few years...
This year's top 10 for the entire country
Oh, Twilight.
This year's top 10 for New York State, over the last three years
It might be time to change it up a bit, New York.
The top 100 baby names in New York State for 2010
Data from the Social Security Administration -- and yep, there are a few caveats.
Earlier on AOA: Most popular baby names in New York 2009
Hi there. Comments have been closed for this item. Still have something to say? Contact us.