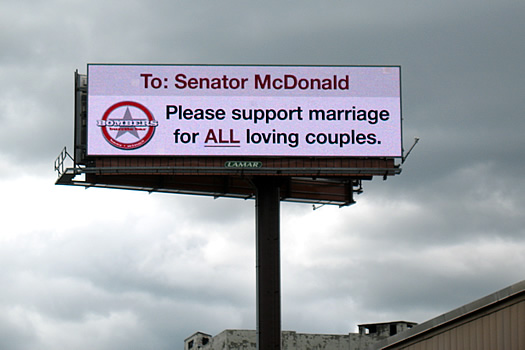 This electronic billboard message is now showing along I-787, just north of the Central Warehouse. Bombers owner Matt Baumgartner bought the billboard to reach one person: state Senator Roy McDonald. The Republican, who represents Rensselaer County and much of Saratoga County, is publicly "undecided" on legalizing same-sex marriage.
We emailed with Matt, who's gay and has been an outspoken proponent of marriage equality, this afternoon about why he chose a billboard to reach McDonald.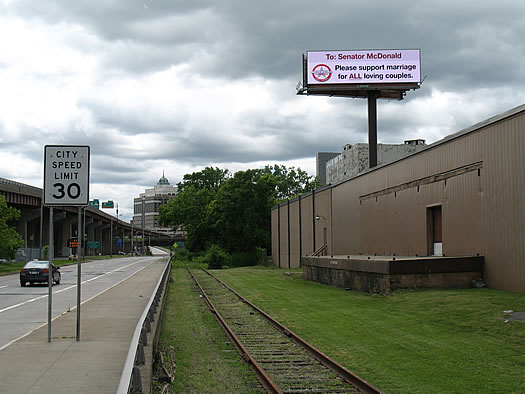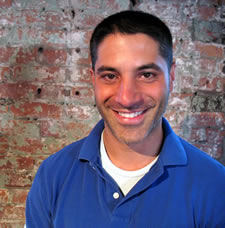 Matt at his home in December 2009
How did the idea for the billboard come about?

It came about because there is a real chance that this vote may come onto the Senate floor again, and I think it's important that our local Senators recognize that local businesses support Marriage Equality.
Why this medium and not some more traditional approach?
Because billboards are not liberal or conservative. They target everyone. And I thought it would have the best chance of getting back to Senator McDonald.
Have you talked with Roy McDonald or his office about this issue?
I called his office and I was denied a meeting or a conversation.
Did you have any concerns about mixing your business with politics?
I don't. I feel strongly about this and I wholeheartedly believe this is a civil rights issue. I think it's important to take a public stand on this issue. Besides, life is too short.
How much did the billboard cost? How'd you pick the spot for the billboard?
The billboard cost $4,000 and the location was chosen because it was the closest digital billboard to the capital building.
____
When this issue last came up in the state Senate -- December 2009 -- Roy McDonald voted against legalizing same-sex marriage (Neil Breslin voted in favor of it).
After some face-to-face lobbying on the issue today from Andrew Cuomo, McDonald said he's "somewhat undecided" and "I'm sensitive to all people." [TU CapCon]
We have a request for comment about the billboard in with McDonald's office. If we hear back, we'll update.
Earlier on AOA: Interesting in 2009: Matt Baumgartner
Find It
Bombers marriage equality billboard
Water Street
Albany, NY 12207
Hi there. Comments have been closed for this item. Still have something to say? Contact us.