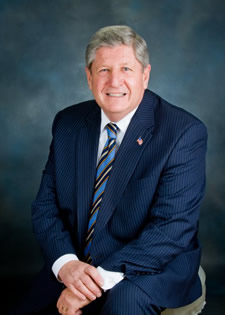 The Capitol media Twitter feeds erupted late this afternoon with news that state Senator Roy McDonald -- who reps Rensselaer County and most of Saratoga County -- will vote yes on the bill that would legalize same-sex marriage. That brings that vote count in favor to 31 (one short of a majority).
Said McDonald to the Times Union's Jimmy Vielkind:
"I'm trying to do the right thing. Rather than wait I worked with the governor ... I'm not out to alienate anybody. This is driven by compassion. ... My lifestyle is my lifestyle -- I don't want anyone telling me or my children what to do."
McDonald, as quoted by the NYDN's Ken Lovett:
"You get to the point where you evolve in your life where everything isn't black and white, good and bad, and you try to do the right thing.
"You might not like that. You might be very cynical about that. Well, f--- it, I don't care what you think. I'm trying to do the right thing.
And McDonald quotes via tweets by NYT's Danny Hakim:
"I think I'm doing the right thing, it's the appropriate thing, and if the public respects that, I'm grateful. If they don't... then I move on. ..."
"I'm tired of blowhard radio people, blowhard television people, blowhard newspapers. They can take the job & shove it."
McDonald had voted "no" the last time around, and he's said for weeks that he was undecided on the issue. He had been the subject of some intense lobbying lately, including a billboard along I-787 urging him to support same-sex marriage. He becomes the second Republican Senator to say he'll vote "yes."
There's a clip of McDonald talking about his decision, after the jump.
Andrew Cuomo submitted a bill today that would legalize same-sex marriage (the bill is embedded after the jump). From the memo for "The Marriage Equality Act":
Section 3 of this bill would add new Section 10-a to the Domestic Relations Law (DRL) providing that: (1) a marriage that is otherwise valid shall be valid regardless of whether parties to the marriage are of the same or different sex; (2) no government treatment or legal status, effect, right, benefit, privilege, protection or responsibility relating to marriage shall differ based on the parties to the marriage being or having been of the same sex rather than a different sex; and, (3) all relevant gender-specific language set forth in or referenced by New York law shall be construed in a gender-neutral manner.
The Cuomo admin says the bill aims to keep civil marriage separate from "the religious institution of marriage." One of the provisions of the bill amends the current law "to make clear that no member of the clergy acting in such capacity may be required to perform any marriage."
The bill would take effect 30 days after it's signed.
A similar bill has passed the Assembly in previous years and is expected to do so again. Dean Skelos has said the Senate could have a vote on the bill this week. [Daily Politics]

Via State of Politics:

photo: Roy McDonald Facebook
Hi there. Comments have been closed for this item. Still have something to say? Contact us.