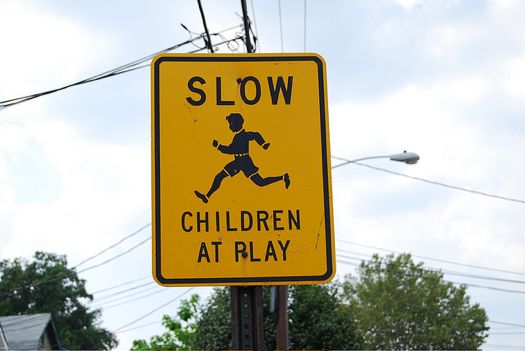 By Kim M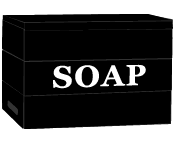 Children make me nervous.
They're small. They're quick. They jump and run around in such a chaotic pattern that they're impossible to predict. Basically, they're almost as terrifying to me as moths and house centipedes.
And now it's summer. The days are long, the nights are warm, and school is wrapping up for the year. They are everywhere. E V E R Y W H E R E, I tell you!
Unfortunately, everywhere includes our city streets. My block was tragically reminded of this on Memorial Day when a 6-year-old boy was struck by a truck driven by a man who only lived a couple of blocks away. It was horrific and heartbreaking.
My neighborhood group already had a meeting scheduled the week of that fatal hit-and-run. While distributing flyers the day after the accident I learned that two of my young neighbors had started collecting signatures in support of speed bumps and a stop sign on 10th Street at the corner of Rensselaer Street in hopes that these changes would encourage people to slow down. They told me that they were inspired by the presence of Mayor Tutunjian on the block the night of the accident and that they realized that the mayor actually does pay attention to what happens in our area of Troy. (Yeah, North Central has an inferiority complex.)
We made room on the agenda to discuss traffic safety issues in the area and decided to share our concerns with the Troy PD.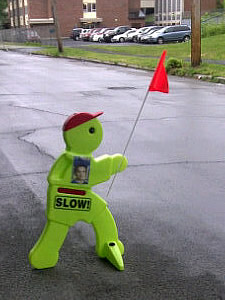 Two weeks later, the community gathered at School 2 to discuss the issue with Chief Tedesco. We also met the two officers assigned to our zone in the afternoon -- the same two cops who responded to the call about the accident on Memorial Day. I cannot stress enough how much I admire the chief's style and commitment to community policing, not as a unit, but as a department-wide philosophy. The man knows how to listen, not only to complaints, but also to suggestions from the residents on how to address the problems we see.
Chief Tedesco promised us that a traffic study would be done; the "speed trailer" is sitting 100 yards away from my home as I sit here writing this post. The day of the neighborhood meeting with the chief, Pastor Willie put up four neon signs in memory of Jahvion Perez. I think they are actually odd enough to have some effect on a driver.
But these efforts will only impact the immediate area.
So I write this post to plead with you all to please slow down and stay alert. Those wee little ones can appear out of thin air. I won't make you do the math, but at 30 mph you will travel approximately 75 feet before stopping. You can almost cut that distance in half (to 40 feet) by driving 20 mph instead. And if you're one of those self-absorbed drivers trying to race home, it will take you 120 feet (an ADDITIONAL 45 feet) if you're driving 40 mph instead.
We cannot control what other people do. Believe me, I've tried. (And oops, I'm trying to do that right now, aren't I? muwhahahaha) But we do have control over our own actions. We cannot will that child into not chasing that ball into the road, or running across the street without looking, or just wandering around aimlessly like those little imps are known to do, and suddenly appear from behind a parked car.
Please slow. THE EFF. Down.
K? Thanks.
Kim loves Troy almost as much as you do.
Kim on the Soapbox:
+On the Waterfront
+Hoosick Street: Future UFO landing site
+Stop whining and do something about it.
Say Something!
We'd really like you to take part in the conversation here at All Over Albany. But we do have a few rules here. Don't worry, they're easy. The first: be kind. The second: treat everyone else with the same respect you'd like to see in return. Cool? Great, post away. Comments are moderated so it might take a little while for your comment to show up. Thanks for being patient.