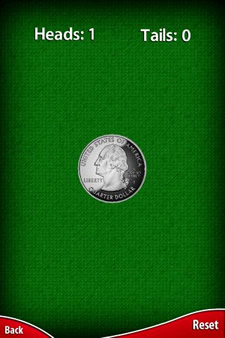 The first app from Deadmans Productions, a relatively new mobile app company in Troy, now available for both iPhone and Android. "Undecided" includes a handful of virtual methods for making choices: rolling dice, flipping a coin, drawing straws -- that sort of thing.
The app costs 99 cents. It's a little rough around the edges. Some of the touch objects (if that's the phrase) are a little hard to grab. But it is kind of fun to flip a quarter by giving your phone a little flick (screengrab right). The company is holding a contest to rename the app -- but the current name fits it pretty well.
Zooming out, there's a bit of a mobile app development scene sprouting in the Capital Region. Among the players:
+ Ghost Hand Games in Saratoga has developed a couple of successful (and great-looking) games.
+ Axeva, a Clifton Park company, developed a sudoku-like game called Cohabit and a coloring book app.
+ A group of RPI students created a popular Android utility app.
+ And 1st Playable, a well-established games studio, recently produced its first mobile app game.
Michael Ridley, the founder of Deadmans, told the TU he started the company specifically to develop mobile apps. "Undecided" is the first in a string of five that they're planning to produce.
It's not surprising a lot of companies are dipping their toes in the mobile app pool -- it's projected to become a zillion-something-dollar market over the next few years.
[via Troy Record]