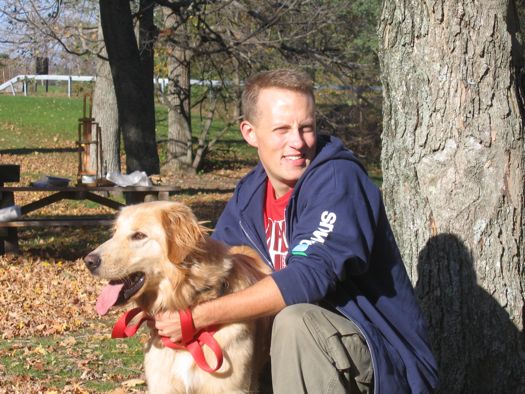 By Martin Daley and Murphy Daley
Greetings, All Over Albany Readers! My name is Murphy. And yes, I'm a dog! My Master, Daleyplanit, sometimes writes for the Sunday Soapbox. This week he wanted to post about the life of a dog in Albany -- a subject I'm pretty familiar with -- so we decided I should step in.
So here's Murphy's dog-eye view of life in Albany.
First, a little about me...
I'm about 7 years old. No one knows for sure because I was a stray before being adopted from a shelter. From that day on, Daleyplanit and I have been best friends. I have an annoying little brother, Guinness. He's not really so bad, I guess. I'm teaching him how to live the good life.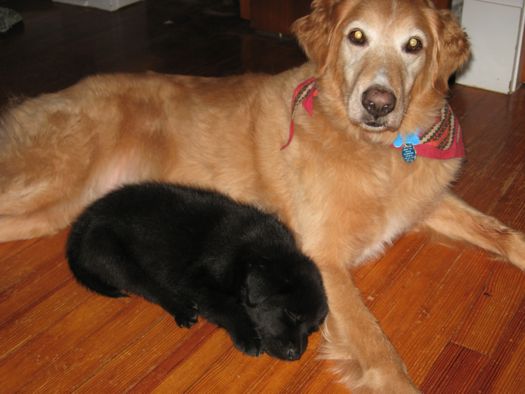 But enough about him, this is MY story.
I'm a Golden Retriever mix, so I have a lot of energy and I love meeting new friends and going new places.
Things that wag my tail:
+ I love Pine Hills because Washington Park is really close by. It's one of my favorite places. There's always a new dog to sniff at the dog park, I just love jumping in the Moses Fountain, and because my dad's office is on the other side of the park, he sometimes walks me through on days I get to go to work with him.
+ Restaurants with patio dining mean I get to come along, even though I beg EVERYONE for treats. Iron Gate Cafe, The Ginger Man, Justin's, and the Tap & Tea Room are my favorites.
+ I love Quail St. and Ontario St. because there's pizza crusts and chicken bones everywhere -- but Daleyplanit is frustrated by this mess. "Don't eat that!" he'll yell at me.
+ My favorite places to walk are around Lark St. (so many people!), New Scotland Ave. (I always try to walk into The Fountain), and Delaware Ave. (There's always something fun going on and nice people that stop and pet me).
+ I have a great vet! Central Veterinary Hospital is so close that I can walk to my appointments and they take good care of me, though, I do not like getting my temperature taken. Ouch!
Thinks that make me growl:
+ I go on vacation a lot to places like Bar Harbor, Baltimore, Boston, Burlington (and some places that do not start with B, too). Many of the shops in those places will hand out treats and have water bowls. I wish more stores in Albany would be dog friendly. I'd stop to drink at the store, and then Daleyplanit and my "mom" Jen may stop and BUY something :-)
+ So many people in cars don't slow or stop for me when I'm in the crosswalk. I could get run over!
+ There so many places I walk that are littered with trash. There's food waste, dog poop, and broken glass all over the streets in some places, but I can't play with chickens in MY yard because people are afraid of the mess? This gets my masters upset.
+ Some streets in Albany don't have many trees. Dude, I'm a big furry dog. You think I love the sun beating down on me all the time? I want some shade!
Places to play:
There are plenty of other great parks in Albany for me to run around!
+ Hudson turnaround park is really a great place to enjoy coffee on a weekend morning (or so I'm told) but it's small and there are NO squirrels there! I live to catch squirrels.
+ The Hartman Road dog park is fun, too, but again, no squirrels. I do like that we have to drive to get to Hartman Road, though :-)
+In the winter you just can't beat the freedom to roam at Capital Hills (the Albany municipal golf course). What fun to romp in the snow!
+ The Normanskill Farm area is super fun, but there aren't many doggies there and I must be on leash on the path around the farm. I'm told, because I can't read, that there are a lot of ticks here to beware of!
+ I love the Empire State Plaza, especially at night. The marble feels cool under my paws and there's always a nice breeze to ruffle my fur.
So there you have it, humans. It's a dog's world and you just live in it! Well, I better go, it's getting late and I have squirrels to hunt. Thanks for allowing me this honor to be the first dog to ever write Sunday Soap Box!
Murphy is a golden retriever who lives in Albany. His person, Martin Daley,is on Twitter: @daleyplanit.
Martin on the Soapbox:
+ The one-car household: a car junkie cuts back
+ The Lark Tavern: Where everybody knew your name
+ Of government and chickens
+ Loving -- and hating -- the Empire State Plaza
+ An urban planner grows in Albany
Hi there. Comments have been closed for this item. Still have something to say? Contact us.