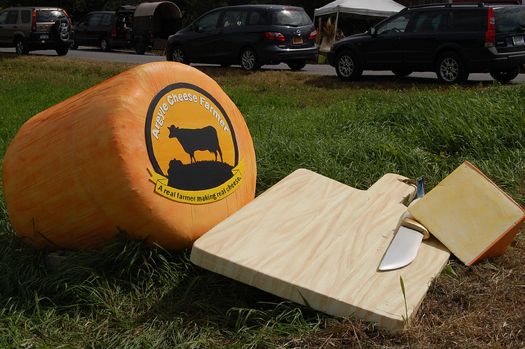 By Tim Dawkins
Back in the 90's there was this DuckTales cartoon where Uncle Scrooge goes swimming in his vault full of money. My childhood dream was doing the backstroke through that vault-- except it was completely filled with cheese -- though it probably would've been generic American.
These days my tastes are much more refined. Oh, I still would bathe myself in cheese if I could, but it would probably be aged in a cave somewhere off the coast of Spain instead of being manufactured in a plant in Boise.
And last weekend I found my cheesy bliss on a trip through Washington County.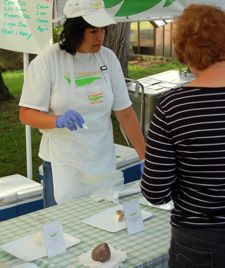 Last Sunday I took the Washington County Cheese Tour -- an annual event put on by the Washington County Cheese Makers and supported by sponsors places from local farms to NYC cheese shops. Crowds from around the area came to taste locally made cheeses and other dairy products right where they're made. Right. Where. They're. Made. I mean the animals whose milk helped to create the delectable products being sampled actually look on while you toothpick your way through lines of delicious, tangy, cheesy goodness.
Now, some may find this disconcerting, as the pressure to garner approval from on-looking goats and sheep is definitely tangible. However, I found them to be understanding and accommodating as I ranked my likes and dislikes. After all, you can't please everyone, right? What I'm saying is Washington County has some pretty laid back livestock.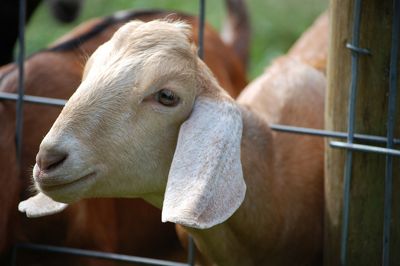 I sampled some of the best, most complex cheese I have tasted in a long time. It's amazing to me how many different flavors artisan cheese makers can pull out of milk. The cheeses ran the gamut from hard, soft, pungent, and mild, raw, pasteurized, aged, and young. One thing united them, though. They were all delicious. And while the cheese event is only once a year, you can get the cheeses year round.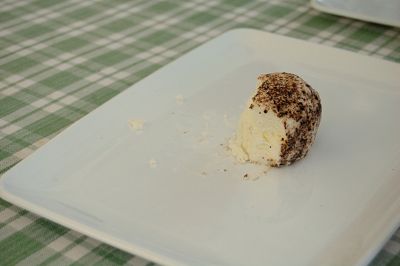 Here's a look at some of the farms and what they have to offer:
Sweet Spring Farm
Types of cheese:Anything goat
Favorite cheese: I talk a good game about loving cheese, but it's time to come clean. Until I visited Sweet Spring Farm is HATED anything derived from goat's milk. Then, in the spirit of the day, I tried their garlic and herb spreadable goat cheese. It was hands down my most favorite cheese of the day, and I dropped $8 on about 1 cup of the stuff. Proof enough of its quality, no? I still can't do pure chevre, but I'll take everyone's word about how delicious it is.
Where you can buy it: The Saratoga Springs Farmer's Market on Wednesdays from 3-6pm and Saturdays from 9am-1pm.
Can you visit the farm? Not unannounced, but they assured me that if you call ahead they will likely be able to set something up for you.
Other interesting items: SSF makes their own almond goat's milk soap that smells so good I almost tried to take a bite of it. Use it for shaving, skin softening, and I even heard a woman mention that she uses it on her dog that has a skin issue. I guess goats can do more than just outsmart trolls.
Argyle Cheese Farmer
Types of cheese: Everything cow (including yogurt and gelato)
Favorite cheese: The star of the show for me here is their cheese curds. If you've been to Montreal you've likely indulged in poutine, that really stodgy french fry dish that involves melted cheese, gravy, and a whole lotta guilt. Argyle Cheese Farmer's cheese curds, Miss Muffet's favorite snack, come in several different flavors and make a way-to-easy snack when you're on the run.
Where can you buy it: The Saratoga, Glens Falls, and Troy Farmer's Markets
Can you visit the farm? (read: no noticeable farm animals staring me down). However, they did have a small gift shop on the premises so it looks like you can stop by for a visit. I would call ahead first, though.
Other interesting items: Ummm coconut chocolate gelato? Hellooo!!
Longview Farm
Types of Cheese: Longview has their own goats (I learned all about goat mating here. There are a lot of...scents involved), and they use cows' milk from surrounding local dairies to make some of their cheeses.
Favorite or stand out cheese: I actually really enjoyed a goat's milk feta. It didn't taste like traditional feta, but it had only a mild goaty flavor and it was nice and salty. I'm also goign to give their High Rock cow's milk cheese a shout.
Where can you buy it? Saratoga Farmer's Market, Glens Falls Farmer's Market, and St. George's Church in Clifton Park on Thursdays from 2-5pm from July through October
Can you visit the farm: Absolutely, and you should. This place was a standout in the personality category. Besides the free roaming chickens and lively goats, Dave Porter, one of the owners, was like the Pied Piper of animal husbandry. You have to hear his schtick to understand what I mean. Give them a call at 518-638-8530.
Other interesting items: Fresh eggs, pork, chicken. This is a fully operational farm that believes in sustainability and it is clear that they love their animals.
Consider Bardwell Farm
Types of Cheese: Cow and the ever popular goat, which at this point should be the mascot of Washington County. This farm had the largest variety of cheese on hand.
Favorite or stand out cheese: Rupert. Hands down.
Where can you buy it? This was actually the most commercial of the five farms I visited, as well as the most beautiful. They have a farm store that sells all of their products, and it is open every weekend year-round. They also have a cafe on the property that uses the cheese in many of its menu items. Meanwhile, check out their website for a complete listing. They're all over the place (including the Honest Weight Food Co-op and Putnam Market).
Can you visit the farm? Yep. It's open to the public on the weekends. And they give regular tours of their facility. And it is very picturesque. Actually this farm is cut in half by the Vermont border. It's very Vermonty. One of the workers told me that their goats graze in New York but they make the cheese in Vermont, so they are regulated by Vermont's department of agriculture. Vermont! (I just felt like I needed to say it one more time.)
Other interesting items: I love the name of this farm, and it turns out they aren't actually asking you to think about paying them a visit. Consider Bardwell was the founder of the first cheese making co-op in the country right in Vermont. Also, don't touch the fences! They are electrified (I guess goats like to party).
3-Corner Field Farm
Types of Cheese: Sheep. Just sheep. Nothing but sheep. Everywhere. Meanwhile, there are only 70-75 sheep dairies in the entire United States. Cool!
Favorite or stand out cheese: Sadly, I was unable to try any of the cheese here because it was the last farm I visited and everything was closing down for the day. Boo! That means you'll have to try their stuff for yourself, and let me know how it tastes.
Where can you buy it? On their website (they sell more than just cheese, but remember, eating lamb makes dolphins cry).
Can you visit the farm? Sure, but call first.
Other interesting items: Let's talk about their dogs. They have huge white dogs that grow up imprinted on the lambs from the time they are puppies. Because of the bond that forms between the sheep and dog, the dog will protect them from any threat. These dogs are not pets. They live with the sheep year round, and they are completely awesome! I picture the sheep snuggling up with the dogs at night. Awwww! Also, the farm is located in Shushan which wins the award for all time best town name in Upstate New York. Say it out loud a few times to see what I mean.
So there it is, spread out for you on a cracker. Support your local farmer.Take a drive through Washington County and see what happens. Oh, and pick me up some goat cheese, will you?
Tim Dawkins writes about things cheesy and not so cheesy at Decisive Reflex.
Earlier on AOA: Tim stepped up to the Soapbox to talk about finding a connection to local farms at the county fair

Hi there. Comments have been closed for this item. Still have something to say? Contact us.