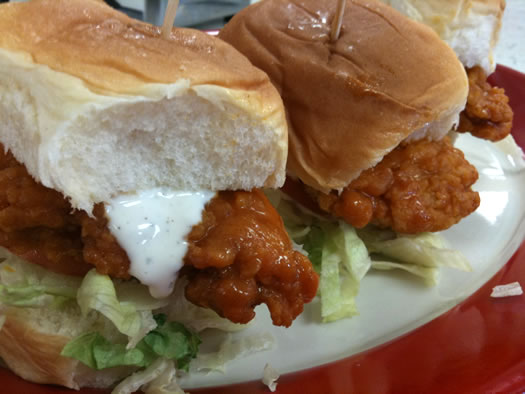 By Daniel B.
There is a storm coming for Friendly's. After seventy-five years of fattening up little children on hamburgers, fried chicken strips, grilled cheese sandwiches, french fries, milkshakes, ice cream sundaes that look like clowns, slices of watermelon sherbet rolls that look like watermelon, and a full menu of other sticky, chewy, frozen confections, this restaurant beloved by our region's children may file for bankruptcy.
All indications are that the 500 locations will remain open during the proceedings. But the ultimate future of the business is uncertain. So get in there now while you still have the chance. Update: Friendly's filed for bankruptcy, and six Capital Region locations are closing (nine are staying open).
Why should you do that? Especially if you neither have kids nor do you have any nostalgic memories of time spent there as a kid? Three words: Buffalo chicken sliders.
And if those three words don't convince you, I've got three reasons why they are even better than they sound.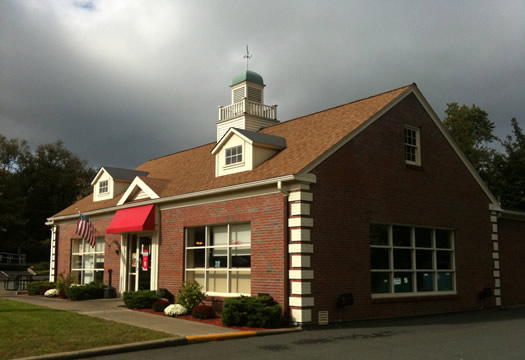 1) Friendly's may not make a great salad, but they sure know how to fry.
The secret of finding a good meal in an unlikely establishment is to try and figure out what they do best. Sometimes a cooking method is included in the name of the restaurant like Dinosaur Bar-B-Que, where you stray from the slowly-cooked pit-to-plate meats at your peril.
A lot of food at Friendly's goes in the deep fryer. And that's a good thing. At its heart the Buffalo chicken slider is a deep fried chicken strip. Let me tell you, the crust on that chicken is impeccable. It has a palpable crunch and good flavor. The chicken on the inside is solid white meat, and remains moist and tender. But a well-fried chicken strip is nothing on its own.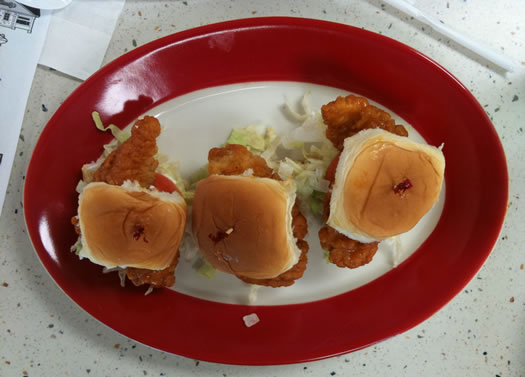 2) The components, while not great on their own, become great when combined.
This is the definition of synergy. And in some ways it reminds me a lot of the Dahi Puri -- it's all about textural and flavor juxtapositions.
The slider's Hawaiian roll is subtly sweet and impossibly soft, but it's been toasted on the griddle, so it also benefits from the Maillard reaction. The Buffalo sauce has a classic Frank's Red Hot and butter profile, which is more about its dominant aged cayenne flavor than heat. Rounding out the acidic hit of the vinegar is a creamy and equally assertive blue cheese dressing. One slice of an unremarkable tomato adds the notion of juiciness, and a whole lot of industrial looking shredded iceberg provides a surprisingly fresh and cool crispness.
When it comes together, it's hot and cold, crispy and crunchy, sweet and pungent, meaty and vegetal, creamy and chunky, hard and soft, all in the same bite.
3) When you order off-the-menu you don't know how bad it is for you.
While I totally support the notion of putting calories on chain restaurant menus, it totally is a buzz kill when you want to go out for a treat. You know, like fried chicken, slathered in butter, with a creamy dressing on a sweet enriched bun. Or, for that matter, their Loaded Waffle Fries which at only $5 provide a heart healthy 1670 calories. Luckily Friendly's changed its menu recently, and these Buffalo chicken sliders were removed.
Do not fret, this is very good news. Now you can order them with a clean conscience.
Just this past weekend I asked for them at the Guilderland location and the waitress immediately assured me it would be no problem for the kitchen to make. You do however need to specify blue cheese, because otherwise the default is ranch. I know, it's unthinkable.
The sliders come three to an order, and aren't cheap at $8.29. While they may be diminutive in size, I assure you they are not short of calories. It's more than a reasonable meal for an adult of any size. Just take small bites, and if you are still hungry, you can always fill up on one of those outsized sundaes.
Daniel B. is the proprietor of the Fussy Little Blog.
Hi there. Comments have been closed for this item. Still have something to say? Contact us.