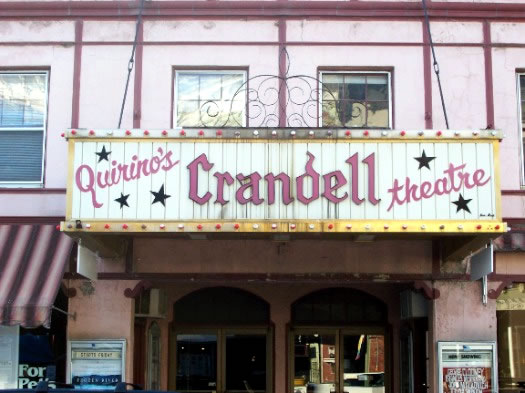 By Siobhan Connally
FilmColumbia -- the annual film festival in Chatham -- has become very popular.
So popular that the all-films pass for this year's festival, which starts next week, already sold out. But tickets are still available for most of the individual film screenings and events.
As in year's past, this year's lineup includes a handful of much-anticipated films.
The five-day film fest kicks off its 12th year on Wednesday, October 19 and concludes Sunday, October 23, and will feature 20 feature-length, short and documentary films as well as a host of parties, talks and panel discussions with some top-flight names in the film industry.
"We have really been able to pick the cream of the cream," says Calliope Nicholas, who has been with FilmColumbia since its inception in 1999 and as its director since 2002. "We have the best of Toronto, the best of Cannes. We were able to take the top picks and bring them under one umbrella.
Even though Chatham has drawn some top-notch films, it's not as easy as organizers make it look.
Getting schedules and lineups to go from casual conversation to confirmed showings always comes down to the wire.
"The real difficulty - the nail-biting aspect - is always getting confirmation," she explains. "That doesn't usually happen until the first week in September. With the Toronto festival at the end of August, all of our connections are there. The flyer came out late this year because we have to wait.
While some of the films are destined for greatness -- wide release and Academy nods -- some of the films featured at Film 2011 deserve a look they ordinarily wouldn't get.
"It's hard to pick a favorite," said Nicholas, when asked about her's for the latter category of film at this year's event. "But I love The Surrogate Mary, playing at 7:30 pm Friday. It's just a beautifully strange story with amazing cinematography and pacing. It's a strange story that struck me as interesting."
White Irish Drinkers, a film that screened last year starring Steven Lang (Avatar) is a perfect example of small films with promise seen in Chatham first. Back then the dark, coming-of-age film about two Brooklyn brothers didn't have a distributor. "I just found out it got a distributor and will be released, which, almost a whole year later, is astonishing," says Nicholas.
But what's ultimately so magical about film fest, she says, is the happenstance. Actors hanging out. Conversations leading places that seem unimaginable.
"One of our favorite early stories is that when Melissa Leo was here for 21 Grams, Courtney Hunt met her just walking on Main Street. (Hunt) told her she had this idea for a short and Leo agreed to do it. That went on to become Frozen River, which received two Academy Award nominations for Best Actress for Melissa Leo and Best Screenplay for Courtney."
"That's just part of the magic of film fest."

The trailer for Melancholia.
Among this years selections are:
Melancholia, directed by Lars von Trier and starring Kirstin Dunst, is a fascinating story of the nature of depression when two sisters find their already strained relationship challenged as a mysterious new planet threatens to collide into Earth.
A Dangerous Method, directed by David Cronenberg and starring Viggo Mortensen, is based on the script of Christopherampton's play about the turbulent triangle between Sigmund Freud (Mortensen), Carl Jung (Michael Fassbender) and Jung's student and sometime mistress Sabina Spielrein (Keira Knightly).
Pariah, directed by Dee Rees and distributed by Focus Features, is a story about a lesbian teen who unsuccessfully juggles multiple identities to please her friends and family. Torn by mounting pressure from home, school, and within, the line between her dual personas wears thin with explosive consequences.

We Need to Talk About Kevin, directed by Lynne Ramsay (Ratcatcher) and starring Tilda Swinton, is the story of a mother of a teenage boy who went on a high-school killing spree trying to deal with her grief -- and feelings of responsibility for her child's actions -- by writing to her estranged husband, played by John C. Reilly.
Other popular events this year include:
"Classic Cocktails Classic Films," a pairing of classic film clips and the drinks that made them unforgettable, at Peint O'Gwrw on Main Street, Friday, October 21, 6:30 pm, $30, limited seating.
"Why Cable Rules," a Saturday morning panel discussion moderated by critic and film historian Peter Biskind and featuring panelists Michael Fuchs, chairman and CEO of HBO; Emmy award-winning screenwriters Christina Wayne (Mad Men, Breaking Bad, and Broken Trail), Shari Springer Berman and Robert Pulcini (American Splendor and Nanny Diaries) and Academy Award nominated screenwriter Courtney Hunt (Frozen River). October 22, 10 am at Tracy Memorial Hall, Main Street. $15 members, $18 non-members.
Tickets
Tickets are available online and by phone at 1-800-838-3006.
Siobhan Connally shares her writing and photography at Ittybits & Pieces.
Earlier on AOA:
+ 5 reasons Golden Organics may be the best ice cream in the Capital Region (it's right across the street from the Crandell)
+ Help the Crandell Theater raise money -- because Parker Posey needs to pee
+ 12 hours in Columbia County
+ Peint o Gwrw Tafarn in Chatham