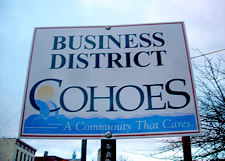 Updated again!
The recent discussion about a certain word for Troy and its residents got us thinking about what you call people from the Capital Region's different towns, villages, and hamlets.
A handful of the names are easy. For another handful, we had to dig a little. And for the rest -- we have no idea. But you maybe do.
The list we've compiled so far is after the jump. If you have anything to add/correct -- please share!
Here's a 1991 TU article that covers some of these names (and casts doubt on names such as "Clifton Parker.")
Earlier: Capital Region or Capital District?
photo: Flickr user dougtone
Hi there. Comments have been closed for this item. Still have something to say? Contact us.