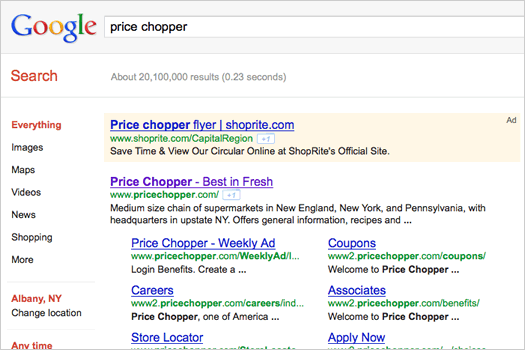 Updated at 3:30 pm after hearing from Wakefern/ShopRite.
The Golub Corp -- which owns Price Chopper -- is suing the cooperative behind ShopRite over ads the cooperative allegedly bought on Google, the Times Union first reported today. Golub is alleging trademark infringement, false designation of origin and unfair competition. (We pulled the filing -- it's embedded after the jump.)
We noticed the ads last week while looking up some stuff about Price Chopper. A search for "Price Chopper" on October 20 returned the regular search results -- and at the top: a text ad for ShopRite. We took a screengrab (above) and figured we might eventually use it as evidence in what appears to a supermarket war that's starting to heat up.

Golub saw the situation rather differently. From the filing:
Upon information and belief, Defendant Wakefern has infringed Plaintiff Golub's registered mark in interstate commerce by various acts, including purchasing keywords including or relating to the PRICE CHOPPER® mark and engaging in Internet advertising campaigns using the PRICE CHOPPER® mark, to sell, offer for sale and advertise Wakefern's retail grocery goods and/or services. Defendant's use of the PRICE CHOPPER® mark is without permission or authority of Plaintiff Golub and such use by Defendant is likely to cause confusion, to cause mistake and/or to deceive.
Golub alleges Wakefern also bought similar ads on Bing and Yahoo (and it includes screengrabs in the filing).
Buying Google ads associated with searches for your competitors almost certainly isn't illegal.* A lot of companies do that. Titling the ad "Price Chopper flyer" when it's not a Price Chopper ad -- that could be a different story. And Golub's filing cites a federal law that covers trademark infringement, trademark dilution, and false advertising. Golub is asking for an injunction against the ads and damages.
We contacted Wakefern/ShopRite about the suit. A representative said the company hasn't received the complaint yet and it's premature to respond without it.
Stuff like this is bound to happen more in future. Today it's buying ads on Google. But with mobiles gaining more geographic capabilities, it's probably only a matter of time before a company will be able to buy ads that pop up when a person is standing in their competitor's store. "You're at Market X? Come on over to Market Y, we'll give you 25 percent off."
ShopRite apparently has as many as four stores planned for this area. And it doesn't seem shy about taking on Price Chopper -- it opened its first store right in Golub's backyard. We're still waiting to see if the back-and-forth will result in a better prices and experiences for shoppers.
* Of course, we are not attorneys. We don't even play one on TV.
Earlier on AOA: A first look at ShopRite Niskayuna
Hi there. Comments have been closed for this item. Still have something to say? Contact us.