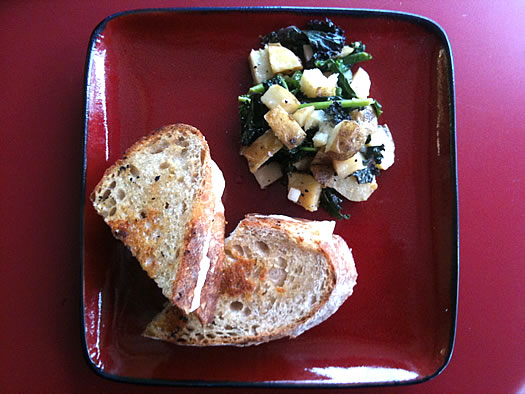 By Daniel B.
The grilled cheese revolution is here.
Count this as one of the fastest trends to start in a big metropolitan center and arrive at our doorstep in Albany. The most specific accounting I found on the subject claims to have identified the very day grilled cheese took the great leap from ordinary to extraordinary. That day was April 13, 2008, in New York City. Though it may have been even earlier than that, since the Annual Grilled Cheese Invitational had been underway in Los Angeles many years before.
Regardless, today our nation is speckled with grilled cheese food trucks from coast to coast, many of which are offering very sophisticated takes on this classic childhood favorite. Some are relying upon artisanal local, seasonal and organic ingredients, while others are challenging the very notion of what a grilled cheese sandwich can be.
We are lucky here in Albany. Our newfangled grilled cheese sandwich is a bit more civilized than one from a truck that roams around the city. You can eat inside, at a table, and upon an actual porcelain plate. Plus you don't have to follow All Good Bakers on Twitter or Facebook to know where they are going to be.
But there are still a few quirks. You didn't think it was going to be easy, did you?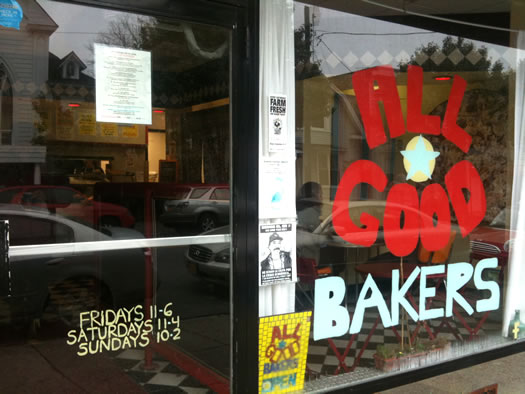 Good food sometimes requires a bit of effort. And without a doubt, the grilled cheese sandwich at All Good Bakers is good food.
Last weekend, they were making a simple sandwich from their country French sourdough, a loaf that takes 36 hours to produce. It was filled only with asiago cheese from Cohoes-based R&G Cheese Makers. But the sandwich was seasoned with olive oil infused with rosemary from All Good Bakers' own garden.
Wow.
Real hand crafted cheese may not melt and stretch like American processed cheese food. But it warms, and it softens, and it intensifies in flavor. The fresh bread from the bakery, made from locally-milled organic grains, with its sturdy and flour-dusted crust is even better when it is hot and grilled. Add to that the flavor and aroma of the rosemary that punctuated every bite, and you've got a serious grilled cheese sandwich on your hands.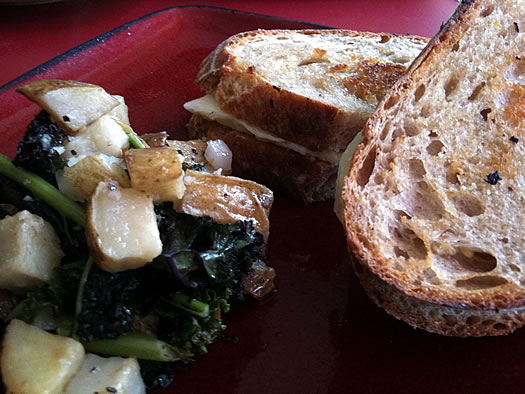 It just so happened that the sandwich came with a hot side salad of potatoes from Farmer Jon's Produce, kale from Molasses Meg's house in Berne, garlic from Fox Creek Farms, organic lemons and olive oil. I'm starting to understand why Nick Foster -- the baker, chef and co-owner of All Good Bakers -- has been nominated as a 2012 Rising Star Chef by the Albany Chefs' Food & Wine Festival.
Oh, by the way, did I mention the whole thing is only five bucks?
So what's the catch?
Well, for starters, there is only one grilled cheese sandwich on the menu. The good news is that it changes. And the better news is that they all look pretty darn delicious. Previous iterations have included the following:
+ Sage cheddar & apple butter on yeasted cornbread
+ Roasted garlic goat cheese sliders on a baguette with spicy pineapple chutney
+ Smoked mozzarella sliders on a baguette with roasted eggplant, tomato & garlic
The other catch is that AGB may not be open when you have a hankering for a grilled cheese sandwich. For instance, you can't get one for dinner. Okay, that might not be fair. If you want to have dinner at five o'clock on Friday night, you can. But the hours of the operation are tricky.
They are only open three days a week:
+ Fridays from 11 am to 6 pm
+ Saturdays from 11 am to 4 pm
+ Sundays from 10 am to 2 pm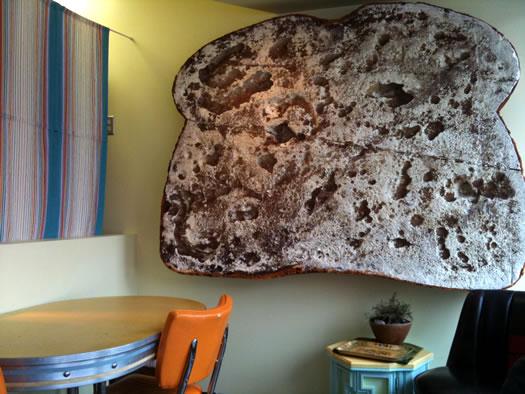 It also might be difficult to get a seat. There are three tables each with two chairs, and one other chair tucked into a corner that looks like it would be a great spot to relax with a cup of coffee and a pastry. But if you had a plate, I think it might need to go in your lap.
However, if you are a bit uptight, this might not be the place for you anyway. The pace can be a bit relaxed. But this is slow food, so I'm okay with that.
What I don't want to hear complaints about is parking on Quail Street or finding a spot nearby. People drive thirty minutes out of their way to hunt down lesser sandwiches from grilled cheese trucks. Parking two blocks away and getting a little fresh air is a small price to pay for such a special treat here in the heart of our city.
Daniel B. is the proprietor of the Fussy Little Blog.
Earlier on AOA:
+ The new All Good Bakers storefront
+ Talking with All Good Bakers about their community supported bakery
Find It
All Good Bakers
160 A Quail Street
Albany, NY 12203
Fridays from 11 am to 6 pm
Saturdays from 11 am to 4 pm
Sundays from 10 am to 2 pm
Cash only.
Hi there. Comments have been closed for this item. Still have something to say? Contact us.