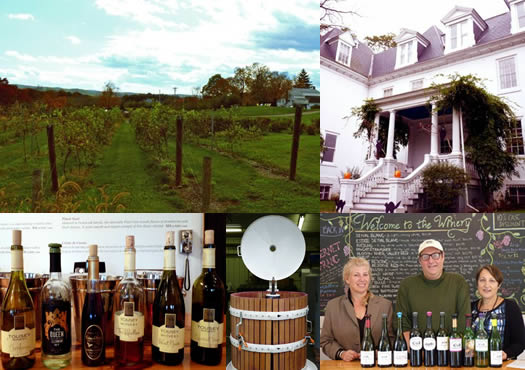 By Katherine Rasmussen
You've seen that I Love Lucy clip, the one where she stomps on the grapes at the winery? Back in college I got to try my hand -- OK, my feet -- at that. It's actually not as squishy as it looks. With all those stems, it's like a foot massage from someone with long fingernails.
Anyway, I love wine. And wineries. But I don't live in California anymore. These days I reside in Albany.
Still, wine, in my opinion, is best paired with good company and a tour of the surrounding farmland. So a few weeks ago I took a good friend to Columbia County to do a few winery visits and enjoy some great food and a little Columbia County history.
If you're looking for the California experience, this is not exactly it. CA has a diverse climate in which it can produce a much wider variety of wines and, of course, there are a lot more vineyards. But Columbia County, and stops on the Hudson Valley Wine Trail, are great for concentrating on high quality dessert wines and pinot.
We picked a couple of wineries and paired them with a hike and a stellar dinner on a lovely Sunday afternoon, but if you're up for a more wine-focused day, you can try the Hudson Valley Wine Trail.
We left at 11 am and were back in Albany before 8 pm. It's a day that would be pretty easy to recreate. Here's where we went:
Hudson-Chatham Winery
1900 Route 66 Ghent, NY 12075 | website
From land, to barrel, to tasting room, to pomp and circumstance.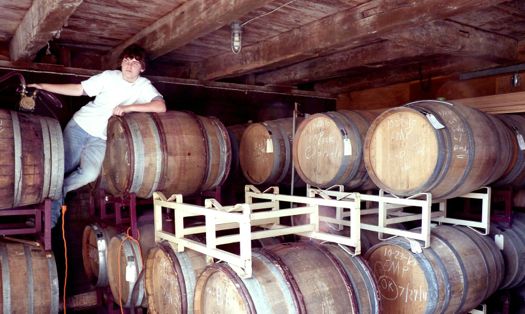 Wine barrels at Hudson-Chatham Winery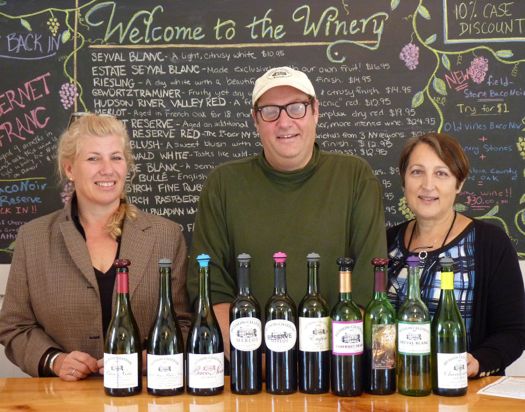 Owner Carlo Devito and staff prepare the tasting room at Hudson-Chatham Winery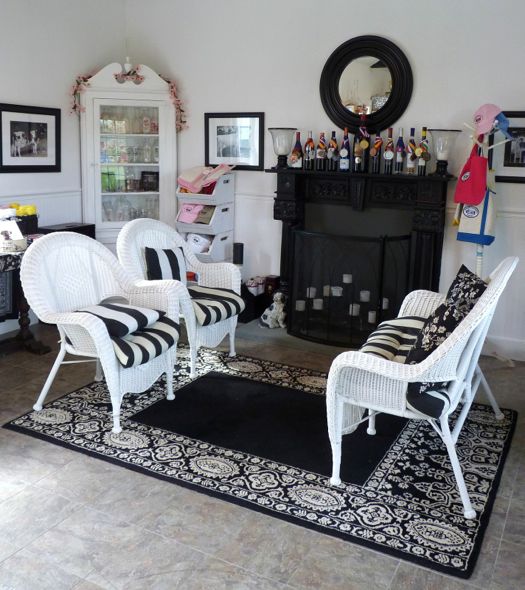 Tasting room at Hudson-Chatham Winery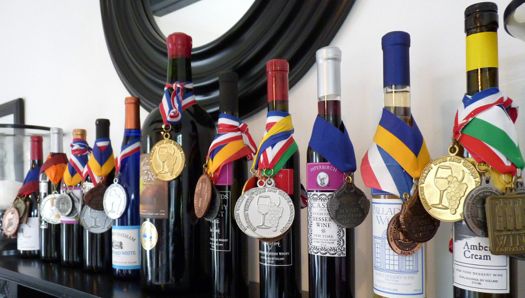 Hudson-Chatham Winery has won over 37 awards and medals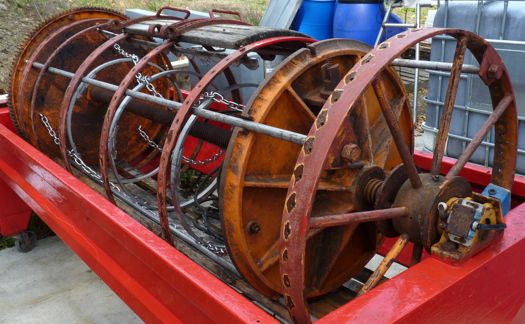 Refurbished, antique wine press at Hudson-Chatham Winery.
Favorite Wines
White: The sweet wine, Lindenwald - $12.50/bottle.
All I can say is WOW! This wine has a distinctly New York Concord aroma and taste and a clean finish.
Red: Baco Noir Reserve - $18.95/bottle. An award winning wine, taking bronze at the 2011Grand Harvest Awards in California and gold at the 2010 New York Food and Wine Classic. This wine is not too heavy and not too light, making it a perfect match for an autumn supper.
Dessert: Paperbirch Raspberry Fine Ruby - $14.95/bottle. Made from raspberries grown on the property, this dessert wine took the gold medal at the 2011 Hudson Valley Wine Competition and is great served over ice cream.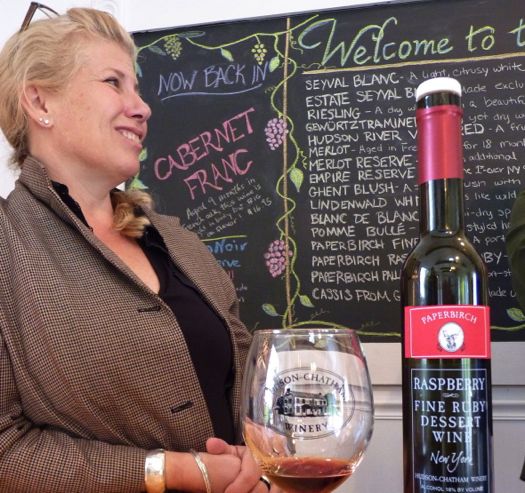 Hudson-Chatham Winery staff pours the Paperbirch Raspberry Fine Ruby
Where to get it:
Available on Lark Street in Albany at Capital Wine and Spirits and The Wine Bar and Bistro. It can also be found at three dozen restaurants and 30 stores throughout the Hudson Valley, a dozen restaurants in NYC and at The Culinary Institute of America.
Tasting room hours:
Open year-round on Fridays, 12 pm -7 pm, Saturdays and Sundays, 12 pm - 5 pm.
Other interesting stuff:
Hudson Chatham Winery also makes maple syrup, a traditional product of the property that pre-dates the current proprietors. A hundred percent of the fruit used to produce the wine is from New York State and 85 percent is from the Hudson Valley.
Tousey Winery
1774 Rt 9 (Blue Roof building) Germantown, NY 12526 | website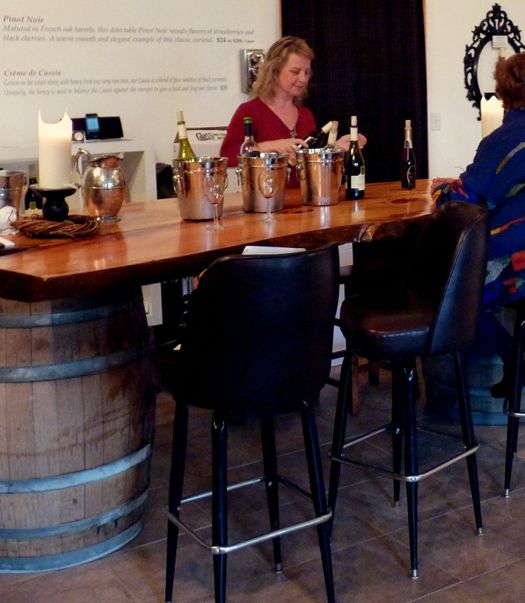 Tousey Winery Tasting Room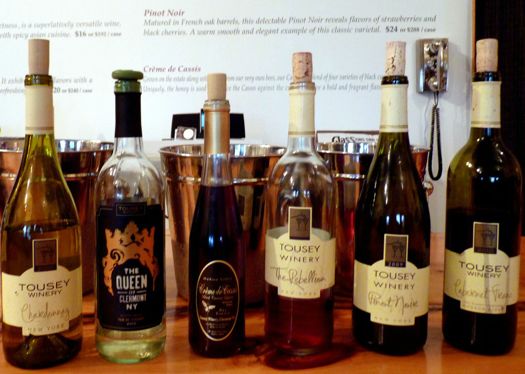 The Lineup at The Tousey Tasting Room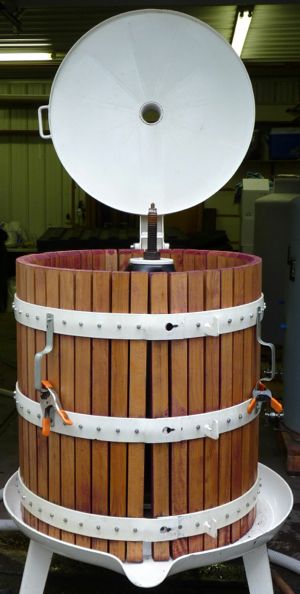 Modern wine press at Tousey Winery
Favorite Wines:
White: Queen of Clermont - $15/bottle. With a hint of citrus, this wine would be a good mate for a summer picnic. I look forward to tasting it again next year, when it's produced with 100% Hudson Valley fruit.
Red: Pinot Noir - $20/bottle. Pinot is notorious for being one of the most difficult wines to make.Tousey gets the color and taste right and I got a little rosy in the cheeks asking for seconds!
Dessert: Crème de Cassis - $35/bottle. This is their signature product -- the wine that started it all. The Tousey family started producing this dessert wine because the currants grow right on their property. They use honey from their own bees to sweeten it instead of sugar. The honey adds a distinct flavor that really spiced up the apple pie and beef tenderloin I made the following week. Also great added to champagne or ice cream.
Where to get it:
Not yet available in Albany, but they're hoping to get it in stores here soon. Until then you'll need to take a trip Germantown. It's also poured in 15 regional restaurants, including CaMea, American Glory and Wunderbar in Hudson.
Tasting Room:
Open year-round
Fridays, 12 pm -7 pm
Saturdays and Sundays, 12 pm - 5 pm.
Other things to check out:
Tousey keeps their own bees and produces honey. Some of their grapes grow right on the banks of the Hudson.
Clermont State Park
History stop: We decided that in order to really appreciate the land of Columbia County we had to set aside some sunset time at Clermont State Park.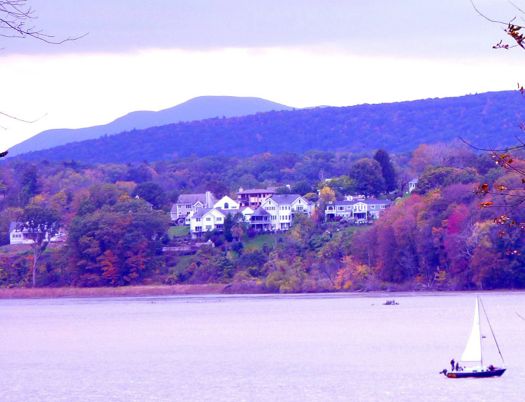 Clermont sits on the banks of the Hudson and enjoys views of the Catskills
Most properties in the surrounding area were at some point a part of the estate owned by the Livingston family, which at one point owned much of the land that is now Columbia County.
The Livingston family's mansion at Clermont
What to do there:
Currently the 500-acre historic site is used for events and weddings, cross country skiing, horseback riding, hiking and picnicking. The gardens at Clermont are open to visitors
Hours:
Tours of the Livingston Mansion run year-round, Wed - Sun, 11 am - 4 pm and come highly recommended by me. So much mind-blowing history in that house!
Dinner
After a day of sampling and strolling we were ready for dinner. So we went to the Red Dot Restaurant and Bar in Hudson: 321 Warren St, Hudson, NY 12534 | 828-3657.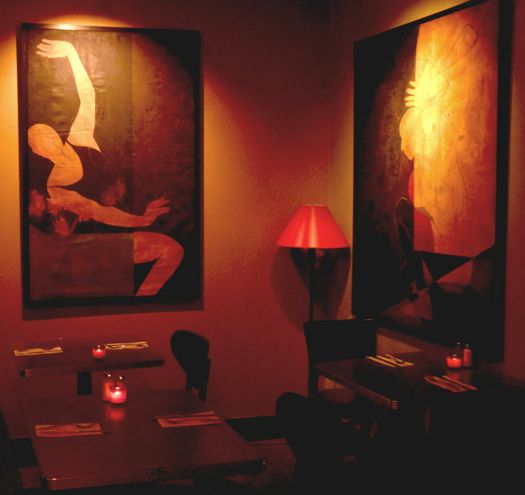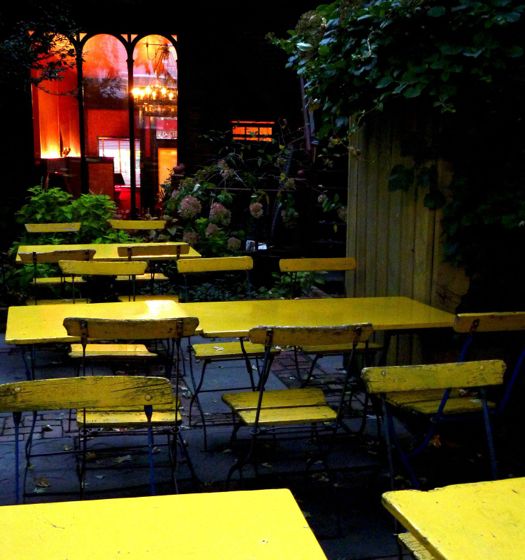 The Red Dot has a beautiful garden for seasonal outdoor seating
There is something here for everyone. You can go ultra traditional American and order chicken pot pie or a burger, or you can opt for international fare and order specials like we did. The younger crowd can enjoy moderate prices during bar hours and can usually catch a DJ on holidays.
What we ate:
Appetizer: We got the special. Thai Beef Salad with beef tenderloin, mint, cilantro and hearts of palm.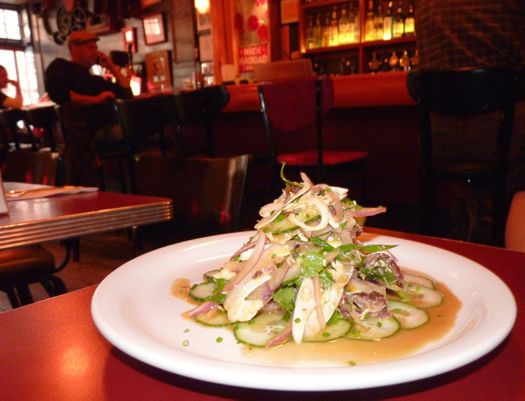 Entrée: Lamb Kaftas with Cucumber Yogart Sauce with herbed couscous and buttered broccoli flowers.
Hours:
Dinner Sundays, 5 pm - 9 pm and Wednesdays - Saturdays and Mondays, 5 pm - 10 pm, Brunch Sat - Sun 11 am - 3 pm, closed Tuesdays.
Also worth a stop in Columbia County: Chatham Brewing in Chatham and Harvest Spirits in Valatie, so you could add those into your trip or substitute according to your tastes. The wineries are also part of the Berkshire-Hudson Beverage Trail, which includes nearby wineries in other counties.

If I were to take the trip again, I would probably add in a stop at the Martin Van Buren National Historic Site in between the Hudson-Chatham Winery and Tousey. And of course, you have you pick of great dining in Hudson.
So, is it California? No. But was it a lovely day? Absolutely.
Earlier on AOA:
+ Baco Noir Reserve from Hudson-Chatham Winery
+ Chatham Brewing: Back-alley operation, big-time taste
+ Poking around at Harvest Spirits
+ 12 hours in Columbia County
Hi there. Comments have been closed for this item. Still have something to say? Contact us.