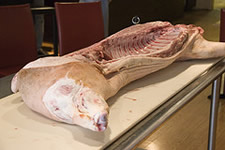 Looking beyond turkey, JB emails:
Where can I get a reasonably priced side of pork? I want to butcher one, and would prefer that it lived a humane and natural life. Also, it should be within 60 miles of Troy, because local food is better food.
The first placed that popped into our mind was Flying Pigs Farm in Washington County. By all accounts, they raise excellent heritage breed pigs under good conditions. But: they might not qualify as "reasonably priced."
So, anyone have a suggestion for JB? Please share!
Earlier on AOA:
+ A good local butcher?
+ Grass fed beef shares
+ Buying the whole cow
photo: Flickr user MMChicago
Hi there. Comments have been closed for this item. Still have something to say? Contact us.