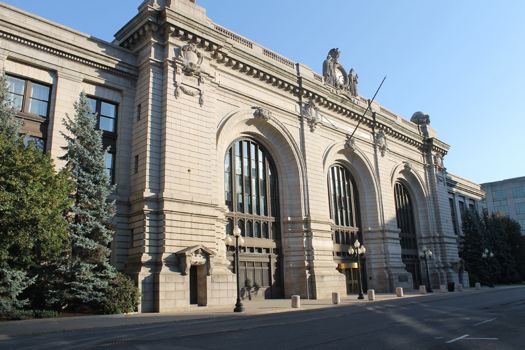 By Martin Daley
One of the first things you notice about a city is its architecture.
The layout of a place and its buildings are a kind of looking glass in which you can see the values of past generations. Architecture helps give a city its character.
Albany has plenty of architectural character. But being so close to New York, we sometimes suffer from what I call "place esteem" issues.
New York has buildings like the Guggenheim, the Chrysler Building, the Flatiron Building, the Statue of Liberty, and Grand Central Station (the interior of which which I consider one of the greatest places in the world). Sure, Albany may not match up in terms of scale or recognition -- but we've got some pretty spectacular stuff. Our city hall was designed by world-renowned architect H.H. Richardson. The plans for the University Club were drawn by Albert Fuller. Perhaps our city's most prolific and celebrated architect, Marcus T. Reynolds, designed so many distinctive and recognizable downtown buildings that his pen may have shaped Albany more than any developer until the South Mall was built.
I'm by no means an art historian, or an architecture buff. I can hardly tell the style of a building, but I know what I like. So after the jump, seven reasons why I think Albany can be proud of its architecture. Granted not all of these buildings are architectural wonders, but to me, well, I can't help but swoon over them.
The New Scotland Avenue Armory
130 New Scotland Avenue (map)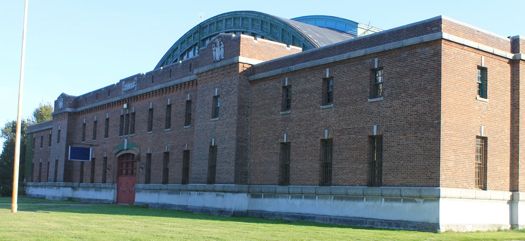 When I was just a small fry, I used to come to the New Scotland Avenue Armory to see the circus. Back then it was still an active armory. It was constructed in 1914, added to the state historic register in 1991, and decommissioned in 1999. Today it's used for storage and office space for University Heights (a consortium of Sage, AMC, and Albany Law). This building, like the Washington Ave Armory, has such great potential for another use, something more appropriate for its scale and splendor.
2 Ash Grove Place
(map)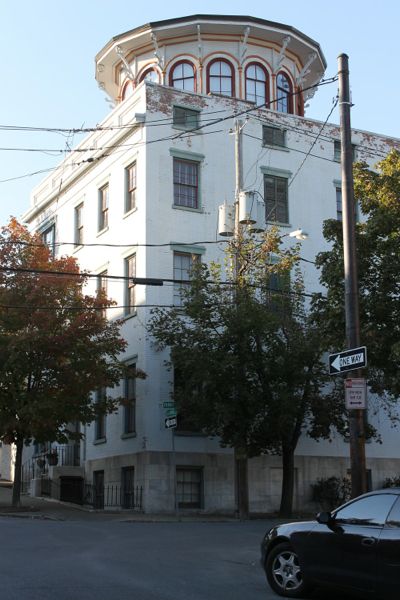 Go figure, this amazing home was owned by Samuel Schuyler, a ship captain. Capt. Schuyler added the top feature, properly called a "belvedere" in the mid-19th century and one can only guess how incredible the view must be. This home is one of the "you've-got-to-seek-it-out-to-know-it's-there" Albany highlights. I think it's a unique building. It's kind of mysterious. It instantly makes you wonder what the heck it is. You might not be surprised to see something like it in Charleston, South Carolina or Savanna, Georgia, but in Albany's South End it's not what you expect.
353 Broadway
(map)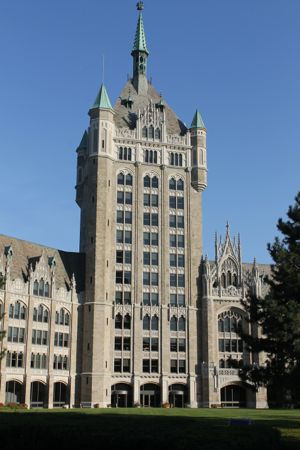 "Mommy, is that a castle?"
This building inspires a sense of "wow." Its architect, Marcus T. Reynolds, had a spectacular vision and style. When it was commissioned in 1914 to be the Delaware and Hudson Railroad building, the D&H brass had the right idea. "Build us something remarkable!" It's such a shame the corporate headquarters of today can't be built to the same grandeur. D&H was defunct by the mid 1970s, so when the building went up for sale the State swooped in, and it's a good thing they did. The entire structure and its detailed Gothic features were painstakingly restored and the building stands today as a symbol of how beautiful something so mundane as office space can be. Today it's the SUNY administration building.
1 State Street
(map)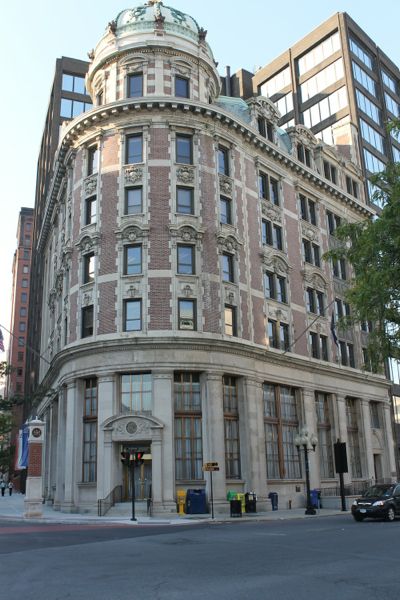 Now this is a way to bookend a great street! This building, another Reynolds design, is kitty-corner from the D&H, across Broadway. Commissioned in 1902, the building replaced a former structure, also with a curved facade. The ornamental face of the building, lavished in Renaissance-Revival details, gives a spectacular welcome to those traveling north up Broadway. It's a shame the adjacent buildings don't have the same attractiveness, but it is neat to see these dull, featureless forms seemingly wrap their amorphousness around 1 State St. and form what I think is essentially a frame.
575 Broadway
(Map)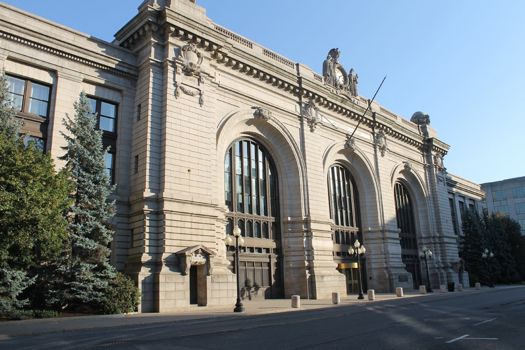 This grand building was once the gateway into Albany. Its history is both tragic and inspiring. Built at the nexus of the New York Central and Boston and Albany railroad, Union Station was designed in the Beaux-Arts style that was all the rage nationwide following the 1893 World's Fair in Chicago. The station served proudly until 1968, when the last train out left the building dark and subject to vandalism, mother nature, and impending decay. Passenger service moved to what I call "the wrong side of the river." Restored, and named for a gutsy executive that had the vision to step in and save it, Peter D. Kiernan Plaza saw a renaissance for a time as a corporate headquarters. Sadly, its last tenant pulled out years ago and the building is now vacant. UAlbany's College of Nanoscale Science and Engineering recently proposed using the space as a startup incubator, though the project was passed over recently for state funding.
893 Broadway
(map)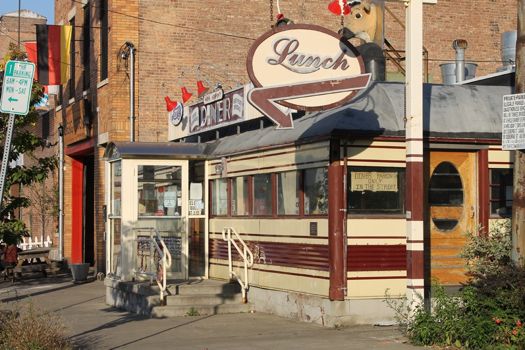 Perhaps the only pre-fab building I'll ever love, the Miss Albany was built in Patterson, New Jersey and moved up north in 1941. When William Kennedy's novel Ironweed was turned into a film, this diner, formerly known as Lil's Diner, was refurbished and given a new name. There aren't many greasy spoons that moonlight as movie stars!
1031 Broadway
(map)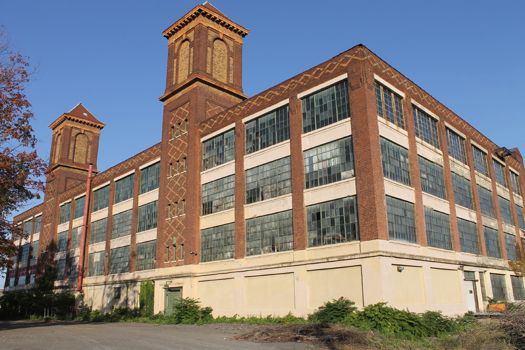 Surprise! It's another Reynolds building. I just love the guy's work. Despite the fact that inside this building an industrial operation was humming away -- it housed a printing company -- the outside was still designed to be visually pleasing and attractive. The days when men built great looking utilitarian buildings are long past, which is kind of a shame. What does that say about today's modern buildings, many designed to be as cheap as possible? Last year Historic Albany named this building to its "endangered historic resources" list.
So there you have it, seven gorgeous buildings, some obvious, some not, some celebrated, some forgotten, that absolutely inspire me.
A big thanks to the book Albany Architecture, edited by Diana S. Waite, for the fantastic facts about many of the buildings above. Anyone who wants to learn more about Albany's greatest buildings, and find a few diamonds in the rough, should pick up a copy of that book -- it's a must have for every Albanian looking to improve their place-esteem.
Martin has very appropriate username on Twitter: @daleyplanit.
Earlier on AOA:
+ Historic Albany's endangered building list
+ What's your favorite Capital Region building?
Hi there. Comments have been closed for this item. Still have something to say? Contact us.