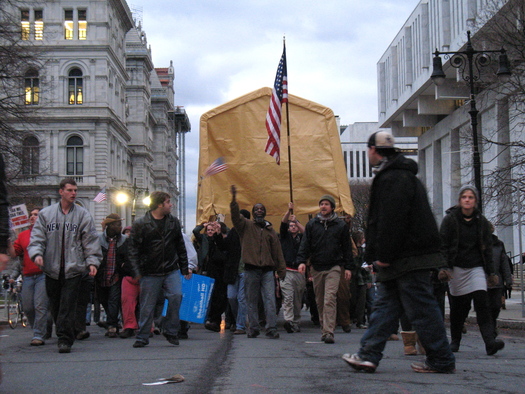 Updated Friday evening
Following the expiration of its permit Thursday morning, Occupy Albany was evicted from Academy Park that afternoon. City of Albany Department of General Services employees dismantled and removed tents as police watched.
Then things went a bit crazy -- Occupiers took their last tent on a tour of the city's streets before returning to the park. That's when police grabbed the last tent, the scene became chaotic, there was pepper spray, and a few arrests.
Here's a photo log of what we saw.
On this page, jump to:
+ Man tries to have tent taken down around him
+ Tent goes mobile and tours city streets
+ Man taken down for not getting out of he way of a saw
+ Tent at State and Pearl
+ APD takes tent and pepper spray used
+ Comments from Jerry Jennings Friday morning
+ APD statement
+ Occupy Albany statement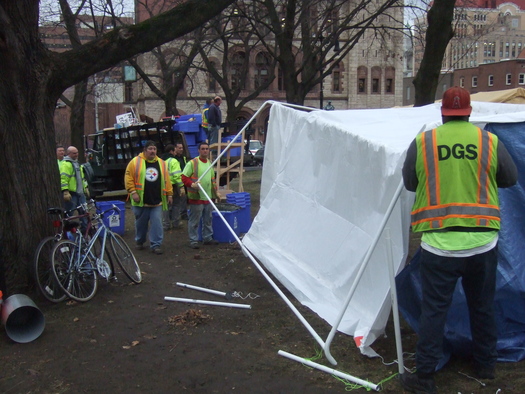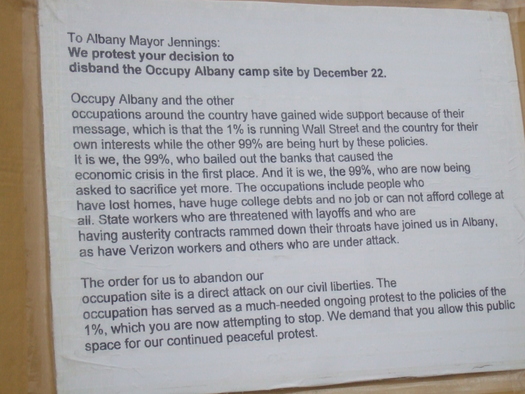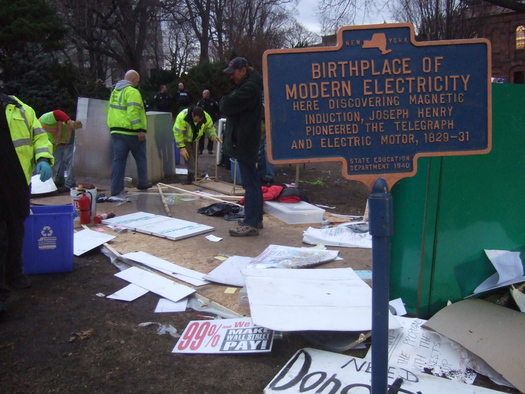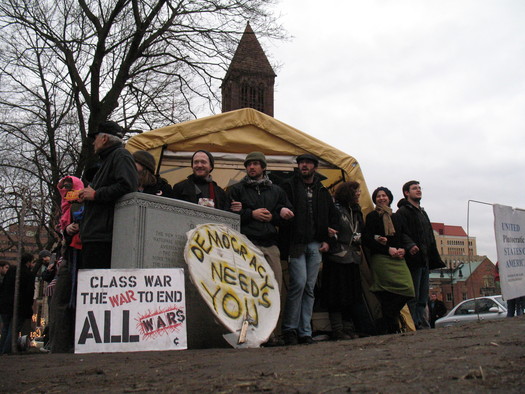 Occupiers gathered around their information tent in an attempt to stop it from being taken down.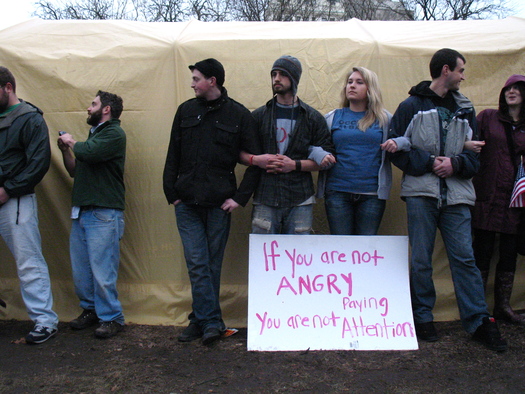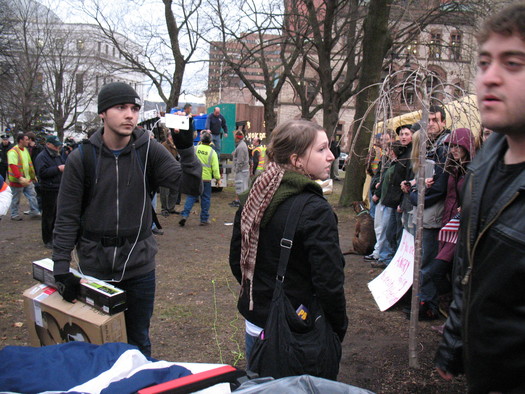 Tim Pool, who was livestreaming video from the scene online. Pool has become famous for his video streaming from Occupy Wall Street. [Fast Company]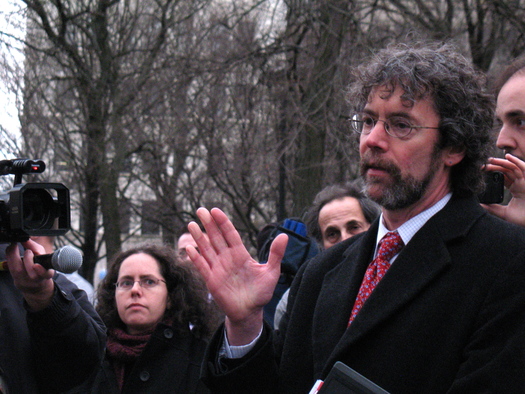 Mark Mishler, one of Occupy Albany's attorneys, explaining to the crowd that OA's request to keep the information tent -- unoccupied overnight -- had been denied by the city and a judge.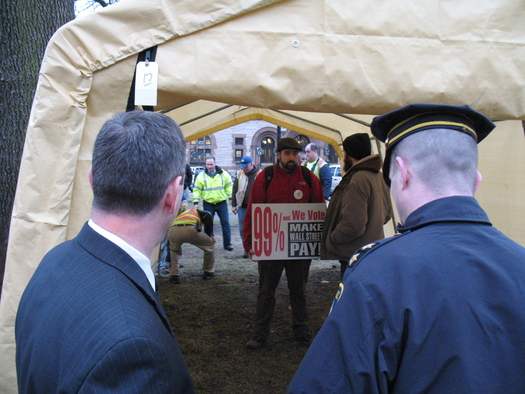 A man stood in the second-to-last tent in an attempt to make DGS workers take it down around him. He was eventually asked to leave, and he did so peacefully.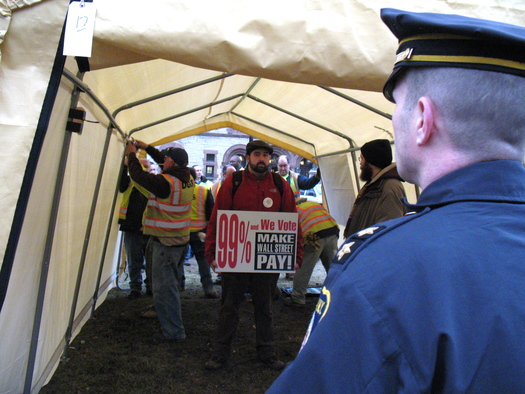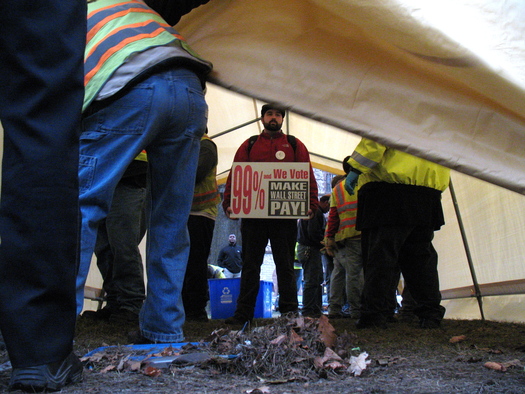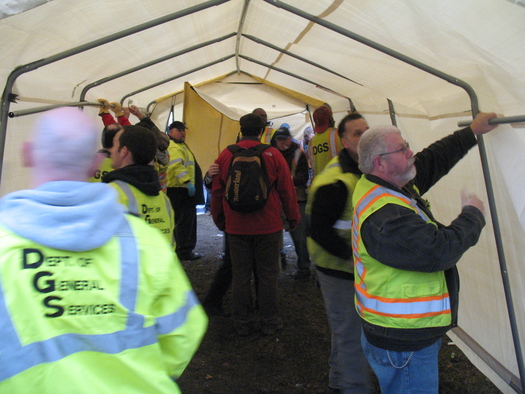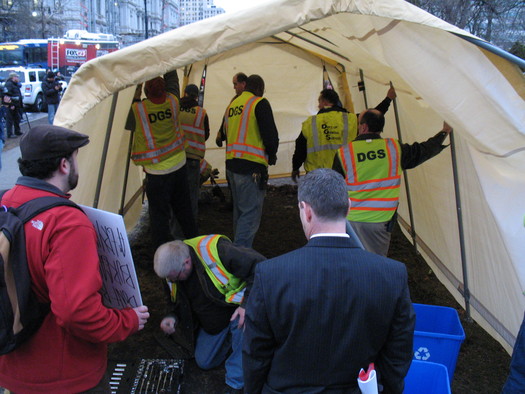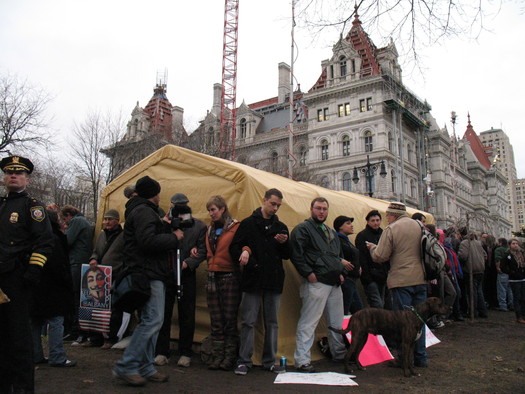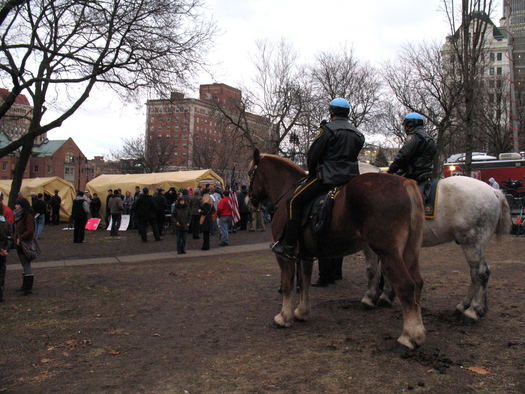 At this point in the afternoon, the Albany police were mostly just watching from a distance.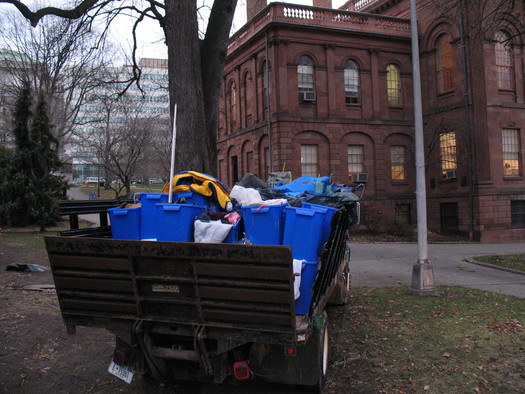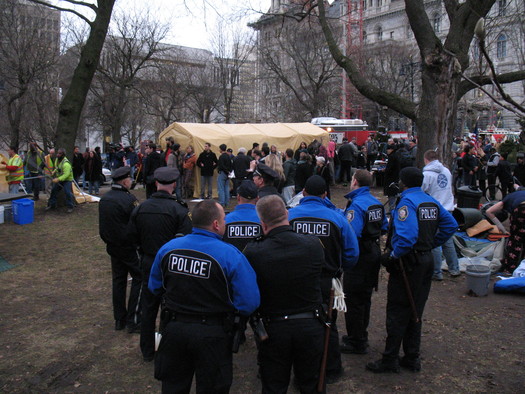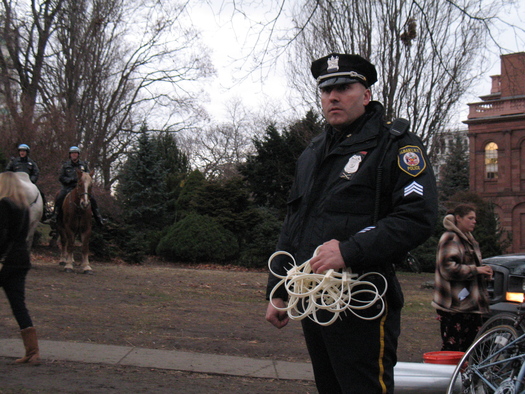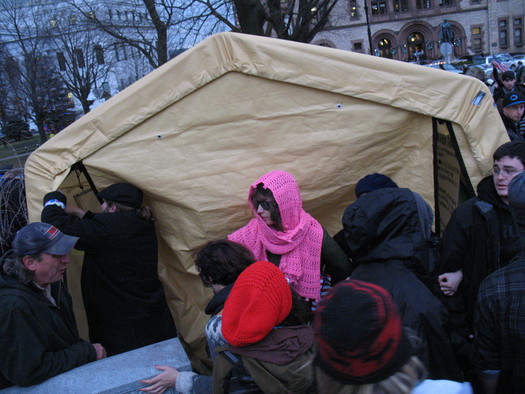 When it came time to take down the information tent, Occupiers picked it up themselves and carried it off toward city hall.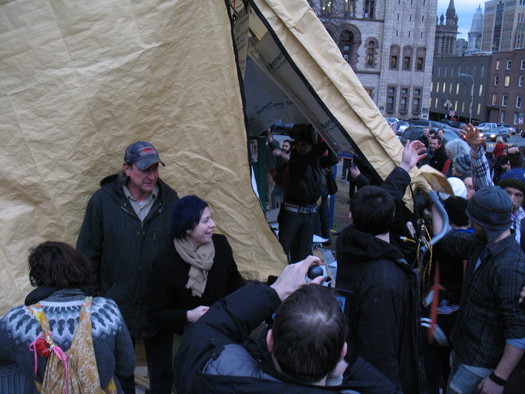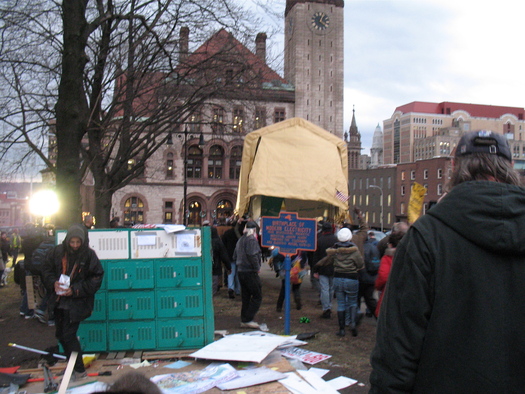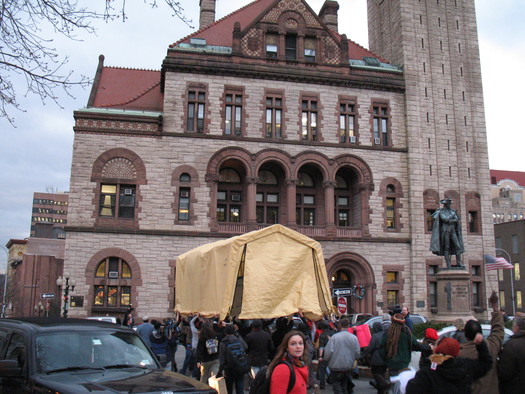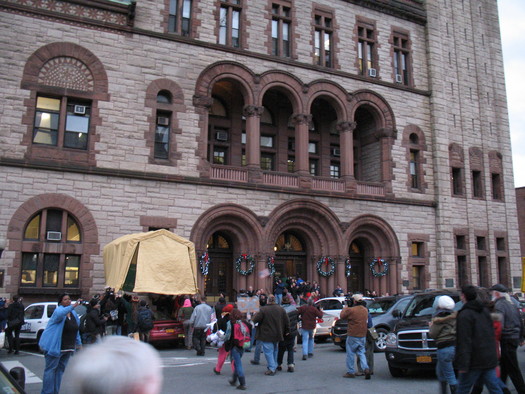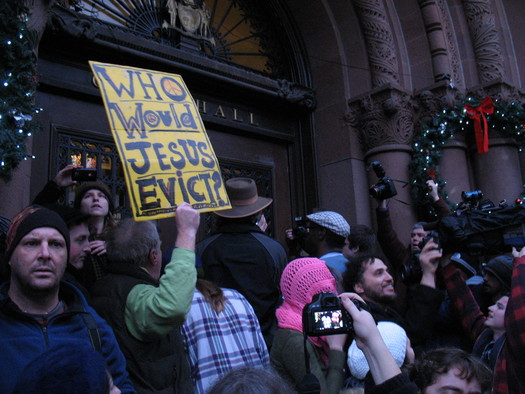 The tried to get into city hall, but were turned away. A handful of APD officers stood at the door.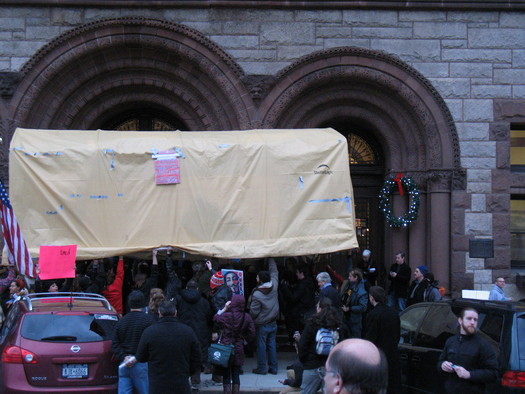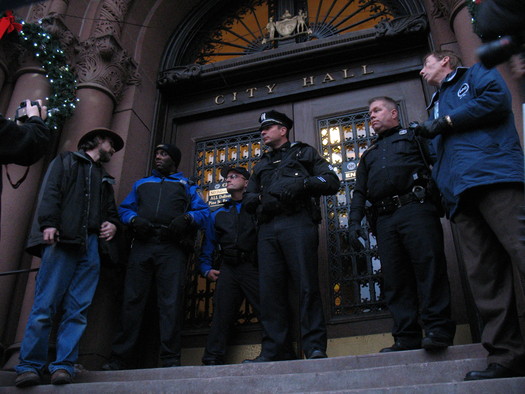 Officers stood at the door calmly while the crowd chanted. The man on the left was giving them an earful.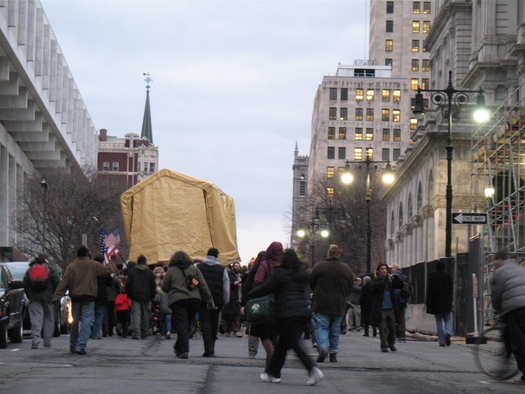 So the now-mobile tent headed around the Capitol and up State Street into Center Square.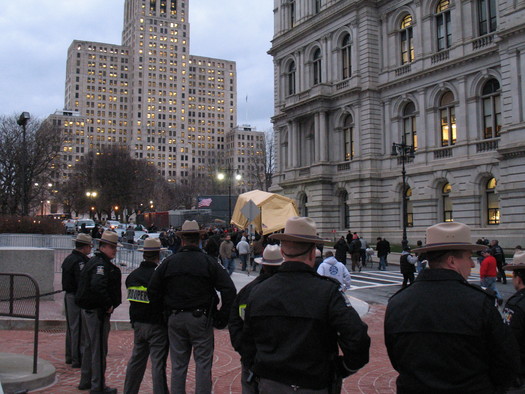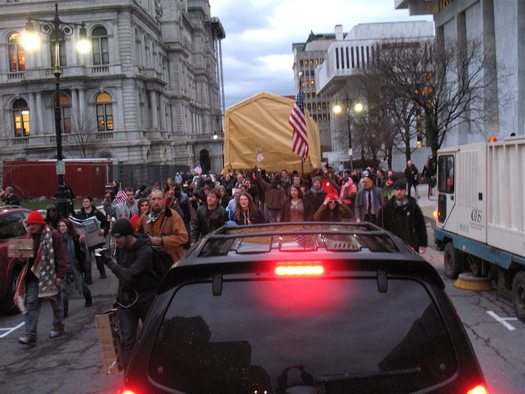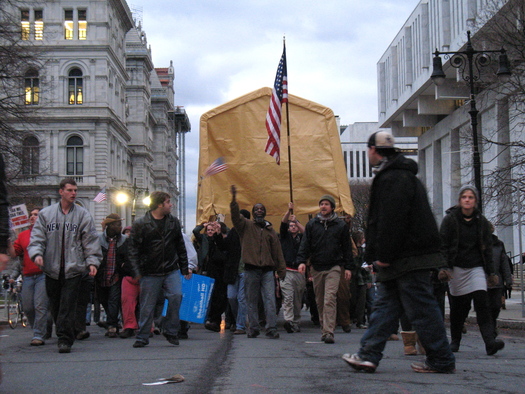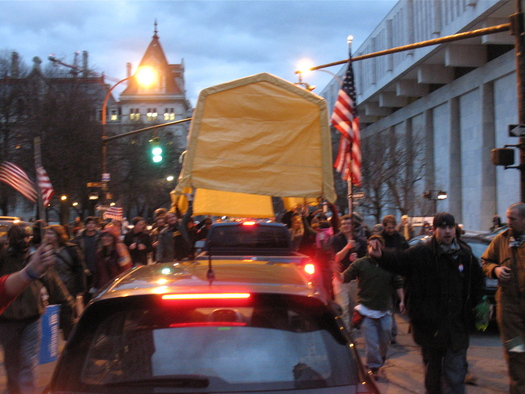 They took the tent right up the middle of the street -- where there was traffic. The Occupiers lifted the tent over some of the vehicles.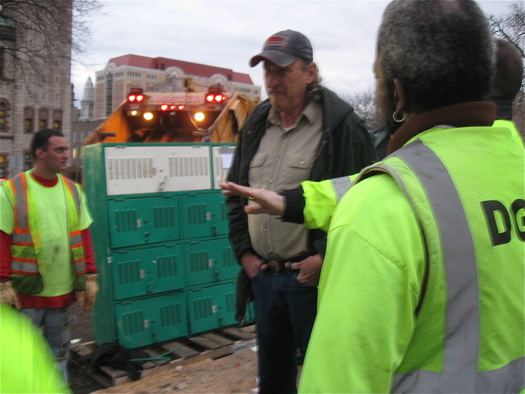 Meanwhile, back at Academy Park, a man was refusing to get out of the way of some DGS workers who were using a saw to break apart a platform. There was a verbal confrontation and the man continued to stay in the way of the saw. Police moved in and took the man down.
Update: Here's video of the incident (posted by YouTube user LittlebitOsoul):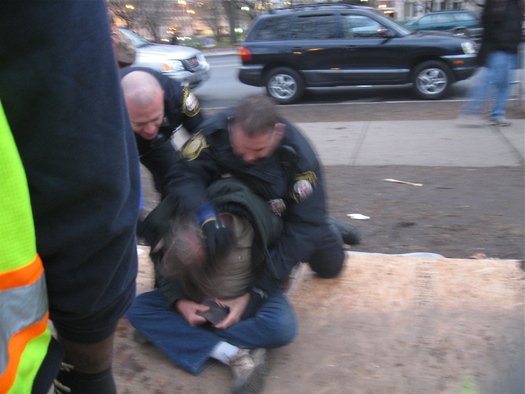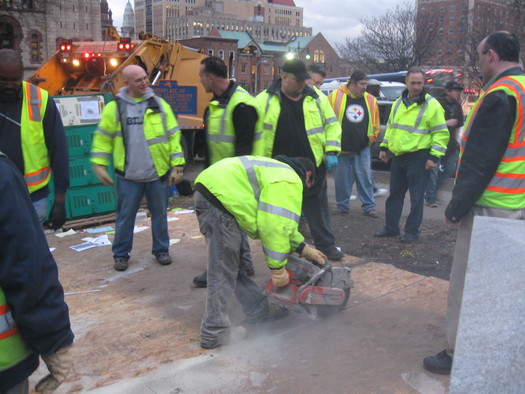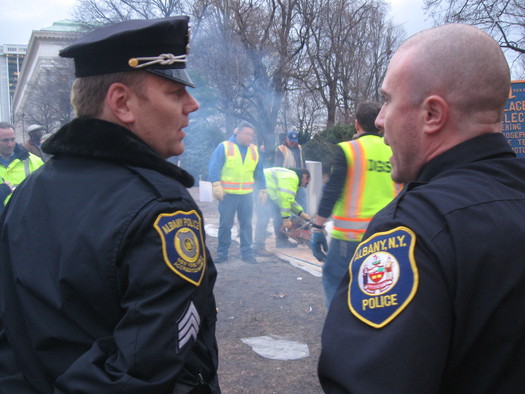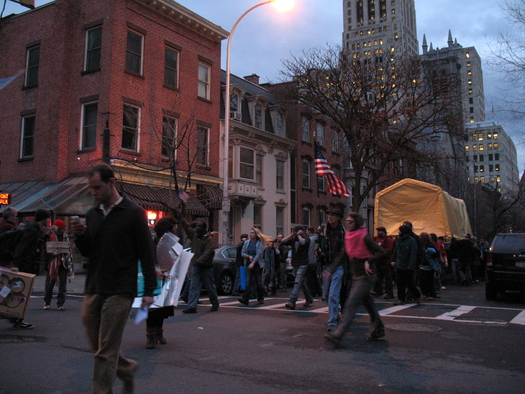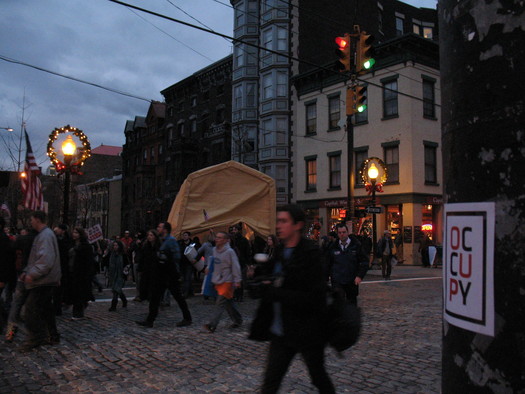 Lark Street.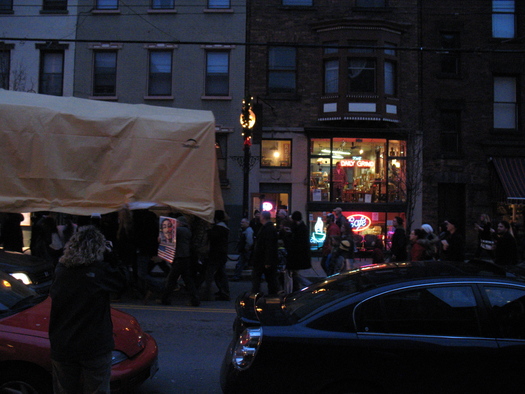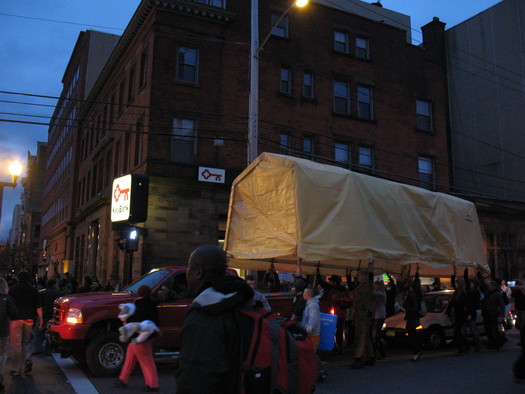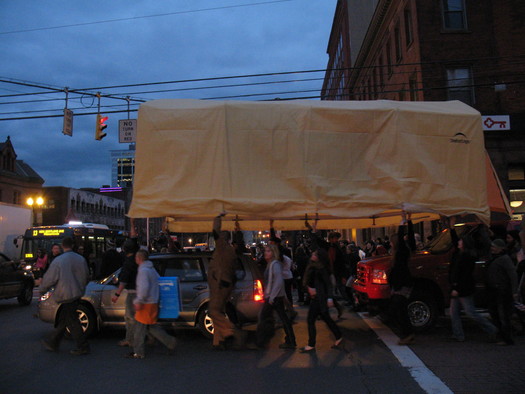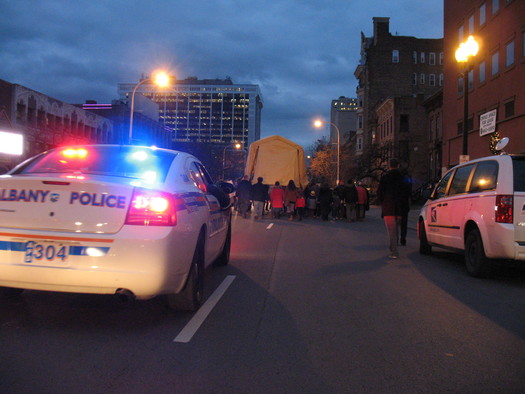 Down Washington toward Academy Park.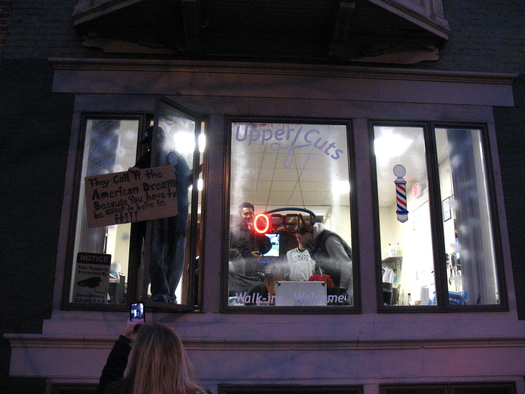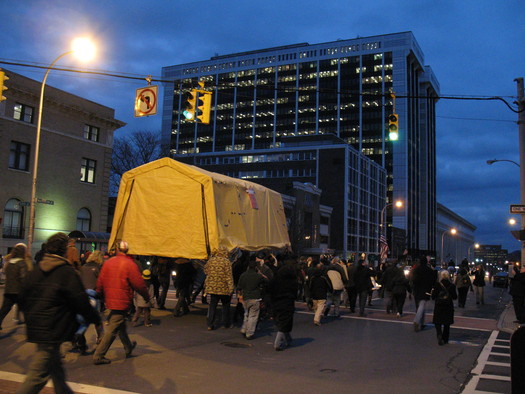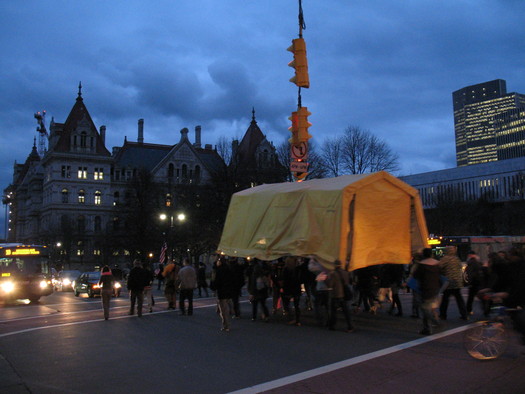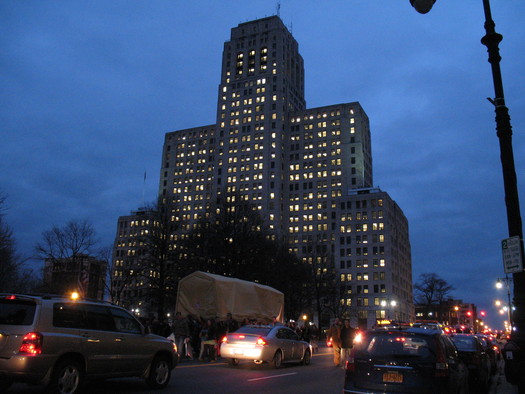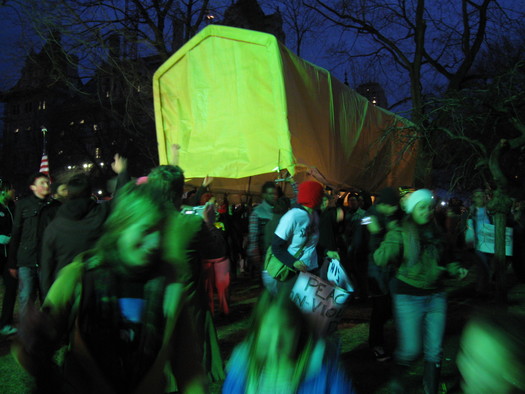 A brief stop in Academy Park, and then back on tour, this time down State Street toward Pearl.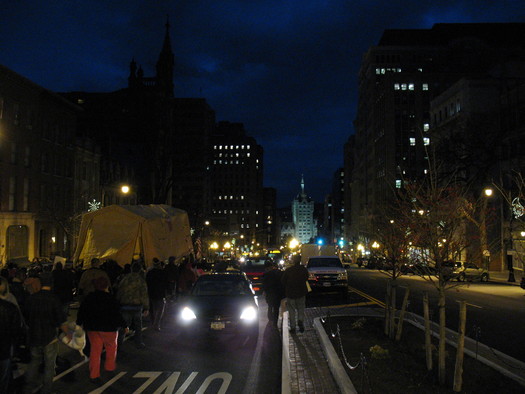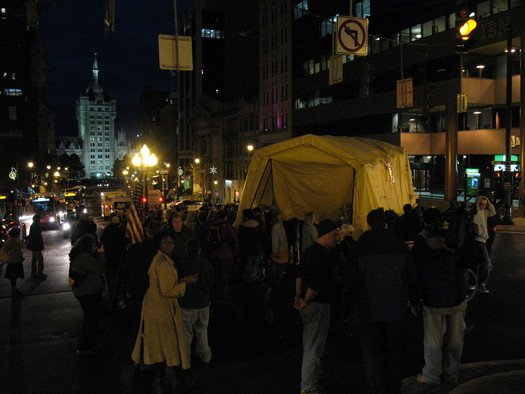 The tent made a brief stop at the intersection of State and Pearl. The APD was accommodating about the mobile tent, escorting it and stopping traffic at intersections. APD spokesman Jimmy Miller told us on the scene that, as a spontaneous protest, the mobile tent may not have been violating any laws. (A planned protest would have required a permit.)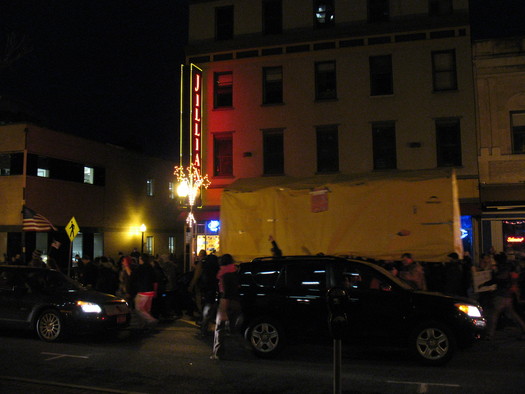 Pearl Street.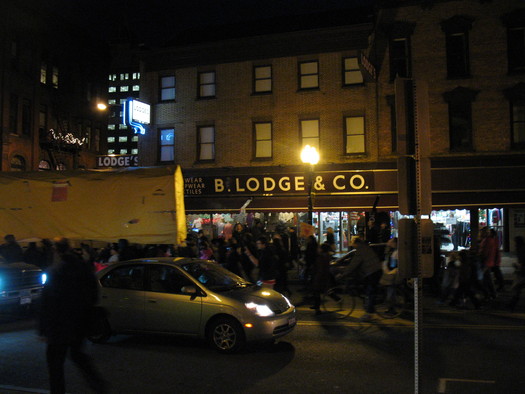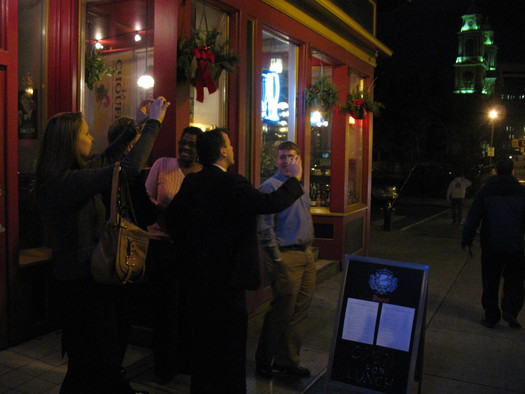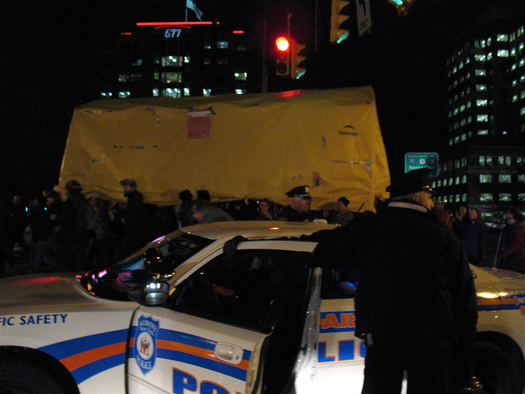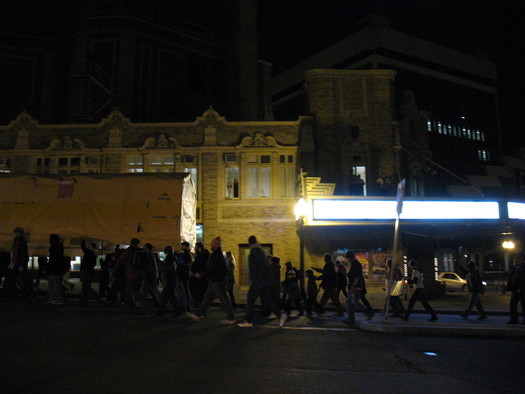 Past the Palace and up Clinton, eventually back to the park.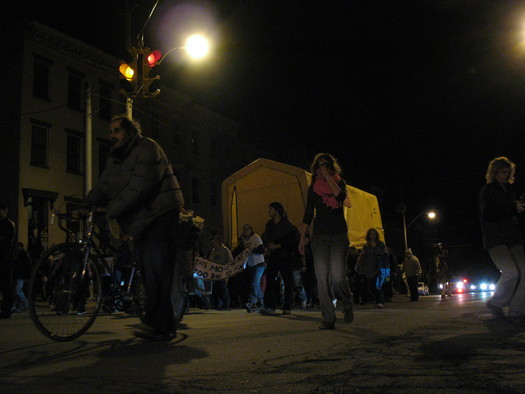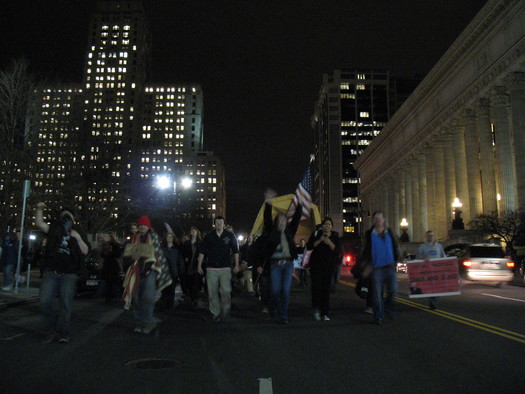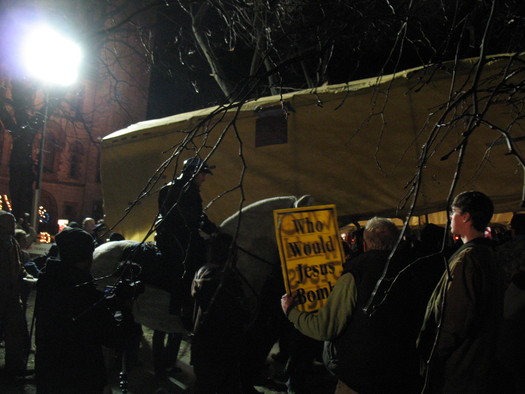 After the tent returned and was set back down, the APD moved in to take it. That's when things became chaotic for a few minutes. Occupiers under the tent, trying to move it away. Police pulling on it. A mounted officer trying to move people away from the tent. The tent and its frame got wrapped against a light pole, people stuck underneath it. There were a few scary moments.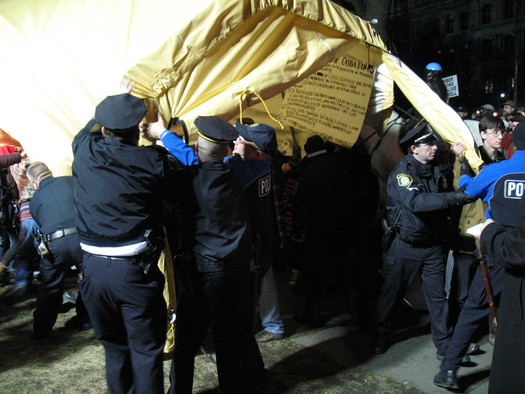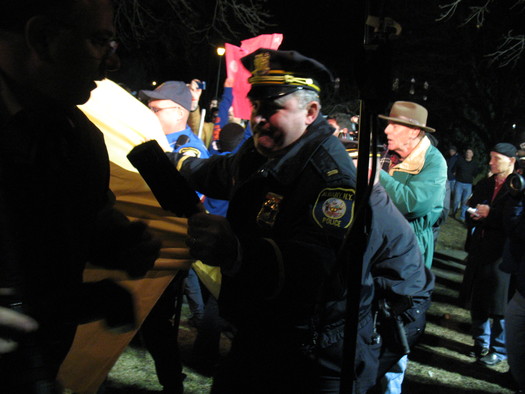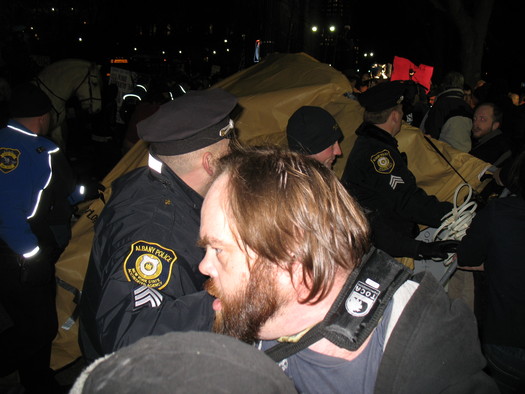 Update: Here's livestream video from Tim Pool from underneath the tent: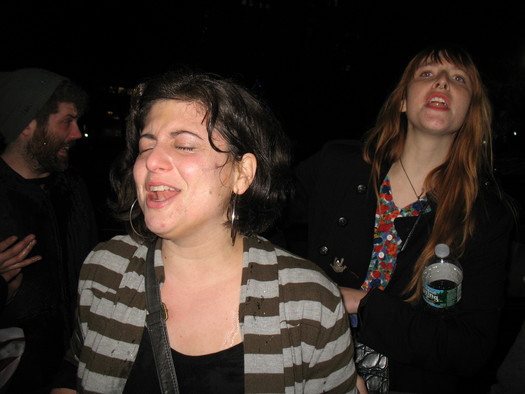 At some point during the chaos, the APD used pepper spray. This woman had just been sprayed in the face.
Update: Here's video posted on YouTube from the scene (from YouTube user randallcollura). It appears the mounted officer starts spraying at the :38 mark:
We didn't witness what prompted it (we were on the other side of the tent) -- and we heard conflicting stories. Occupiers alleged the mounted officer had just started spraying indiscriminately. Others said the officer had been threatened. It's hard to tell exactly what happened from the videos. (@KGSchlegel says he "witnessed protesters grabbing at the bridle a few moments earlier." Be sure to read his comment posted below.)
Update: Richard Gorleski, the officer who used the spray, told the Times Union Friday that officers were being rushed by protesters as police tried to take the tent: "If I didn't spray a few of those people, someone would have been seriously injured."
Here's another angle (posted by YouTube user TeenVchannel):
You could smell the pepper spray hanging in the air afterward. We noticed a handful of people appeared to be suffering from being sprayed.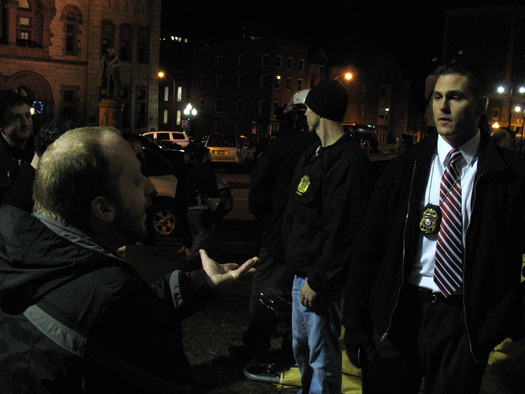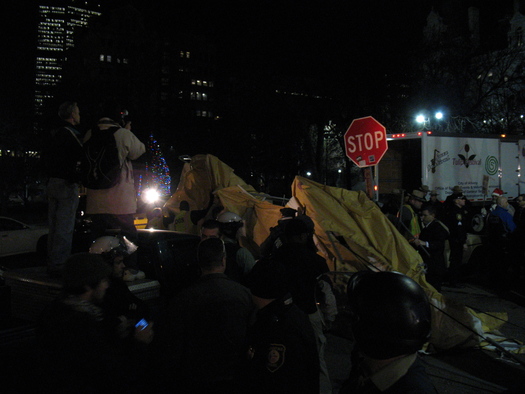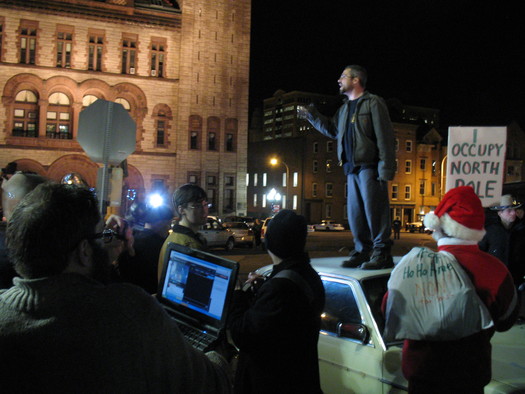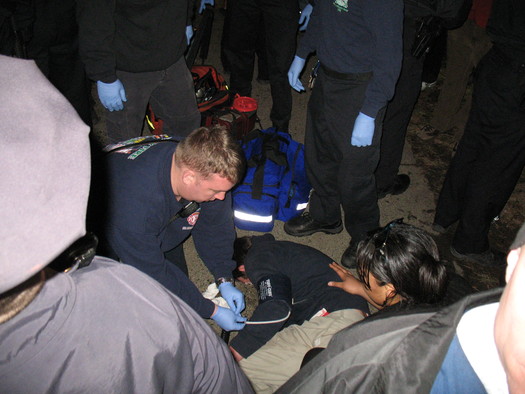 This man also was reportedly sprayed. He appeared to be suffering from sort of shock or seizure -- EMS eventually arrived, treated him, and then took him to the hospital. The Daily Gazette reports he's Anthony Hadden of Schenectady.
A little later a cameraman for WTEN was injured somehow -- apparently he was hit in the back with something. He was also taken away by EMS.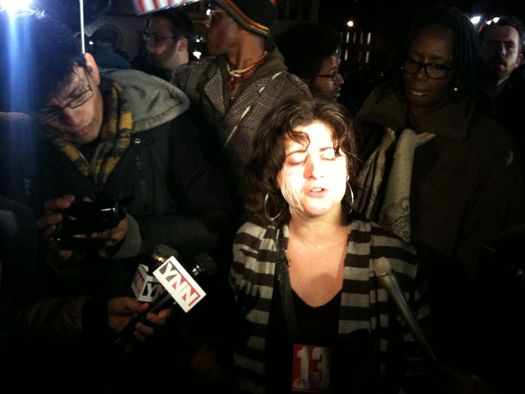 Talking with the media.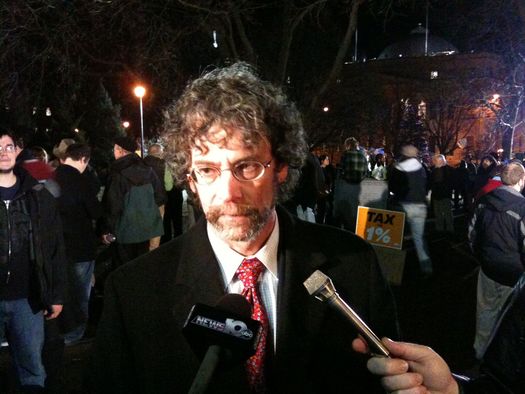 Mishler addressing the APD's actions. He said "there was nothing to justify" the APD's move on the tent and accused officers of having "brutalized people." "People are outraged and they should be outraged."
Update: Sebastien was there and has posted a very good photoset -- it includes a bunch good closeups and reactions.
Update: Here's a photoset by the Daily Gazette's Patrick Dodson -- it includes a lot of caption information.
There were four people arrested and four injured. [@CapitalTonight]
Occupy Albany says it's returning to the park and will hold one of its general assemblies there Friday. [@occupy_albany]
An APD press conference for tonight, which was to include Jerry Jennings, was cancelled shortly after it was announced.
Update: An attorney for the city told the Times Union that the city had sought an injunction against the protesters using the park because of concerns about safety, specifically "three assaults in the last three to four days."

Update: Here's a snip of Jerry Jennings addressing the events on his weekly call-in show Friday morning on TALK 1300:
"I think we're one city across the country that didn't react the way a lot of cities did. I didn't want anyone hurt, as far as I'm concerned, we did what we had to do. We had a restraining order, we were going to clear the park out, we made that clear. And my concern has been public safety... people representing the group over there, they even admitted, that they couldn't guarantee -- or they didn't report incidents early in this process -- of things that had taken place. As far as I'm concerned, I had to make a decision, they knew what it was long ago. And we wanted to do it as peacefully as possible. We didn't go in there at 3 o'clock, 4 o'clock in the morning. We went in in broad daylight to let people know. And we wanted people to work with us."

Update: Here's a statement from APD:
Based on a court order signed today that prohibits the encampment of Academy Park members of the City's Department of General Services removed all remaining tents and structures within the park. The Albany Police Department stood by as that occurred and monitored the situation. Any protester present today was able to dismantle their tent and remove their belongings. Anyone not present will be able to retrieve their personal items from DGS. All items were tagged so that their rightful owners could retrieve them at a later date.
A canvass mini carport with aluminum tubing was the last remaining structure. Before DGS started to remove it the protesters were allowed to pull it up from it's stakes without any resistance. A large group then carried the tent to the front steps of City Hall and proceed through several city streets for over an hour without any interference. The group then brought the tent back to Academy Park, placed it back down on the ground in direct violation of the court order. Albany police acting pursuant to that order moved into the park to secure the tent. At that time when officers went into the park a large number of protesters resisted the action, obstructed the officers from doing their duty and several became unruly.
Three protesters were arrested at that time bringing the total number of arrests to four during the afternoon and evening. Two individuals were pepper sprayed when they became very aggressive towards officers. Two officers sustained minor injuries during the incident. Two protester also sustained minor injuries. One television photographer sustained a back injury when he was struck in the lower back when filming. It is trying to be determined if he was intentionally struck by one of the protesters or if it was accidental.
The City and the police department has gone to great lengths over the past two months to accommodate the protesters first amendment rights. We were in constant dialogue with representatives of Occupy Albany that included the discussion of health and safety issues of those encamped in the park. The actions taken today were based on a court order and were appropriate. The order does not preclude anyone from continuing to protest in the park at anytime and the City will continue to respect Occupy Albany's right to free speech.
Update:
Here's a statement from Occupy Albany about the events from tonight. It argues two of the people pepper sprayed were protesting peacefully.
Albany Police Department Soils Record of Exemplary Handling of Occupy Albany Protestors
ALBANY, NY - December 22, 2011
Shortly before 6:00pm tonight, Albany police department began using force on peaceful protestors. This followed a day of physical dismantling of the Occupy encampment by the Albany Department of General Services.
After several talks between Occupy Albany and the City, in which the City said it would not use force to evict protestors from Academy Park and would notify Occupy Albany before any action were to occur, the Department of General Services, flanked by the police department, entered the encampment this afternoon to remove the tents and all personal belongings of the protestors. When protestors asked for an hour to peacefully clear the site, they were refused and told they had 'five minutes'
Protestors watched as their belongings were shoved into trucks and Occupy Albany hoisted the last remaining tent from the site and carried it to City Hall calling 'Jennings, Jennings, come on out, face the ones that you kicked out!' Protestors were denied entrance to the building by the Albany police department. They then took the streets chanting 'We are unstoppable! A new world is possible!' 'Banks got bailed out! We got sold out!' "We demand you sep-a-rate corporations and the state!' "I'm a person! You're a person! Corporations not a person!" before returning to Academy Park.
While attempting to carry the tent at the park, and without any warning or orders from police officers against it, the Albany police department began forcibly yanking the peaceful protestors and then turned on them with pepper spray. Shanna Goldman and Dave Redbeard, two of the protestors pepper sprayed, confirmed that they were engaging in peaceful actions at the time.
Redbeard says "I was standing with my sign when an officer began shoving me. I was then pepper sprayed moments later. I did not witness anything that would have warranted such a response. There was no violence instigated by anyone other than the police"
Goldman echoed that sentiment saying "I was walking with the tent when they (Police) grabbed me and pulled me down into the crowd and pepper sprayed."
Protestors are condemning the actions of the police force.
"I am utterly dismayed at this breach of trust from the City. We have been betrayed,' says occupier Heather Phillips 'Occupy Albany had been assured that there would be no violent action from the City. The Albany police department went from being the heroes and role-model of the nation to using unwarranted force and resorting to pepper spraying peaceful protestors. This is shameful."
Catherine Ertelt states the only 'riot' she saw "was a police officer on horseback who rode his horse into the crowd sadistically spraying pepper spray, mostly at people standing on the sidewalk. 5 people were taken to the hospital including an ABC camera crew person who appeared to be seriously injured. Cameras were taken from the media, who had been there interviewing people. I saw nothing thrown and noone tried to pull the police officer off his horse. Occupy Albany was going to be moving into an indoor space imminently. This was unnecessary."
The OA statement also included a video clip from underneath the tent. We'll update when it's posted online.
Earlier on AOA:
+ Occupy Albany, two months later
+ Occupy Albany's demand
+ Arrests at Occupy Albany
+ Why they're occupying Albany

Hi there. Comments have been closed for this item. Still have something to say? Contact us.