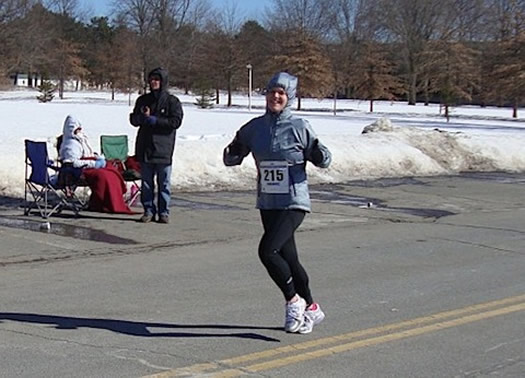 By Jen Masa
We're always inspired when we read about the races Jen is running. And as self-described "winter runner," she runs all year round. So we thought we'd ask her for a few ideas about how to make running outside more comfortable and fun during the cold weather months.
Yes, winter is here! But that doesn't mean we have to stay indoors and on our couches. I like to stay active throughout the whole year, especially during the winter. Even when my couch seems more inviting, sometimes exercising outside in the cold can be invigorating! And there's nothing better than feeling the sunshine on your face! When exercising, I'll take cold weather over humidity any day. Within the past few years, I've made a habit of running outside in the winter and I really enjoy it.
Here are a few suggestions to help make your winter running experience more tolerable!
Invest in some good coldgear
There is nothing worse than freezing during a run outside. With the proper winter gear that won't happen! Most brands, like Nike and Under Armor, have specific lines for cold weather running, and they are a great investment if you are a serious runner. Look for a moisture wicking fabric that keeps sweat away from the body -- and stay away from cotton. A good pair of compression leggings are great for cold weather running.
Layer, but not too much
I hate feeling weighed down by too many clothes on a run, so sometimes less is more. The running "rule" is to dress like it's 20 degrees warmer than it really is. So, if it's actually 15 degrees out, dress like it's 35. You will warm up fast since you're moving, and you don't want to get overheated.
Here is what I wear: a pair of ColdGear running tights, tank top, a long sleeve ColdGear shirt, a running jacket, gloves, and a fleece headband.
And another tip: if you are racing in the winter, wear a throw-away sweatshirt or jacket you can ditch after the first mile or so. Race volunteers will go around after the race, pick up the clothes, and donate them!
Run in the sunlight
Coming home from work in the dark does not give me motivation to run outside in the evening. However, I am lucky that I get a long enough lunch break to squeeze in a short run during the day. Even if it is cold, when the sun is shining I enjoy my run a lot more so I make sure that if I know its going to be sunny to get my run in at lunch, and it's so worth it. After a while, you can't even feel the cold.
Sign up for a winter race
Racing is one of my favorite things about running! You might think the road race season is dead in winter, but there are a few here and there you can participate in.
The Hudson Mohawk Road Runners Club hosts a winter series at UAlbany every year and there is something for everyone. The series begins in December and goes until March, with a race every few weeks. There are a range of distances, from 5ks to the Winter Marathon. The good part about the series is that every race is completely free for HMRRC members, and for non-members the cost is only $5 per race. They are race day registration only, which is good when those pesky snow storms show up and ruin our plans!
In February 2011 I ran the Winter Marathon Relay and I just ran the 2012 Hangover Half Marathon on New Year's Day. I find that the idea of training for a winter race is great motivation to keep myself running toward a goal during the cold months.
Try snowshoeing
I bought a used pair of snowshoes for pretty cheap last winter. I love walking through the woods wearing them after a snowfall and its quite a workout! You can even buy special racing snowshoes and run in actual snowshoe races that are held during the winter. I haven't run in snowshoes, but it seems like it would be a lot of fun, especially if you want to get a great workout when there is a lot of snow on the ground and the sidewalks aren't clear enough for running. I think a snowshoe race may be in my near future this winter! I'm eyeing Brave the Blizzard on January 12... if we have snow by then.
I hope these tips make winter a little more tolerable. I know running and staying active definitely helps get me through the colder months. Happy cold weather running!
Jen Masa blogs about running and healthy living at Jen is Green.
More Owning Winter:
+ Cooking out the cold
+ Winter stuff for your car, your house, and you
Earlier on AOA:
+ Snowshoeing in the Capital Region
+ Cross country skiing at Lapland Lake: a bit of Finland in the Adirondacks
Hi there. Comments have been closed for this item. Still have something to say? Contact us.