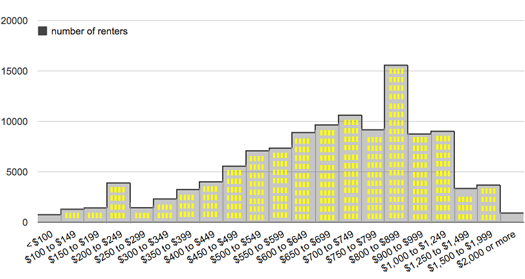 After seeing that the Capital Region had one of the lowest apartment vacancy rates in the nation last year, we were curious about rents here -- how they're distributed and how they stack up against other metro areas. [Biz Review]
Bring on the charts and graphs...
The rent data we pulled are from the Census Bureau's 2010 American Community Survey estimates.
+ The median monthly rent in the Albany-Schenectady-Troy metro area in 2010 was estimated to be $710.
+ That ranked #112 among 525 metro/micro areas across the country. The highest was $1336 for the San Jose-Sunnyvale-Santa Clara, California metro area (that's Silicon Valley). The lowest (not in Puerto Rico) was the Opelousas-Eunice, Louisiana micro area at $312.
+ But a simple ranking of median rents doesn't necessarily give the best picture. To get a sense of how "affordable" the median rents were, we also ranked the metros by median monthly rent as a percentage of median yearly household income (xls). When we did that, the Albany-Schenectady-Troy metro ranked #275 -- indicating rents here maybe aren't so bad (if you have income around the median).
The #1 spot in the median rent/median household income ranking (among non Puerto Rico areas) was Key West, Florida. And Jefferson City, Missouri was in the very last spot.
And here's the Capital Region distribution of rents.
There's a larger version of the distribution chart embedded at the top of this page.
Earlier on AOA: Capital Region income distribution
Hi there. Comments have been closed for this item. Still have something to say? Contact us.