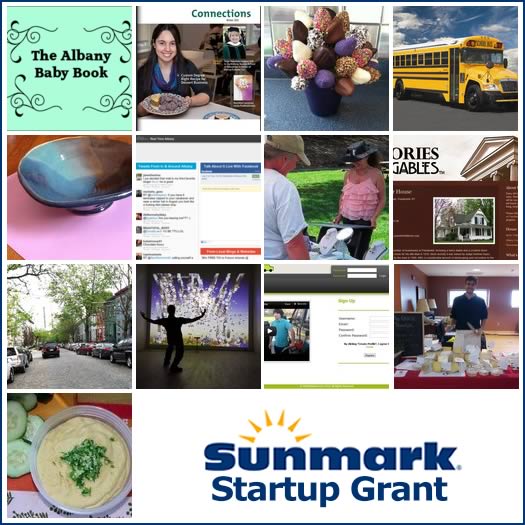 There were a lot of good submissions for this year's AOA Sunmark Startup Grant. Projects ranged from a resource for new parents, to car sharing, to art, to web apps, to food. If you haven't read through the applications, you should -- you might find a project with which you'd like to get involved.
But there can only be three finalists -- two selected through crowd voting, the other by the Editors.
Here they are...
Crowd-selected finalists
The Cheese Traveler and Tilldale Farm: Cheese, Meat, Fine Foods and Farm Market
"The Cheese Traveler and Tilldale Farm are opening an eclectic food and farm store that will house a full service, cut-to-order European style cheese shop that focuses on farmhouse and artisan cheeses from the Northeast, greater US, and abroad. Tilldale Farm will sell grass-fed, certified organic, heritage breed beef, pork and eggs. The Cheese Traveler and Tilldale Farm will invite other farmers market vendors to sell at "market days" in the space."
Bridge Runner Express
"The Bridge Runner Express LLC provides a round trip safe, affordable, reliable and fun shuttle service from Albany, NY to Saratoga Springs, NY to connect tourism, nightlife, entertainment and dining. The service is more than just a ride but an experience that engages people of all ages to participate in the vibrant, musical party atmosphere as we provide transportation from one destination to the next."
The voting for the top spot was close -- Cheese Traveler/Tilldale ended up only about 50 votes ahead of Bridge Runner.
Editors-selected finalist
Three Chicks and a P
"Three Chicks and a P is a small family owned new and existing business that was started in 2011 by Jennifer Rittner-Paniccia and specializes in fresh homemade tahini free hummus, bean dips and tapenades. After her husband, Matthew lost his job in the beginning of 2011, Jennifer decided to use her cooking skills to good use as a way to supplement their family income. Growing up surrounded by great cooks, she has carried over her family tradition of bringing families and friends together by creating a line of fresh and great tasting locally made tahini-free hummus, tapenades and bean dips."
As it happened, Three Chicks and a P finished third in the voting. But we also took note of the progress Jennifer Rittner-Paniccia has made in just six months of operation, and the careful thought it appears she's put into planning her business. We also got the feeling that winning the grant could potentially help Three Chicks and a P take a set up by helping them sort out a few things necessary to make such a jump -- things like nutritional labeling, shelf-life testing, and maybe some of the business coaching that comes along with the grant.
That said, we could have easily picked a handful of other projects and been satisfied by the selection. We just felt a bit more strongly about Three Chicks and a P at its current stage.
Thanks to everyone who entered this year.
Next up
The three finalists will be attending a one-night crash course by business/creativity coach Janet Tanguay at the Albany-Colonie Chamber of Commerce this week. Janet will help them arrange their ideas and think about how to present them to the judges in the final round.
Those final presentations will be next week. And we'll announce the winner then.
Final voting
Because people asked last year, here's the final standings from the voting. There were more than 2,000 votes cast.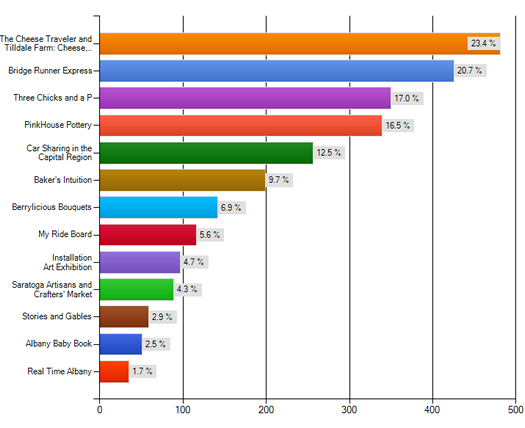 Hi there. Comments have been closed for this item. Still have something to say? Contact us.