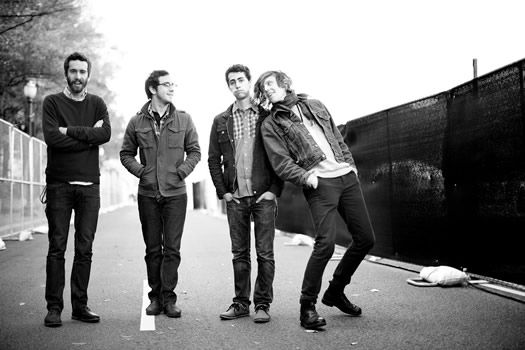 If you look at things from a glass-half-full perspective this is going to be a partly sunny weekend. If you're more the glass-half-empty type, then you'll focus more on the clouds and thunderstorms.
But check out the list after the jump and we think you'll have to agree that there's plenty to do this weekend.
Doing something that's not on the list? Tell us about it. And whatever you're up to, have a great weekend!
Art on Lark
The annual Art on Lark festival is Saturday. Lark Street will turned into a pedestrian area with art and music. Some of the artful stuff this year: a mock bus station by Chip Fasciana, and yarn bombing. And the music lineup: Babe City, Matthew Carefully, The College Farm, Mike Grutka, Ashton Williams Band, Betsi Krisniski. 10 am-5 pm
Saratoga Arts Fest
The Saratoga Arts Fest continues through Sunday. The annual multi-venue, multi-event festival includes music, dance, visual art, film, and theater.
A few of the musical events from the festival schedule: Don McLean performing "American Pie" in the town where he didn't actually write it -- and Kristin Hersh (yes, of Throwing Muses).
Capital Pride
Albany's annual Capital Pride wraps up this weekend with more events including the big Pride parade Sunday at noon on Lark Street. There's a festival in Washington Park right after the parade with American Idol finalist Kimberley Locke headlining.

Civil War on Trial
Today through Saturday at Albany Law: "The Civil War on Trial: Legal Issues That Divided a Nation," a conference looking at "legal issues that led to and defined the Civil War and post-war reconstruction." One of the co-chairs is well-known Abraham Lincoln and Civil War scholar Harold Holzer. $85
The conference also includes "John Brown's Body," a performance of Civil War-era works by Albany Pro Musica Saturday night at EMPAC. A handful of local notables will also be there to read passages related to the war. Tickets for the performance are separate. 7:30 pm - $25 / $10 students
Food
Ommegang Hop Chef
Friday at 11 North Pearl: Ommegang Hop Chef, a competition in which Capital Region chefs will be competing to see who can come up with the best dishes using beer (as mentioned). Chefs include: Brian Bowden of Creo, AJ Jayapal of The Mallozzi Family, Ric Orlando of New World Home Cooking & New World Bistro Bar, Jaime Ortiz of Mazzone Hospitality, and Paul Ozimek of Taste. 5:30 pm - $55
Lobster Fest
Friday night is the annual Lobster Fest at the Iron Gate Cafe in Albany. There's a lobster bake from 5-10 pm and music by the Lustre Kings. And, if they don't sell out, there will be things like lobster and avocado omelette on the breakfast menu the next day.
Macarons
Saturday at Different Drummer's: a hands-on class about making Parisian macarons with Corinna Selby. "These delicate little cookies are all the rage these days and if you've tasted them you know why. Macarons are light as air and sandwiched together with wonderful fillings like light butter cream or rich ganache." (Well-known fact: Pinterest is constructed entirely of macarons.) noon - $65
Laughs
MopCo.: You never know. The Mop and Bucket improv company has a new show Underground at Proctors. It's a mix of short-form scenes and improv games, and it's different every week. Friday at 8 pm - $14, $6
It Came from Schenectady
On Saturday, It Came From Schenectady presents a "walk-in drive-in" double feature of "splatter epics" Blood Feast and Two Thousand Maniacs. 7 pm - $9 / $6 students
Music
Friday and Saturday: Dave Matthews Band at SPAC
Dave and the band are back. Saturday is sold out, but it looks like there might be a few tickets left for Friday. (It will sell out.) 7 pm - $50 and up
Friday: Railbird at The Tang Museum
Back in the hometown. They recently funded a project on Kickstarter for a new single. Part of the "Upbeat on the Roof" series at The Tang at Skidmore. 7 pm - free
Friday: DMX at Upstate Music Hall
His real name is Earl. 8 pm - $25 ahead / $28 day of
Friday: Bass Fix at Red Square
Ten DJs, including DJ Flex and Party With Tina. 9 pm - $7 before 11 pm / $10 after
Friday: The B3nson Music Collective Presents: Sooze's Birfday at Valentines
B3nson bands Goldtooth, Barons in the Attic, and Careers. Downstairs at Valentines at 8 pm
Saturday: Tokyo Police Club at Jillian's
They spell favorite "favourite" and color "colour" because they're from Canada. 9 pm - $15
Saturday: Railbird at Upstate Artists Guild
Another chance to catch them while they're back in town. With: Sanchez, Rawhead. 9 pm
Saturday: Jim Breuer's Heavy Metal Comedy Show at Upstate Concert Hall
More comedy than heavy metal. Also: now fully baked? 8 pm - $23 ahead / $25 day of
Americade
Americade, the world's largest motocycle expo, celebrates 30 years in Lake George. If motorcycles are your thing, this is the weekend to take a trip to Lake George village.
Movies
Johnny Cash at Folsom Prison
On Friday night the Saratoga Film Forum presents Johnny Cash at Folsom Prison -- the documentary that examines Cash's 1968 concert at the California prison and the album that became a symbol of his transformed career. The Arts Center on Broadway in Saratoga. 7:30 - $7-$10
National Theater Live - Frankenstein
The Spectrum is screening director Danny Boyle's production of Frankenstein, Live from the National Theater in London on Sunday at noon. $15
Blockbusters
Wait out the thunderstorms in a movie theater. Summer blockbuster season has arrived. There's the The Avengers (it's good), of course. Snow White and the Huntsman (mixed reviews) out last week. And opening this week: Ridley Scott's Prometheus.
Albany Comic Con
The Annual Albany Comic Con is this Sunday at the Holiday Inn on Wolf Road. Panels, workshops, auctions and more. 10AM-4PM $5.
Parade of Homes/Chefs on Parade
This is the last weekend of the Parade of Homes. You can tour 15 homes constructed by Capital Region builders. Today-Sunday 11 am-5 pm - $15
On Friday, for $35, you can do the Chefs on Parade event, in which Capital Region chefs do cooking demonstrations at the Northern homes on the tour (Saratoga, Stillwater, Halfmoon) and offer samples in the kitchens.
Capital Region Soapbox Derby
Kids will be racing their soapbox derby cars down Madison Ave by the State Museum Saturday and Sunday.
PolishFest
The annual PolishFest is this weekend at the Blessed Virgin Mary of Czestochowa church in Latham. It's a celebration of Polish-American culture -- and food: kielbasa, golabki, pierogi, kapusta, bigos, and so on. Friday evening ($3) and Saturday ($6)
Greek Festival in Troy
St. Basil's annual Greek Festival is this weekend. Greek music, dancing -- and, of course, food. Friday, Saturday, Sunday - free admission
Troy Flea
Troy Flea, a new TightKnit market that includes "include "handmade, vintage and antique art and goods." It's on the block of River Street in Troy south of the farmers' market, from 9 am-2 pm.
Farmers' markets outside
The outdoor seasons for farmers' markets are in swing in Troy (Saturday), Delmar (Saturday), Saratoga (Saturday), and Schenectady (Sunday).
For the birds
The Berkshire Bird Paradise is open for the season. As long as you don't have any Tippi Hedren-like phobias, this place is really neat. There's clucking and squawking and colorful feathers. It's a fun diversion on a trip out to Grafton Lake.
Beach
Beaches at Grafton Lake State Park and Moreau Lake State Park are open for the season.
Ice cream
Tour de Hard Ice Cream
The results of Daniel B's Tour de Hard Cream are in. Now you can try the winners out for yourself.
Moxie's
Moxie's in Wynantskill is open for the season. If you like ice cream, you owe it to yourself to go at least once. They make six different types of vanilla -- and you can get them all in a sampler!
Brunch
It's one of the best ways to spend a lazy weekend morning. Here are a few fun brunch options and some great diner breakfast stops.
Mop & Bucket Company, The Delmar Farmers' Market and Albany Law advertise on AOA. 17 Chapel has advertised on AOA in the past.
photo via TPC's Facebook page
Say Something!
We'd really like you to take part in the conversation here at All Over Albany. But we do have a few rules here. Don't worry, they're easy. The first: be kind. The second: treat everyone else with the same respect you'd like to see in return. Cool? Great, post away. Comments are moderated so it might take a little while for your comment to show up. Thanks for being patient.