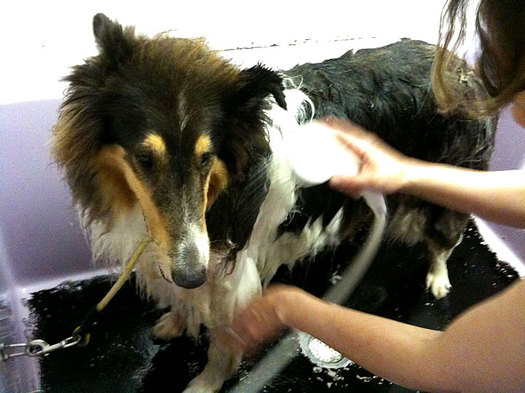 After a few walks in the rain and mud had left Otto looking (and more importantly, smelling) not so fresh, we knew what it was time for: a good Shampoodling.
Shampoodle is a do-it-yourself dog bath/grooming place with locations in Delmar and Clifton Park. It's come up once or twice before, but we figured it's worth its own standalone mention. Because it's the best way we've found to give Otto a bath.
AOA's goodwill ambassador is a large dog, so he quickly outgrew easy baths in the tub at home. Also: he has a lot of fur. It gets everywhere when you bathe and brush him.
And that's one of the great things about Shampoodle. You give your dog a bath -- and they do all the cleanup. A DIY dog bath is $13. That includes use of a large elevated tub with a sprayer, brushes, shampoo, ear and eye rinses, a scrubber, nail clippers, towels, and the dog blow dryer. (If you'd like the Shampoodle staff to clip your dog's nails, it's $5.) There are discounts for multiple dogs in the same tub.
We've been taking Otto to Shampoodle for years. It makes it so much easier to give him a proper bath because of the amenities we don't have at home, like the oversized tub and the dryer (helpful for a dog as furry as Otto). And the staff have always been friendly and helpful. If there's one thing we don't like about the place, it's that sometimes it can get kind of hectic and loud if there are a bunch of dogs there. But most of of the tubs are in their own alcove, so it it doesn't get too bad.
Sure, a DIY dog bath is more work than dropping him off at the groomer. But it's also way cheaper.
In most cases you can just walk right in, no appointment necessary. Shampoodle also offers grooming services, by appointment.
Earlier on AOA: The auto clinic/car wash/dog wash
Find It
Shampoodle
266 Delaware Ave
Delmar, NY 12054
There's also a location in Clifton Park:
1535 Crescent Road
Clifton Park, NY 12065
Hi there. Comments have been closed for this item. Still have something to say? Contact us.