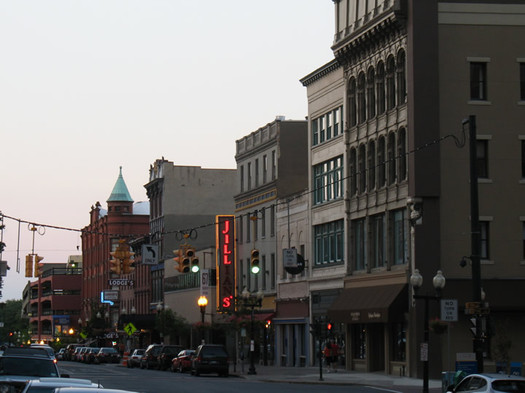 Yesterday Jerry Jennings and a group of downtown Albany business people stood in Albany City Hall to reassure everyone that the Pearl Street area is on the edge of a major change that will turn the city's downtown into a 24/7 community.
You probably know the reason for this affirmation session: the comment from Ralph Spillenger -- the owner of the Bayou Cafe and the soon-to-be-closed Jillian's -- that his business had failed, in part, because people are afraid to go downtown because of crime.
So, who's right? This situation is complicated because so much of it depends on perception.
But there are ways to make it clearer.
Standing next to Spillenger at yesterday's press conference, watching him, he appeared to be heartbroken by everything that's happening. Anyone in his situation would be. He says he's invested more than $1 million in Jillian's and it failed. He's probably felt like he's been fighting an uphill battle, and it has to be upsetting to see crime -- or even just bad behavior -- happening while trying to keep things afloat. From that perspective, it doesn't really matter what people say about the broader picture, if you see crime happening firsthand, crime is a problem. It'd be easy to latch on to that as one of the reasons things have gone the wrong way.
So Spillenger let loose in the Times Union and on Facebook and "people are afraid to come to downtown Albany" became one of this week's big stories. It's an idea that fits easily in people's minds and discussions. For so long there's been a perception that cities are not safe places, that they're crime riddled. Spillenger's comment was just another log on that fire.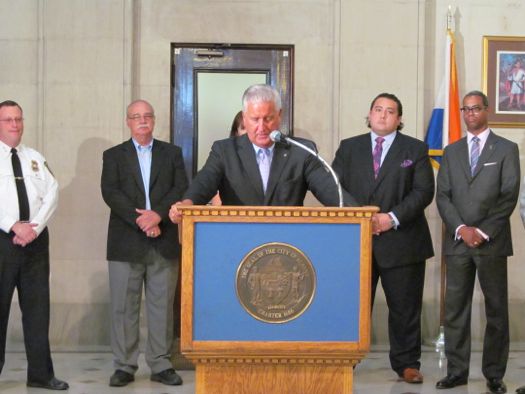 Yesterday's press conference was an attempt to dispel that image. Albany police chief Steve Krokoff told the gaggle that crime is actually down in Albany -- citywide it's down 17 percent this year, and in the North Pearl area it's down 50-60 percent. But, he acknowledged, people still perceive the area as unsafe. He called the difference a "reassurance gap." "There's a difference between what statistics tell you and how people feel," Krokoff said. He told the crowd at the press conference that the city, police, and area businesses need to work together to close that reassurance gap.
Standing behind the mayor yesterday were a host of business people who know that. Store owners, restaurateurs, and business leaders -- they've done well downtown, and are happy to be investing in the area. They can see downtown Albany as a place people will want to live and shop and visit. They're already having success. As we found out during Real Estate Week, most of the new apartments in the downtown Albany area are rented, and there's even a waiting list for some of the units that are still in construction. If you're one of those developers or business owners, you're probably thinking downtown Albany's looking pretty great right now.
Closing the gap
So how to close this gap, to somehow reconcile these varying perceptions of what's happening there?
Here are a few ideas:
Keep fighting
Crime is down in the Pearl Street area? Great. Keep pushing, even on the little stuff. Let people see that you're making the effort.
Show us the data
It's fine for the APD to cite crime stats, but the city could do a much better job sharing this sort of data with the public. So regularly publish the data in an understandable way. Make it easy for people to look up the data for neighborhoods so they can see what's happening. The APD has a crime map -- and we applaud the effort -- but it could be much better. We hear that department is working on some new ways of sharing info with the public, so we hope it's moving in the right direction.
Tell the story
Good things are happening in downtown Albany? Great. Tell people about it. Over and over and over again. If you don't tell your own story, someone else will tell it for you -- and there's a good chance you're not going to like the way do it.
We've thought for a while now that some of the urban areas of the Capital Region could use some marketing -- not just to people outside the area, but to people here, even people in those cities. It's easy to get stuck thinking something's the way it's always been, so you have to nudge people out of that. There are a lot of talented marketing people around -- some of them right in downtown Albany -- maybe they can help.
Provide opportunities for people to be there
There are already a lot of events in downtown Albany, which is good. It's important to keep coming up with opportunities for people -- whether it's young people, families, older people, all sorts of people -- to spend time there. Every visit is a chance for people to form their own perceptions of the place.
And there can virtuous feedback loop to that, too. We had a good time at the outdoor movie at the Empire State Plaza this week -- we had dinner downtown, the walked over for the movie. As we were watching Captain Kirk, it struck us that there were hundreds of people basically lounging, having a nice time, outside in the city at night. That sends a message that, hey, you can be safe here.
Understand things aren't always going to be smooth
If downtown Albany really is undergoing a transformation into a 24/7, multi-use neighborhood, there are going to be some bumps along the way. As the crowds change, and new competition arrives, the existing businesses will have to adapt. That probably means some of them aren't going to make it. And while that's very difficult for the owners and the people who work there, it's not necessarily a bad thing for the city.
Change is hard. Changing people's perceptions might be even harder.
Hi there. Comments have been closed for this item. Still have something to say? Contact us.