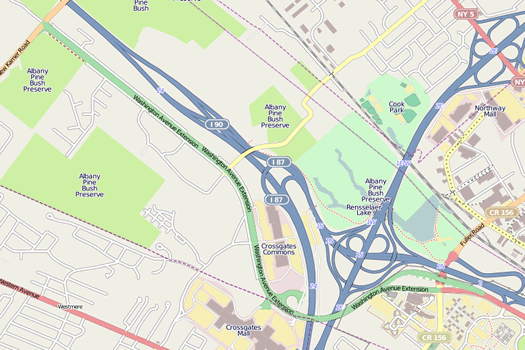 Believe it or not, there are some people who don't visit AOA via an autocomplete url, feed reader, share, irresistible urge, or unconscious habit. (Yes, shocking, we know.) Many of these people come in looking for something via Google -- and sometimes we can't help but take notice of what they're looking for.
Well, as you know, we like to help. So even though you didn't actually ask, here's the (an) answer...
HOW MANY DEALERSHIPS DOES BILLY FUCILLO OWN?
Twenty-two, according to the Fuccillo Auto Group website:
+ 3 in Adams, New York
+ 2 in Watertown, New York
+ 4 in Grand Island, New York (near Niagara Falls)
+ 1 in West Seneca Falls, New York
+ 1 in East Syracuse, New York
+ 2 in West Rochester, New York
+ 1 in Liverpool, New York (near Syracuse)
+ 1 in Schenectady, New York
+ 1 in Niskayuna, New York
+ 1 in East Greenbush, New York
+ 1 in Amsterdam, New York
+ 3 in Nelliston, New York (new Canajoharie)
+ 1 in Cape Coral, Florida (near Fort Myers)
It is probably safe to assume that all of them are HUGE.
where does washington ave ext begin
Washington Ave Extension starts at Fuller Road and ends at Route 155 (New Karner Rd). Or, to put it another way, it stretches from from the almost-completed florcle to New Karner Rd.
Bonus bit: that road across 155 from Washington Ave Extension is... Madison Ave Extension. Yep, as in the one that runs through Albany. Madison Ave was previously called Lydius Street. And if you look at a map, you can see that current path of Madison Ave lines up with this vestigial street (kind of like an appendix). On satellite, you can also see its old trace through the Pine Bush -- and on the other side is E. Lydius Street in Guilderland.
spell rennsalaer
Not like that.
what nfl team plays home games in new york
Just one. The Buffalo Bills. Until they move to Toronto.
sofas at big lots? are they good?
We can't speak from experience, but we're guessing they're of "bound for the free section of Craigslist" quality.
why is rpi so f****** expensive
This is an interesting question, if perhaps impolitely expressed. The estimated total cost for RPI undergraduates for 2012-2013 is $59,470. That is expensive, pretty much no matter how you modify the word. So, a few possible reasons:
+ It's a highly ranked private school, and those aren't cheap.
+ Its graduates tend to make a lot of money, so there's a high "return on investment."
+ Because it can be. Top schools -- heck, even not so great schools -- have significant pricing power. College tuition has more than doubled over the last two decades (yep, adjusting for inflation). And people keep paying. Because as hard as the job market can be for people with a college degree, it's brutal without one.
whats the easiest way to get to albany ny
To already be here.
how is walmart selling wine in ny
It's not. That wine-like substance in Walmart is a "wine product." This analogy may help:
wine product : wine :: cheese food : cheese
how high is the diving board at thacher park
Considering the state of the pool there, probably not very high.
killed 2 mice is there a problem?
For the mice, definitely.
Hi there. Comments have been closed for this item. Still have something to say? Contact us.