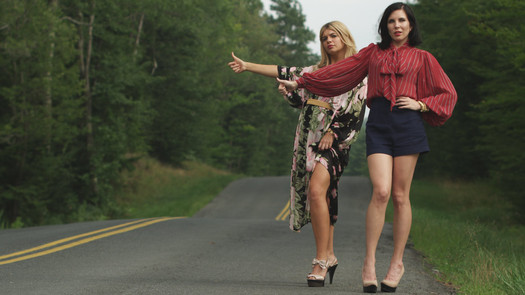 Ass Backwards -- AKA Sister Spirit, AKA That Movie That Shot in Center Square and Other Parts of the Capital Region During Summer 2010 -- is premiering at the Sundance Film Fesitval next week. NYT says the movie is one of a few comedies "generating advance buzz."
The behind-the-scenes story on Ass Backwards -- at least locally -- wasn't all laughs. The financial backing for the production fell through after it shot here, leaving many bills unpaid. That prompted a Kickstarter campaign in 2011 (that funded) to help fill some of the gap. And then an angel investor put up more money last year to help finish the movie. [TU] [Kickstarter] [TU]
Presumably Ass Backwards will find a distributor at/after Sundance, and could end up in theaters/on demand/something later this year.
The stars of the movie -- Casey Wilson and June Diane Raphael -- also wrote the screenplay. And in the years it's taken to finish the film, they've both become more famous thanks to TV (Wilson is a star of Happy Endings and Raphael's popped up on a bunch of shows). From an Entertainment Weekly article this week:
"It's definitely a real love story between friends, and this crazy, insane co-dependent friendship," Raphael told EW on set last July about the female buddy comedy. "Based on our own lives in New York City many, many years ago. It's just about that crazy time when you're not yet married, not a child anymore... it's a weird zone." Inspired by movies such as Thelma & Louise as well as Dumb & Dumber, "It's been a labor of love," Wilson said.
The Ass Backwards cast also includes Alicia Silverstone, Jon Cryer, Vincent D'Onofrio and a few other names you might recognize. One of the producers is Albany native Molly Conners.
Hi there. Comments have been closed for this item. Still have something to say? Contact us.