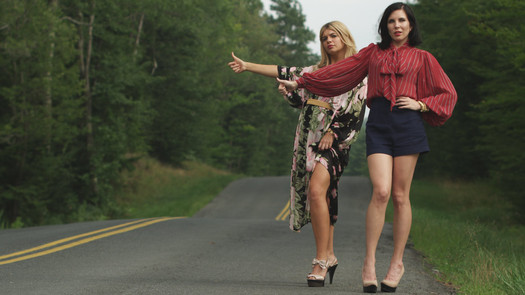 Ass Backwards -- AKA Sister Spirit, AKA That Movie That Shot in Center Square and Other Parts of the Capital Region During Summer 2010 -- premiered at Sundance this week. It was one of a few comedies that was reportedly "generating advance buzz."
So we've pulled together a handful of early reviews. They cover a wide range -- from harsh to very positive...
Indictingly titled "Ass Backwards" proves that no amount of comic talent can shine -- or raise a chuckle -- in the absence of even halfway decent material. This painfully unfunny vehicle for writer-stars June Diane Raphael and Casey Wilson is, depressingly, a comedy built on the amusement value of stupid people that is itself too stupid to be funny. Slick packaging and some cast names will make it viable for undiscriminating home-format buyers, but viewer beware.
That's the beginning of the review, but it doesn't get any more positive.
Both a slavery joke and a lesbian-commune rape joke landed with a thud. Obviously, nobody told [Ass Backwards] director Chris Nelson that irreverent humor needs to at least be funny, but this movie appeared to wallow in ignorance, and there were more than a few empty seats before it ended.
The reviewer was one of the people who walked out.
Film School Rejects - Allison Loring
It is a goofy flick with two daffy leads, but when your leads are [Casey] Wilson and co-writer June Diane Raphael, it is hard not to find yourself having a good time. It was also interesting to see the affection and positive affirmations between these two best friends, a stark contrast to the duo's last film, the hate-filled Bride Wars.
Wilson and Raphael have unique comedic voices, as crass as any male counterpart with strong female identity. They go big and physical with Ass Backwards, dressing their alter egos in over the top costumes (or "high fashion," as it's known in New York) and letting loose in a way that recalls the early days of Jim Carrey. It helps that Wilson and Raphael both come from sketch comedy (SNL and a handful of Adult Swim shows, respectively). They're well-versed in hyper-specific characters -- and ones we want to spend more time with, just to see what trouble they weasel their ways into.
First Showing - Ethan Anderton
But in all seriousness, Ass Backwards is more than a delight; it's pure fun and lighthearted comedy with an edge. From Vincent D'Onofrio as Chloe's dad who lost some money because his store that sold hats made to be worn backwards didn't take off to Brian Geraghty as a rehabiliation reality show superstar, Chloe and Kate encounter plenty of colorful character on their road trip to reclaim their pride and confidence by competing in the Miss Neptune 50th Anniversary Beauty Pageant. It's a road trip worthy of National Lampoon or Planes, Trains and Automobiles with two John Candy's. If Ass Backwards is the breakout hit that it deserves to be, then there has to be more in store for Chloe and Kate, two characters that feel like they have been in Wilson and Raphael's backpocket just waiting to be unleashed.
____
Earlier on AOA:
+ Ass Backwards premiering at Sundance
+ Reviews of The Place Beyond the Pines
Hi there. Comments have been closed for this item. Still have something to say? Contact us.