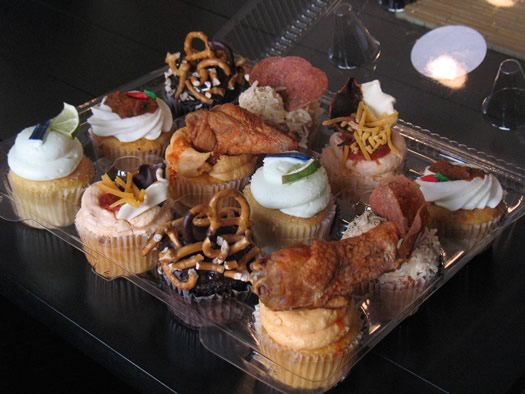 As you might have seen, Coccadotts in Colonie has followed up its Buffalo wing cupcake with a whole line of Super Bowl-themed cupcakes: salsa and chips, beer with lime, pepperoni pizza, cornbread and chili, and chocolate covered pretzel.
Because we know that you love nothing more than having us eat odd things so you don't have to, we got all six cupcakes this week and tried them.
That's right, Anderson Cooper, we had the guts to do something you didn't.
So, bring it on.
Descriptions in italics are from Coccadotts' website.
Tasters were the Editors and Daniel B. (Daniel answers the call to test weird food like a champ.)
Cornbread and chili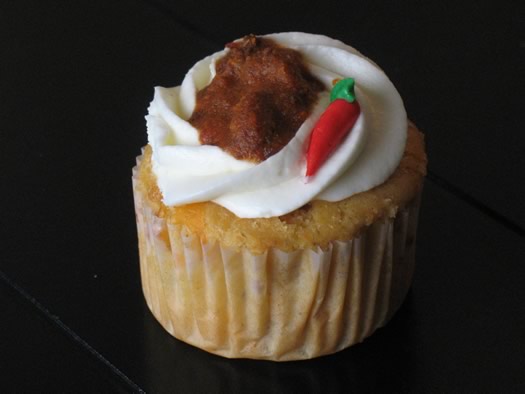 "Our cornbread cupcake with homemade chili baked inside, topped with cheddar cheese, sour cream frosting and a dollop of chili."
This one didn't seem like an auspicious start. It looked... unappealing, with that sort of stain of chili on top.
But. The cornbread and chili together were good -- deep, savory flavor with good cake texture. It wasn't dry. The sour cream icing was not bad by itself -- though it might have worked better with the whole cupcake if it wasn't as sweet (just sour cream would have been good). The cheese inside added a weird texture and not much flavor.
It reminded one of us eating something like leftover enchiladas right out of the fridge (because of the cold temperature). Really, this was pretty close to being good.
Chocolate covered pretzel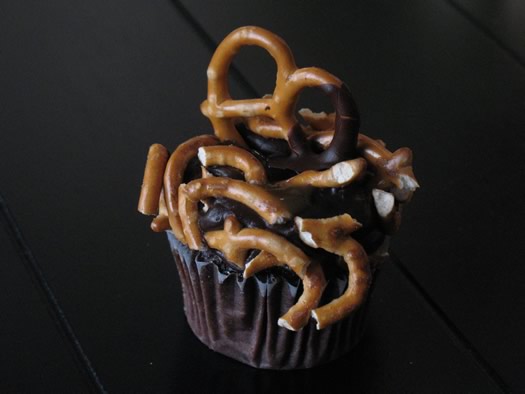 "Our chocolate cupcake filled with caramel, iced in fudge and rolled in crushed pretzels, topped with sea salt and a chocolate dipped pretzel."
There were high hopes for this cupcake. You know: chocolate and pretzels. Dude. How could that be bad?
The cake, fudge, and caramel were all fine. Good even. The sea salt was a nice counterpoint to the chocolate.
But. The pretzels were soggy, no crunch. That was really disappointing.
With crunchy pretzels, this cupcake would be good. By a wide margin.
Beer with lime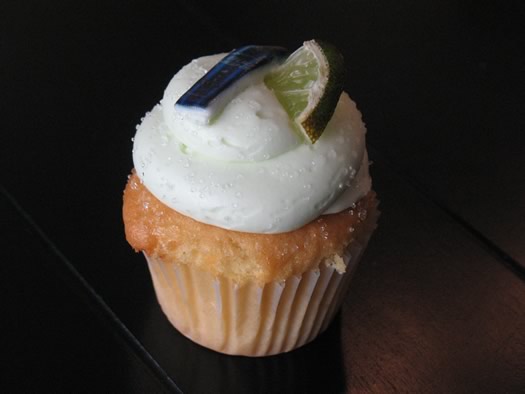 "Our vanilla cupcake and buttercream flavored with Bud Light and lime, garnished with a lime wedge."
This one didn't really seem that weird. Beer and cake... OK, sure, why not?
The execution fell a bit short, though. The vanilla cupcake was a vanilla cupcake. It was fine. The frosting had a faint aroma of beer, and it registered a lime flavor -- but there was basically no beer flavor (maybe a little at the end -- it's hard to say, we might have been influenced by knowing it had beer in it).
Our suggestions: maybe there's a way to work beer into the cake. And a beer with a stronger flavor would probably help, too.
On the whole, this cupcake was fine. It just didn't really deliver what it promised.
Salsa and chips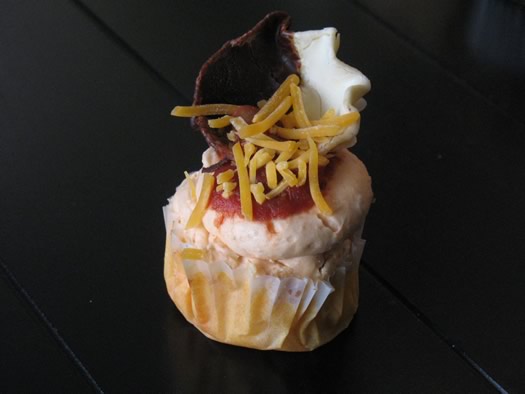 "Our spicy cupcake with salsa and cheddar cheese baked into the center topped with salsa and tortilla buttercream, topped with a chocolate dipped tortilla chip and salsa."
This is where things got real. And not in a good way. As Tim Gunn might say, "There's a lot of look here."
The cake we tasted was mushy. As promised, there was spiciness from the salsa -- but the texture of the onions in it was not appealing. There was a lot of icing -- buttercream!? -- sweet, but not as sweet as the sour cream icing above. Of the two cupcakes we tasted, one of the tortilla chips were crunchy, the other soggy -- but, still, chocolate on this thing?
This cupcake was a clash of odd textures and flavors. As someone pointed out: this could be trouble after a few beers. It was the worst of all the cupcakes we tasted.
That said, they promised a savory cupcake and it certainly was that. Yep.
Pepperoni pizza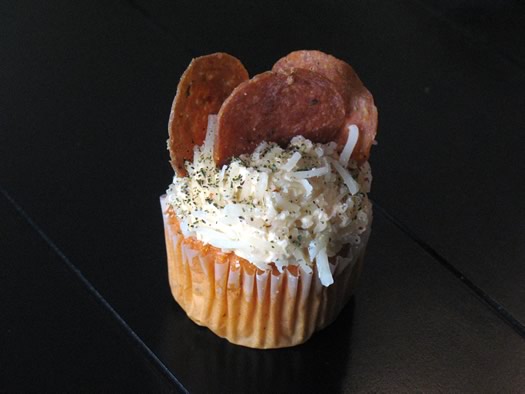 "Our pizza sauce flavored cupcake with pepperoni chunks baked inside, topped with pizza sauce flavored buttercream, mozzarella cheese and some crispy pepperoni rounds."
There was only up from that last cupcake, though this one wasn't much of a step up.
It tasted like a pizzeria smells -- that oregano/tomato/pepperoni aroma. The icing was both herby and sweet. The cake had a pepperoni flavor, but it was also a little sweet. The mozzarella cheese on top added unwelcome, chewy texture. The "crispy" pepperoni was not crispy.
This was difficult.
Chicken wing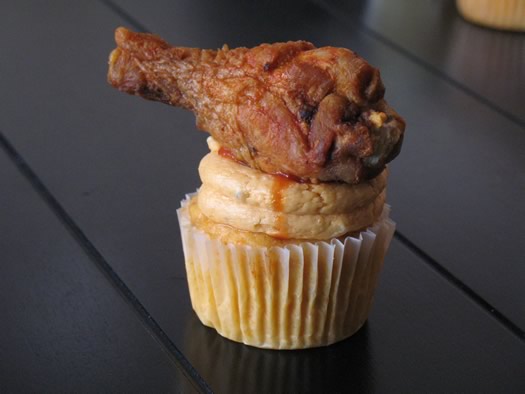 "Our corn bread cupcake with bleu cheese and hot sauce baked inside, iced with our savory chicken wing buttercream and topped with a fresh crispy chicken wing!"
The one that started it all. And reformulated for this year. There were now blue cheese chunks in the cake. And the frosting was switched from a blue cheese frosting to a "savory chicken wing buttercream."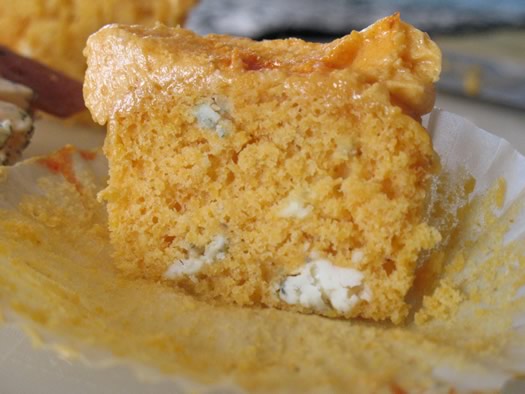 The cheese in the cake was a good attempt, but it made the texture of the cake odd -- grainy. The frosting wasn't holding up well -- perhaps because of the hot sauce, it looked like it was breaking, or at least, very grainy. It was spicy and sweet, not necessarily in a complementary way. The chicken wing was not good -- the skin was limp, and it tasted like it had been in a fridge too long. (Though it did taste OK when dipped in the frosting.)
This cupcake still suffered from the problem of the wing (or drumette) itself. Because of the bone, you can't get one bite with chicken, frosting, and cake unless you assemble it yourself.
This one kind of let us down, because last year's version really wasn't that bad. In fact, we preferred that version to the new one. As one of us remarked of this year's version: "I don't think it's... umm... it's not a good cupcake."
That said, we gotta say we're a little let down by Anderson Cooper. He's done much scarier things than taste one of these cupcakes. Coop, where's the courage? Weak.
____
We bought a dozen of these cupcakes -- two of each variety -- and it cost $42 total. If you're looking to try them for yourself -- or want to pick them up for a party (or whatever event) -- you should call ahead and place an order to make sure they'll have them ready to go.
Earlier on AOA:
+ Eating the buffalo chicken wing cupcake from Coccadotts
+ Tasting Capital Region cupcakes
Hi there. Comments have been closed for this item. Still have something to say? Contact us.